Concerts
This event has passed. Check out other things to do instead.
Go for the guitars of Sonny Landreth and Cindy Cashdollar
The string masters come to City Winery on Sept. 29.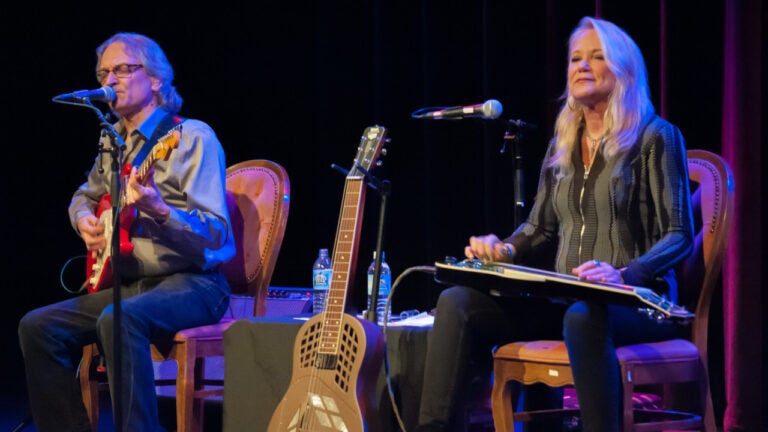 Bottle neck slide guitarist Sonny Landreth and steel guitarist and dobro wizard Cindy Cashdollar have enjoyed separate solo careers over the past few decades. But every once in a while they get together in duo format to put on a show of contemporary and traditional blues tunes along with some tastes of zydeco, a reinvented cover or two, and a few originals. That's the plan for when they sit down next to each other (no roaming around the stage for these two) at City Winery on Sept. 29.
Landreth, who got his start by playing trumpet as a kid, but switched to and stuck with guitar while growing up in Lafayette, Louisiana, is equally comfortable with acoustic and electric guitars, and has developed a fast finger-picking style that's accompanied by a thumb pick. Cashdollar, hailing from Woodstock, N.Y., began with acoustic guitar at 11, was drawn to learning how to play dobro when she was 20, and eventually took up the steel guitar around the time she became a member of Asleep at the Wheel.
These days, the "regular" guitar has taken a back seat, and she sticks with stringed instruments that she can lay on her lap. Though their shows are a mix of vocals and instrumentals, it's Landreth who does all of the singing.
They each have interesting stories of long-ago influences. Cashdollar spent a number of years in Texas, and was inducted to the Texas Steel Guitar Hall of Fame in 2011, and the Texas Music Hall of Fame in 2012. But because Woodstock was such a music center, as a teenager, she got to see an amazing range of players, including Paul Butterfield, Muddy Waters, Willie Dixon, and Bonnie Raitt. Landreth still tells stories about his concert-going experiences when he was 17, the year in which he saw shows by B.B. King, Clifton Chenier, and Jimi Hendrix.
What to expect at City Winery? Landreth will probably do a couple of solo instrumentals, then be joined by Cashdollar. There might be some tunes from the albums they each released in 2020 (his is "Blacktop Run," hers is "Waltz for Abilene"). Maybe they'll dig up covers of "Prodigal Son," "Key to the Highway," or "Cherry Ball Blues." Whatever they play, there'll be more than a few moments when they're trading soaring guitar solos.
Need weekend plans?
The best events in the city, delivered to your inbox