Concerts
This event has passed. Check out other things to do instead.
Go to Bass Extremes in Beverly
Revered bassists Victor Wooten and Steve Bailey will visit The Cabot with versatile percussionist Gregg Bissonette on May 13.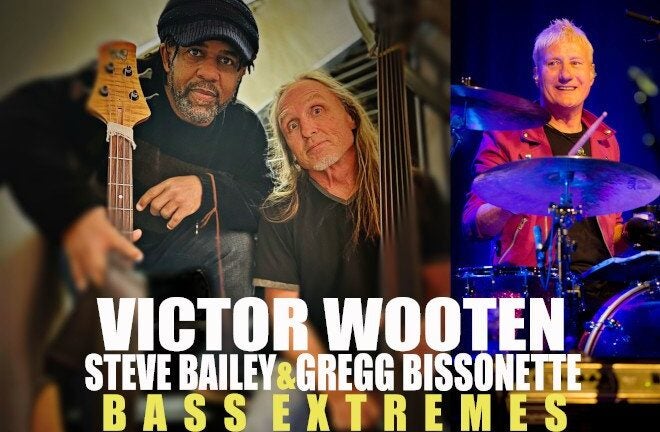 "I'm the youngest, and my four brothers needed a bass player," Victor Wooten said in an interview last September. "When I was born, they already knew: I was the bass player."
Thus, Wooten was more or less literally born to be a bassist.
On his website, Wooten is quoted as saying of his oldest brother, "Regi started teaching me as soon as I could sit up straight, and my parents let him do it."
After more than a decade of work with The Wooten Brothers Band, Victor met banjo player Béla Fleck. Together, the two – along with Victor's percussionist brother, Roy Wooten (a.k.a. Future Man) and keyboardist/harmonicist Howard Levy – formed the eclectic jazz combo Béla Fleck and the Flecktones.
As a Flecktone and solo artist, Wooten is a 12-time Grammy nominee and five-time winner. He ranked #10 in a 2011 Rolling Stone Top Ten Bassists of All Time readers' poll (he and Jaco Pastorius were the only jazz players in the survey) and #14 in the 2020 100 Best Bass Players of All Time tabulation by Bass Player, a publication that has thrice named him Bass Player of the Year.
And since he has more to give as a musician, educator, and all-around swell guy, he has also written two books ("The Spirit of Music" and "The Music Lesson") and cofounded the Victor Wooten Center for Music and Nature.
In addition to his Flecktones and solo work, he has also recorded two albums – with a third on the way – with fretless bass maestro Steve Bailey in the duo Bass Extremes. Bailey has contributed playing to several of Wooten's releases and the two of them cofounded the online instructional resource The Bass Vault.
Bailey is also the current chair of the Bass Department at Berklee College of Music, where Wooten has served as a visiting scholar.
To many, interestingly, the most recognizable person at The Cabot when Bass Extremes takes the stage on May 13 will be Gregg Bissonette. People of a certain age know him as the mulletted, spikey blonde-haired guy behind the drum kit in post-Van Halen David Lee Roth videos. Bissonette has also been the go-to beatkeeper for guitar virtuosi such as Joe Satriani, Steve Vai, and Lowell's own Gary Hoey, as well as myriad representatives of pretty much every category of popular music.
Need weekend plans?
The best events in the city, delivered to your inbox