Concerts
This event has passed. Check out other things to do instead.
'Drive' (or walk, or take the T…) to City Winery to hear the music of The Cars
Cars keyboardist Greg Hawkes and BMA winners Eddie Japan will celebrate the Boston-bred Hall of Famers June 3.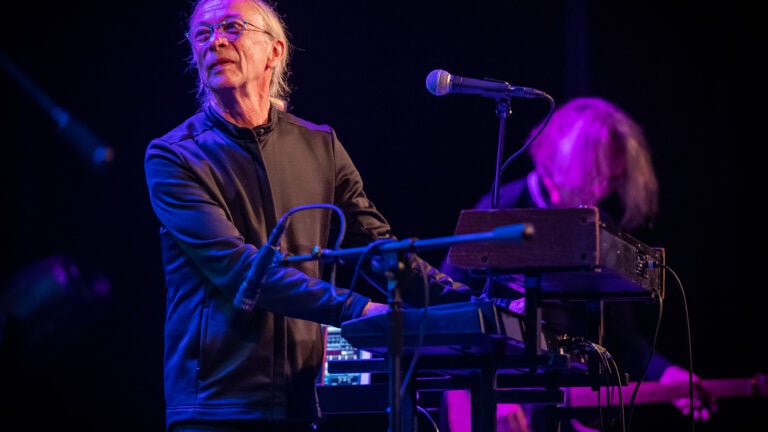 Greg Hawkes' keyboards drove the sound of The Cars, the Boston quintet who were responsible for some of the most artful and popular mainstream music of the late '70s and early '80s.
The members of Boston's Eddie Japan first met Hawkes after they opened a show for The Motels at Johnny D's in 2015.
Somewhat coincidentally, The Motels had opened for The Cars on their 1980 tour in support of their third album, "Panorama."
In addition to members of the headlining act, Hawkes recognized Eddie Japan guitarist Eric Brosius.
"I had known Eric way back from a Boston band called Tribe, another legendary Boston band," Hawkes told Boston.com in a recent phone interview.
"I had actually produced a couple of songs of theirs [in 1989]," the 2018 Rock and Roll Hall of Fame inductee continued. "Eric was the one who approached me with the idea of working with Eddie Japan in the studio on their 'Golden Age' CD."
I asked Hawkes what he liked enough about Eddie Japan, of all the bands in Boston, to make him commit to the project.
"I liked the eclectic nature of the band," he declared. "They had somewhat of an '80s music sensibility in a way. I also liked the interplay with the two vocalists, David and Emily [Drohan]." (Interestingly, Eddie Japan opened for The Cars' and Motels' fellow early-'80s hitmakers The Fixx in 2016.)
The collaboration between the former Car and Eddie Japan – who won a Boston Music Award (Best Live Act) and the Rock 'n' Roll Rumble in 2013 – soon moved beyond the studio.
"As we were making the record," lead singer/songwriter David Santos told me in separate phone conversation, "we asked Greg to join us onstage in November 2016 at Lizard Lounge. We played a few Cars songs and the crowd just absolutely loved it."
Hawkes agreed that "it was a lot of fun" and joined the group for four Cars songs at the "Golden Age" release show at Northampton's Iron Horse Music Hall in July 2017.
When Eddie Japan drummer Chuck Ferreira inquired more than a year later about doing a complete set of Cars material, Hawkes was uncertain.
"It took me a while to warm up to the idea, to tell you the truth," he recalled. "But after a while, I kind of relented!"
Their first performance happened at The Burren in August 2019. Once again, Hawkes acknowledged that he "had a lot of fun doing it."
So what is in store for fans at the June 3 City Winery show?
According to Santos, "We definitely try to include lots of the hits but also some for those fans who really appreciate the depths of all the records."
Hawkes revealed that the set will likely include "two or three songs that aren't exactly Cars songs but have a sideways Cars connection. We've been doing a song of mine off [my 1983 solo album] 'Niagara Falls.' This last show, we did a song by The Motels. We've done a Todd Rundgren song, 'cause I've been part of his band on and off for the past 15 years."
"And," Hawkes added, "I try to interject some little anecdotes or some funny information about the songs here and there just to give a little context and what we were doing at the time."
Whatever ends up making the setlist, Santos says the band aims to provide "a very loving tribute to The Cars and to Hawkes specifically."
"For a Boston band to get to play these songs, it's a huge honor," he proudly proclaims. "It's a night that celebrates Greg and The Cars' music, but really Greg as a musician and all that he's done."
Need weekend plans?
The best events in the city, delivered to your inbox