Concerts
This event has passed. Check out other things to do instead.
Hear Emma Langford at The Burren
The Irish songstress returns with traditional and modern tunes on Aug. 10.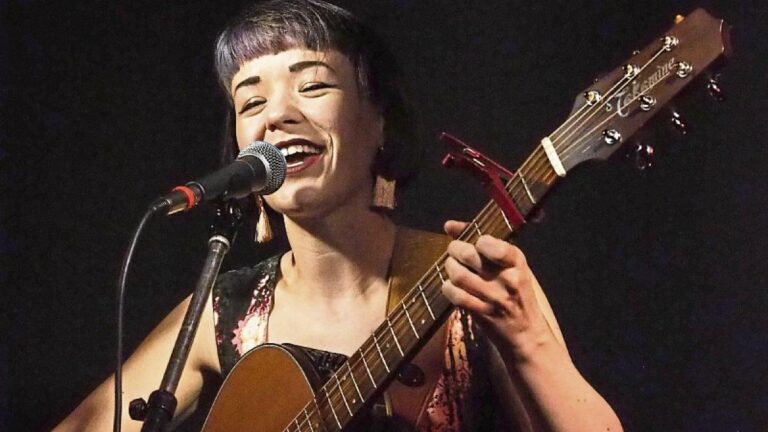 A couple of years ago, during a talk show interview on RTÉ — the Irish equivalent of public television — folksinger and songwriter Emma Langford revealed a couple of interesting personal tidbits: She loves all dogs, and one of her goals is "to be a crazy dog mom" and that when she was a kid, she wanted to illustrate children's books or be a ventriloquist or an archeologist … "but never a musician."
As far as dogs go, Langford so far has only one, a rescue pooch named Willow. But the Limerick City native does shoot photos of practically every dog she sees, and posts them on her Instagram page (@dogs_of_limerick).
As far as her "never a musician" statement, it went by the wayside a long time ago.
That can be verified by the fact that she's released an EP and two full-length albums featuring Irish music that ranges from traditional to modern.
Over the past few years — with some downtime during the pandemic — she's been touring all over Europe, and is soon heading back to the States, where she made her American debut — at the Milwaukee Irish Fest — in 2019.
Growing up in Limerick City, Langford was singing as soon as she realized she could sing, and her love of it often got her in trouble in elementary school, where she developed a reputation for singing answers to her teachers when they asked her a question. She later participated in choirs and was cast in the choruses of school musicals.
But she began her journey down a different road when, in her teens, she was given a guitar by her mother, who taught her a few chords.
In short order, Langford also started writing songs, and playing and singing them to herself.
Her first gig came about when she applied for a waitressing job at a Limerick café, and was told there were no openings. But the owner suggested that she sit outside the café on Saturdays, play some songs, and get some exposure.
More of that came when she joined in on the open mic scene, and folk fans became aware of her.
Now, with her crowd-funded, self-titled EP (2016), her first album "Quiet Giant" (2017), and her most recent album "Sowing Acorns" (2020) out in the world, Langford is displaying her lilting, yet powerful mezzo-soprano voice and her delicate fingerpicking and strumming skills with an ever-growing audience.
She'll be accompanied at The Burren gig by her pal Alec Brown, who plays cello, flute, and provides background vocals.
Need weekend plans?
The best events in the city, delivered to your inbox