Concerts
This event has passed. Check out other things to do instead.
Hear James McMurtry's 'The Horses and the Hounds' in Allston
The venerated singer-songwriter will showcase his first new songs since 2015 at Brighton Music Hall on June 22.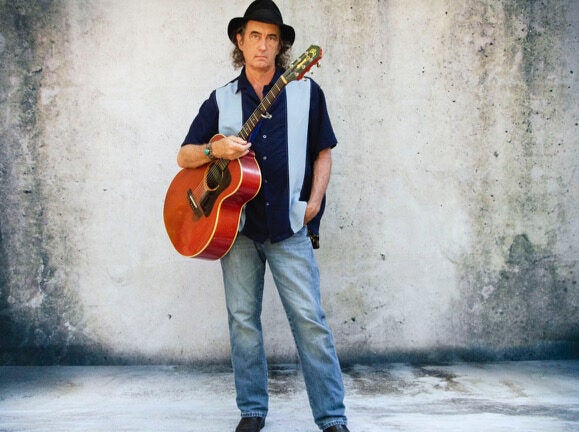 Singer, songwriter, and guitarist James McMurtry said of his latest album, "The Horses and the Hounds," "There's a definite Los Angeles vibe to this record. The ghost of Warren Zevon seems to be stomping around among the guitar tracks. Don't know how he got in there. He never signed on for work for hire."
While the presence of Warren Zevon's spirit might forever remain unaccounted for, that LA vibe surely has something to do with the record's having been recorded at Jackson Browne's studio in Santa Monica.
Praise for the Texas-born, bred, and based artist has poured in from myriad sources throughout his 30-plus-year recording career.
Self-proclaimed but nonetheless widely recognized "dean of American rock critics" Robert Christgau named McMurtry's 2005 song "We Can't Make It" the #1 song of the aughts.
Novelist and former University of Maine student newspaper music columnist Stephen King declared, "The simple fact is that James McMurtry may be the truest, fiercest songwriter of his generation."
Erstwhile Drive-By Trucker Jason Isbell said of him, "I don't think anybody writes better lyrics," while current one Patterson Hood opined, "McMurtry might be the best topical writer performing right now."
Of course, the more traditional music press – national and local, mainstream and niche – has also heaped laudation upon his work. 2021's "The Horses and the Hounds," his first offering of new material in six years, was no exception.
Rolling Stone, Magnet, AllMusic, No Depression, Twangville, Americana Highways, and numerous other publications placed it in the company of their best of 2021 selections. It was frequently among the top 5 in country/Americana/ roots-specific rankings.
In terms of individual songs, Andrew Gulden of Americana Highways named album opener "Canola Fields" his favorite song of the year ("One of the best has never been better"), and Twangville's Mayer Danzig trumpeted the humorous "Ft. Walton Wake-Up Call" and the poppy "What's the Matter" as "two McMurtry classics to be." (Moreover, readers of the latter publication chose "The Horses and the Hounds" as their favorite new LP of the year.)
Further confirming the album's cornucopia status is the fact that the folks at New West designated "If It Don't Bleed" to be the lead single.
Austin-based singer, songwriter, and guitarist BettySoo will open McMurtry's Brighton Music Hall show on June 22. She has been recording as a solo artist since 2005 and provided harmony and background vocals on several tracks from "The Horses and the Hounds."
Need weekend plans?
The best events in the city, delivered to your inbox