Concerts
This event has passed. Check out other things to do instead.
Join John Fogerty and his lucky male offspring in Lowell
John, Shane, and Tyler will perform Creedence classics and Fogerty favorites at Lowell Memorial Auditorium on September 8.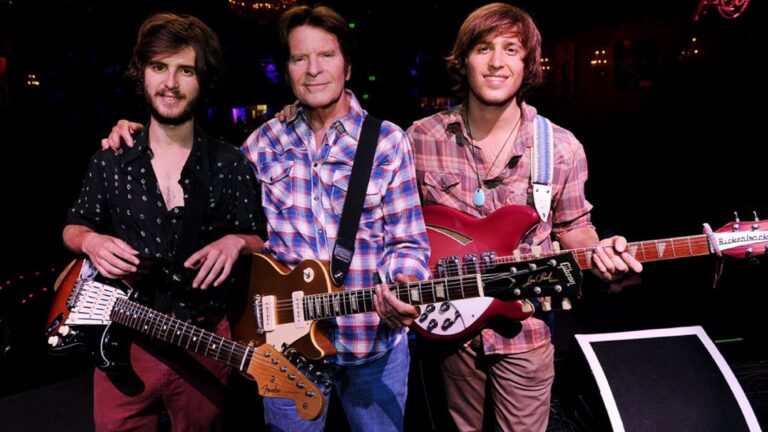 In 2013, journalist and author Dorian Lynskey wrote in The Guardian, "Creedence were the only band who could unite hippies, rednecks and the pop critic of the New Yorker, not to mention younger musicians such as Joe Strummer and Bruce Springsteen, who later testified: 'They weren't the hippest band in the world, just the best.'"
The person responsible for Creedence Clearwater Revival's 17 top 40 entries from 1968 to 1972 was John Fogerty. While hipness will eternally elude him, greatness will be forever his.
Among Fogerty's compositions are 1969's "Proud Mary," which Ike & Tina Turner recorded an equally classic version of in 1971; "Who'll Stop the Rain?" and "Fortunate Son," which have made CCR what Pitchfork's Zach Schonfeld called "the soundtrack to every Vietnam movie" since 1978; and countless other rock 'n' roll standards, including "Born on the Bayou," "Bad Moon Rising," "Travelin' Band," and "Have You Ever Seen the Rain?"
More than 25 years after the quartet broke up, they served as The Dude's (Jeff Bridges) favorite band in "The Big Lebowski," one of the coolest flicks of the past quarter century.
"Some Creedence tapes" are probably the best-cared for and most valuable items in the laid-back slacker's car, and CCR's "Run Through the Jungle" and "Lookin' Out My Back Door" appear in the film.
CCR bassist Stu Cook told me in a 2014 interview, "We had two songs in 'The Big Lebowski,' plus a shout-out in the screenplay. That's probably the highest honor you can get!"
Fogerty has been less prolific and commercially successful as a solo artist, but his few-and-far-between releases are generally well-received by reviewers.
Interestingly, a song on his chart-topping 1985 album "Centerfield" – which was my introduction to Fogerty – led to a Spinal Tap-like experience for him.
Creedence's catalog was owned by Fantasy Records. "Centerfield" was released by Warner Bros. Upon hearing the single "The Old Man Down the Road," Fantasy determined that it bore too close of a resemblance to the 1970 single "Run Through the Jungle."
Thus, Fogerty was sued for plagiarizing himself! Thankfully, the court ruled for him in 1993. His attempt to recover legal fees reached the Supreme Court, which decided unanimously in Fogerty's favor the following year.
During the lockdown, the now-77-year-old and his three youngest children – sons Shane and Tyler and daughter Kelsy – released EP and LP versions of "Fogerty's Factory," which includes new recordings of Creedence and solo material.
Shane and Tyler also have their own band, Hearty Har, and will share the stage with their father when his upcoming tour stops at Lowell Memorial Auditorium on Sept. 8.
Need weekend plans?
The best events in the city, delivered to your inbox