Concerts
This event has passed. Check out other things to do instead.
Join up with some joyous jazz in South Boston
A Spring Jazz Fest runs March 19-27 at the Arts for Humanity EpiCenter on West 2nd Street.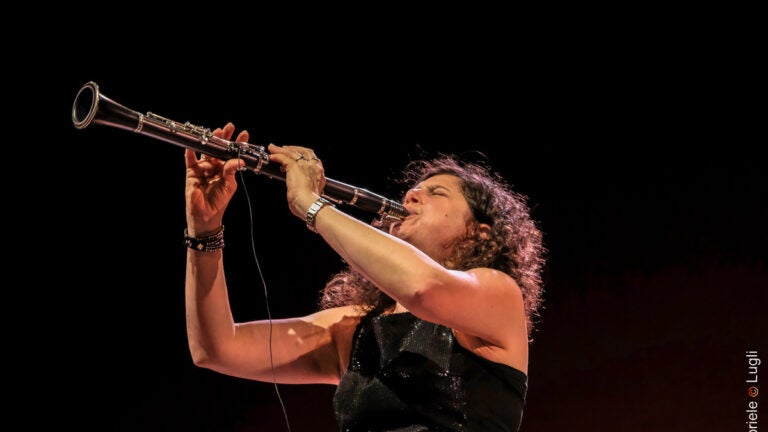 The sounds of jazz will be emanating from the stage of the Arts for Humanity EpiCenter when the Celebrity Series of Boston presents a Spring Jazz Festival, a multi-artist series over five days starting in mid-March.
With the venue converted to an intimate jazz club setting – meaning regular seats as well as optional table seating (and a standing room section) – a wide-ranging group of contemporary performers are set to appear, most of them offering both afternoon and evening shows.
Kicking it off, on March 19, is the Brazilian-flavored Anat Cohen Quartethino, featuring the clarinetist and bass clarinetist leading an international group of players, including Vitor Gonçalves (piano, accordion), Tal Mashiach (bass, guitar), and James Shipp (percussion, electronics). Performances are at 5 and 8 p.m.
March 20 brings in the Boston premier of the Matthew Whitaker Quintet, headed up by the pianist and organist and composer who began playing at age 3, is now 20, and has already toured the U.S., Europe, and the Far East. Performances are at 4 and 7 p.m.
On March 25, the Connecticut pianist Christian Sands will display his triple-threat reputation as a composer, player, and improviser. Though his albums are mostly filled with his own tunes, his most recent release, "Be Water," features a cover of Steve Winwood's soulful "Can't Find My Way Home." So, there could be some jazzy Blind Faith on the program. Performance is at 7:30 p.m.
For the March 26 spot, vocalist Veronica Swift will front her band in a set of originals as well as Great American Songbook standards, done up in Swiftian style. That could mean straight-up singing, some scatting, and even a touch of vocalese and a story or two between songs. Performances are at 5 and 8 p.m.
The March 27 series closer has veteran violinist Regina Carter swingin' on the strings in a special program she calls "Gone in a Phrase of Air" – originals and covers that take a look at African American communities that have been negatively affected by urban renewal. But Carter promises that, beyond pointing out inequities, the music will also celebrate the places and the people who live there. Performances are at 4 and 7 p.m.
Need weekend plans?
The best events in the city, delivered to your inbox