Concerts
Kenny Chesney announces third 2024 Gillette Stadium concert with Zac Brown Band
After an uncharacteristic absence in 2023, Kenny Chesney will once again close his annual concert tour with three visits to Gillette Stadium.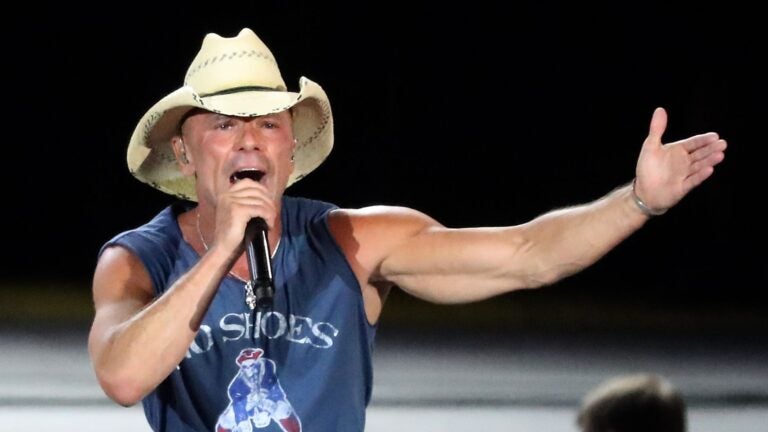 No Shoes Nation, rejoice: Kenny Chesney is coming back to Gillette Stadium in 2024 not once, not twice, but three times.
The country superstar will play the home of the New England Patriots for a 22nd, 23rd, and 24th time — the most in Gillette Stadium history — on Friday, Aug. 23 Saturday, Aug. 24, and Sunday, Aug. 25, the final stops of his Sun Goes Down 2024 Tour.
Chesney originally announced just one Gillette Stadium show. But after tickets sold out in an hour, a second was announced late last week. Now, Chesney is playing three shows at Gillette for the first time ever.
"Here I only put one show up, thinking maybe this was the year," Chesney said in a press release. "Now here we are doing something we've never done: a third show at the home of the Patriots! There has always been something special about New England, this music and how we all come together. I can't wait to spend an entire weekend in one place with all of No Shoes Nation."
Given Chesney's longtime connection to Foxborough and its fans, it's surprising that his 2024 concerts will mark only the second time this decade Chesney has played the venue. Chesney's 2020 and 2021 concerts were delayed due to the pandemic, and his I Go Back 2023 Tour skipped arenas like Gillette in favor of smaller markets that Chesney played early in his career.
The Sun Goes Down 2024 Tour is named for Chesney's 2004 album "When The Sun Goes Down." The single of the same name (which famously features Chesney in a Red Sox hat in the music video), is a duet with singer-songwriter Uncle Kracker, who will join Chesney on the tour.
"I wanted a name that suggested — obviously — when all the good stuff starts to happen," Chesney said in a press release. "The one thing I've learned about No Shoes Nation and these stadium shows is they start the good times early and they just keep it going. But we all know, when the sun goes down, that's when people really get loose and enjoy themselves."
Kenny Chesney 2024 opening acts
Also joining Chesney and Uncle Kracker at Gillette is 2023 CMA Song of the Year and New Artist nominee Megan Moroney, and, in a surprise twist, fellow country superstars Zac Brown Band.
Two top-selling country acts joining forces isn't necessarily shocking. What is surprising is that Zac Brown Band has made it an almost-yearly tradition to play at Fenway Park, with bandleader Zac Brown even sporting a glittering Red Sox ring that bore a close resemblance to a World Series ring during the band's 2023 concert. The group has sold out Fenway Park 14 times — the most in the ballpark's history — and was inducted into the Fenway Music Hall of Fame in 2022, joining only Billy Joel and Paul McCartney. (Joel, ironically, also defected from Fenway to Gillette Stadium in 2023 following his Music Hall of Fame induction.)
"Zac Brown Band understands high-energy country, the same way Alabama did, and they've got our friend Caroline Jones in their line-up now, too," Chesney said in the release. "Megan Moroney isn't just one of the smart new voices in country, she's really bringing a sense of heart and joy to the music — and I'm fired up to be bringing her out to No Shoes Nation."
Kenny Chesney 2024 tour ticket info
Tickets for Kenny Chesney's 2024 Gillette Stadium concerts on August 23, 24, and 25 will go on sale to the general public on Friday, Nov. 17 at 10 a.m. through Ticketmaster.
Before then, tickets will be available through ten different pre-sales, starting with VIP, Platinum, and American Express Early Access pre-sales on Friday, Nov. 10 at 10 a.m. Those will be followed by several artist and official fan club pre-sales on Monday, Nov. 13 at 10 a.m.; a Stadium pre-sale on Tuesday, Nov. 14 at 10 a.m.; a Ticketmaster pre-sale on Wednesday, Nov. 15 at 10 a.m.; and a Spotify pre-sale on Thursday, Nov. 16 at 10 a.m.
Kenny Chesney is the third artist to be announced for the 2024 Gillette Stadium Concert Series, joining metal legends Metallica (Aug. 2 and 4) and fellow country superstar Zach Bryan (June 26 and July 17).
Need weekend plans?
The best events in the city, delivered to your inbox