Concerts
This event has passed. Check out other things to do instead.
New Kids on the Block's new music video has so many '80s references
NKOTB will return to Boston this summer alongside Salt-N-Pepa, En Vogue, and Rick Astley, who are also featured in the video.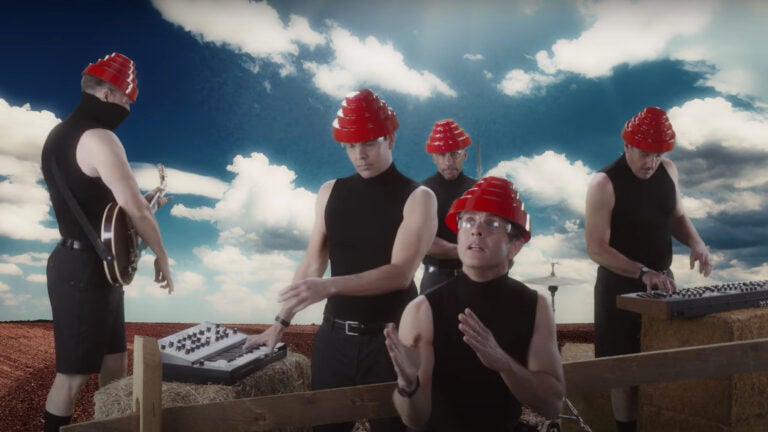 Blockheads, rejoice: New Kids On The Block is heading back to Boston this summer for a pair of concerts at TD Garden on July 15 and 16.
To celebrate their upcoming Mixtape Tour, Donnie Wahlberg, Jordan Knight, Jonathan Knight, Joey McIntyre, and Danny Wood released a music video on Thursday for their new song, "Bring Back The Time."
Joining the boys from Dorchester in the video are fellow Generation X mainstays Salt-N-Pepa, Rick Astley, and En Vogue, all of whom will be joining NKOTB on the Mixtape Tour.
The video for "Bring Back The Time" is full of references to hit music videos from the 1980s, with NKOTB members dressing up to pay homage to Journey's "Separate Ways," Devo's "Whip It," Talking Heads' "Once In A Lifetime," Twisted Sister's "We're Not Gonna Take It," and many others.
Wahlberg told Billboard that he began conceptualizing the song and video shortly after New Kids On The Block performed a concert at Fenway Park.
"My songwriting partner, Lars Jensen, called me and was like, 'I have this track,'" Wahlberg said. "I was literally sitting in the car on the way to New York and was like, 'Okay, man — I'm really tired. Maybe we'll work on it later.' But then I listened to it once and just felt something about it. So I was like, 'You know what? I've got three hours — let's do it right now.'"
The Mixtape Tour kicks off May 10 in Cincinnati, and finishes in Washington, D.C., on July 23, shortly after the band's Boston dates. Tickets for both the Fri., July 15, and Sat., July 16, shows are now available on Ticketmaster.
Wahlberg told Billboard that the music video for "Bring Back The Time" was both a silly exercise and a tribute to the music New Kids On The Block grew up on.
"This video, as fun and as silly as it is, it really is a celebration of the music and the look and the videos of that era," Wahlberg said. "For us and our fans, that's when we met. That's when we would count the stars in the sky. We made a promise for life back then, that we would always be their band and they would always be our fans and we would always have this relationship."
Need weekend plans?
The best events in the city, delivered to your inbox