Concerts
This event has passed. Check out other things to do instead.
Prepare for a rocking Elvis Costello in Boston, with Nick Lowe in tow
Elvis and the Imposters hit Leader Bank Pavilion on Aug. 15.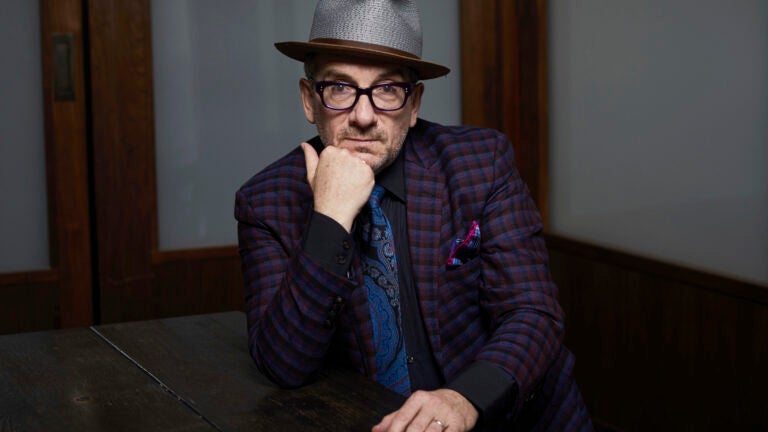 You could be forgiven if you thought Elvis Costello had started coasting a bit after the release of his album "National Ransom" in 2010. The only original collection we saw from rock's original angry young man over the next seven years was "Wise Up Ghost," his funky experimental set with The Roots — a welcome addition to the oeuvre, but overall a sparse output for someone known for cranking out an album a year in his 1980s heyday.
That changed in 2018, when Elvis kicked off a trilogy that is arguably his best threesome since some of his very earliest records — the lush, character-driven "Look Now, " 2020's quirky, lively "Hey Clockface," and this year's "A Boy Named If," which finds Costello in full rocker mode (albeit with the usual melodic jangle and sly turns of phrase).
Now Elvis and his post-Attractions band The Impostors are taking to the road with what is likely to be a (mostly?) post-pandemic cathartic set of high-octane numbers from "A Boy Named If" and, hopefully, a fair number of Costello standards. (But not "Oliver's Army" — he doesn't do that one anymore.)
As if that weren't enough, when they arrive at Leader Bank Pavilion in August they'll have longtime collaborator Nick Lowe (backed by Nashville surf-rockers Los Straitjackets) in tow as opening act. Lowe famously wrote and first recorded "(What's So Funny 'Bout) Peace, Love, and Understanding" before it became one of Costello's biggest hits. Might we see a duet this time around? Stranger things have happened.
Need weekend plans?
The best events in the city, delivered to your inbox