Concerts
This event has passed. Check out other things to do instead.
Q & A: Eclectic quartet Corner House talks about their Berklee roots and coming back to Boston
"Making music in Boston as Corner House feels like a very warm musical home."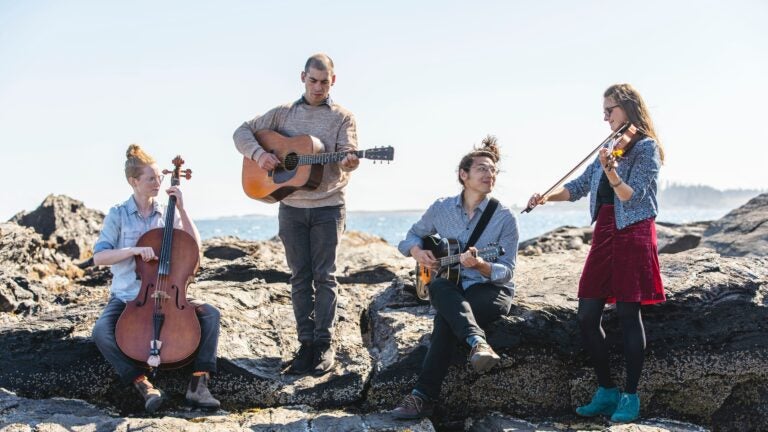 With roots around the country and the world, the commonality between the members of Corner House is that they came together in Boston as students at Berklee College of Music, and they have never forgotten that first shared home.
Members Louise Bichan, Ethan Hawkins, Ethan Setiawan (yes, the band has two Ethans), and Casey Murray met as students at Berklee in the late 2010s. Originally made up of Hawkins as lead vocalist and guitarist, Bichan on fiddle, and Setiawan on mandolin, the group played their first major gig at FreshGrass Festival in North Adams, Mass in 2017.
"I guess it kind of started out with jamming in the kitchen, just playing music together," Bichan said. "All of us came from fairly different musical backgrounds so it was just finding common ground and playing together, and eventually, bringing all of our influences together."
With a unique sound they describe as a combination between old time, Scottish, progressive bluegrass, and folk music, they recorded a self-titled EP and toured Scotland the following year, and then invited Murray to join the band as cellist. They recorded a second EP, "Smart Folks," in 2019 and a third, "Caribou Party" in 2021. Having moved after graduating from Berklee in 2019 and 2020, they've learned how to make music despite distance.
"Often what we've been doing is getting together for a few days to work on music or write or record or whatever it is," Bichan said. "It is definitely hard to not be in the same place, but we're making it work."
Murray pointed out that the changes in their music-making process is, in many ways, parallel to the changes in their lives after finishing school.
"It's been a cool journey I think — we went from living a block away from each other and having weekly rehearsals, and it's cool to see the evolution of the band and that we can still make music together even though we don't live in the same city anymore," Murray said."It means we really prioritize carving out time for each other to create and write."
Now, with a recently released first LP called "How Beautiful It's Been," the group has a few show dates ahead of them in Massachusetts and Vermont, and are playing a free show sponsored by Club Passim at Danehy Park in Cambridge on August 9.
Ahead of the show, Boston.com asked Bichan and Murray some questions about their band's style and evolution.
Boston.com: Talk me through your recent (and first!) album. What was the process for creating "How Beautiful It's Been?"
Casey: A lot of these songs were written at what felt like a transitional point for us. Coming upon graduation and looking toward what it is that comes next and saying goodbye, almost, to this adolescent chapter, while reflecting on how painful that was and all the things that fit in.
We all contributed to the writing and the arranging; we spent a lot of months sitting in the living room playing together, hashing out ideas, putting on recorders so we wouldn't forget what we come up with, and really just trying to make a big melting pot of these ideas and emotions and experiences that we have together.
I think we all feel quite proud of the work we put into it, and it has been a long time coming. We started working on a lot of this material in fall 2019 and the beginning of 2020, and we were going to record it in 2020. That didn't happen; we had to postpone it. I think having it out now feels really, really incredible to all of us, to finally be able to share those moments with the world.
Why "Corner House"?
Louise: The Brighton house that Ethan and Ethan and I lived in [while at Berklee] is on the corner of a street. [chuckles] Our good friend Mike Fogel actually came up with the name for us. He's come up with a few of our friends' band names, including one of Casey's former bands. We almost called ourselves Gravity of Birds [chuckles], and we're very glad that we didn't. Maybe an indie band name, but I don't think it fits us! We were desperate for a name at that point.
How would you describe your sound and what do you think makes you unique as a band?
Casey: We all have quite different backgrounds and I think the melting pot that we are as a quartet is quite unique. The ways we approach rhythm and harmony and melodic ideas are just so unique to ourselves in the way they complement each other and bring other sounds out of each other. I don't play the cello the same way with anyone else, and I think that's just based on all of our backgrounds.
I grew up playing a lot of New England music, Celtic music, and American folk music. Ethan Hawkins grew up down south playing a lot of bluegrass and old time, and Ethan Setiawan grew up in the midwest, also playing a lot of bluegrass but I think in a more instrumental, soloistic style. And Louise, growing up in Scotland, has a lot of the Celtic side too.
So there's definitely a Venn diagram of where we all have a little overlap, and that overlap holds us close together and can kind of bring out other sides of each other's playing that might not come out in any other context.
You're putting on this show at Danehy Park on August 9. As a group that originated here, what does playing in Boston mean to you?
Louise: It's always like coming home, to play in Boston. And anything we get to do with Club Passim is always special to us, Club Passim is very close to our hearts. We always love playing in Boston, any chance that we get.
Casey: I never thought living in a city would feel quite like home, but making music in Boston as Corner House feels like a very warm musical home for me. It's always nice having what feels like a hometown gig in a city that I'm not from, and it feels really rewarding and really lucky to have a place that feels like that.
Louise: Yeah, I think Boston will probably always feel like a home to us.
Need weekend plans?
The best events in the city, delivered to your inbox