Concerts
This event has passed. Check out other things to do instead.
Hear Sheila E. and the E-Train drum up some tunes at City Winery
Known for her solo work and her collaborations with Prince, the vocalist/percussionist comes to Boston Jan. 23.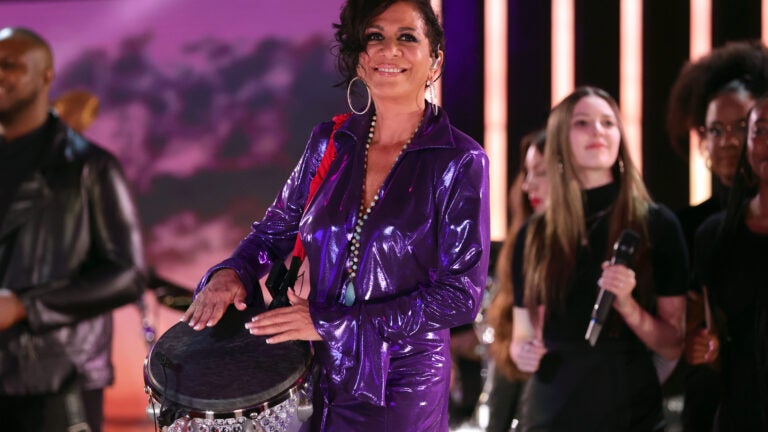 With a musical career that spans from the age of 5, at 62 Sheila E. is a legend herself. But she also got to collaborate with one of the most iconic musicians of all time – Prince.
Sheila Escovedo will bring her talents to City Winery on Sunday, Jan. 23 as Sheila E. and the E-Train, with two shows, at 5 and 8 p.m.
You could say Sheila E. was born to perform. Her father, Pete Escovedo, was a respected Latin and jazz percussionist, according to The Irish Times.
A drummer from an early age, Sheila E. was a professional by age 15. It was in the 1970s that she met Prince, speaking backstage after one of his shows, and the two soon began to collaborate, the Times reported. She became his drummer and the two collaborated up until a couple of years before he died.
Prince died in 2016 due to an accidental overdose of painkillers at age 57.
"I'm mad that he's not here," she told the publication. "I'm angry at him, and I'm thinking: 'What could I have done?'"
The COVID-19 pandemic was difficult for Escovedo since it took away her ability to perform for a crowd. However, she did release new music, and did some virtual shows.
"I try to put myself – mentally, physically and spiritually – in a place of positivity," she said, according to the Times.
Unlike in other shows, when the drum kit is pushed toward the back of the stage, Escovedo takes the center, according to The Buffalo News in 2017.
"Such a wildly entertaining performance didn't surprise anyone familiar with her career," the News wrote. "Ever since 'The Glamorous Life' and her performance on Prince's 'Purple Rain' tour, Sheila E. has riveted audiences as an amplified one-woman onslaught. Bouncing from pop to Latin to R&B — all while capable of a backbeat built for rock 'n' roll — Escovedo has endured with her skill to thrill."
Need weekend plans?
The best events in the city, delivered to your inbox