Entertainment
This event has passed. Check out other things to do instead.
Dig Lord Buckley in 'Dig Infinity!'
Oliver Trager brings his celebration of famed comic-philosopher Lord Buckley to the Lilypad in Cambridge Jan. 9.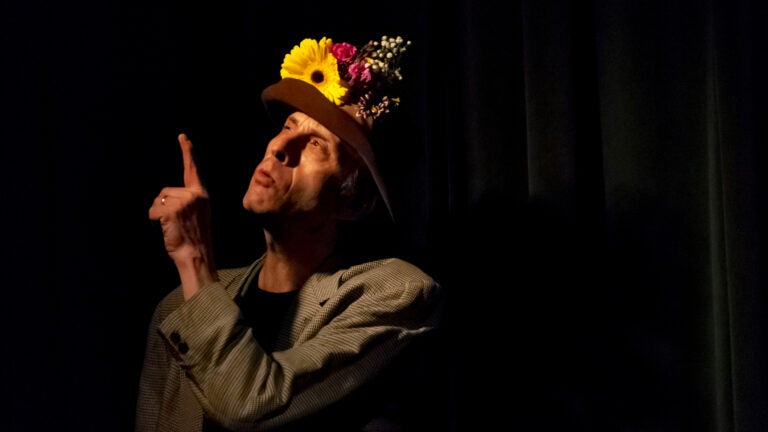 For those familiar with the late, great comic-poet-philosopher Lord Buckley, the upcoming show at the Lilypad — "DIG INFINITY! The Return of Lord Buckley – The Hip Messiah" — will flip your wig. It's a swirling, swinging, jazz-fueled stage production by Buckley maven Oliver Trager (author of the oral history "Dig Infinity! The Life and Art of Lord Buckley"), who takes the stage, accompanied by multi-instrumentalist Jerry Gregoire, to tell the story of Buckley's unusual rise and terrible fall as a one-of-a-kind performer in the 1940s and '50s, in a career that ranged from the Vaudeville circuit to Las Vegas to "The Ed Sullivan Show."
But the "DIG INFINITY!" production is also much more. Besides being a scholar on all things Buckley, Trager — a New Yorker currently living in the Boston area — is a performer, and has put together a presentation of some of Buckley's best-known monologues, like, for instance, a hip re-telling of "Jonah and the Whale" or a boppin' rendition of "The Gettysburg Address" or an alternate version of Jesus' accomplishments, titled "The Nazz." Trager has even been known to delve deep inside Buckley's head to bring out the trippy road piece called "Subconscious Mind."
For those new to the unfairly overlooked brilliance of Buckley, "DIG INFINITY!" will be a real eye opener. His wild but thoughtful, jazzy but succinct, funny but barbed bits that usually manage to put a positive focus on the human condition were written decades ago, but make perfect sense in today's often senseless world.
If that isn't enough, plenty of people you are familiar with, among them Bob Dylan, Robin Williams, George Carlin, George Harrison, Lenny Bruce, and Tom Waits have gone on record as being influenced by Lord Buckley. It's time to celebrate and/or discover him.
Need weekend plans?
The best events in the city, delivered to your inbox