Entertainment
This event has passed. Check out other things to do instead.
Fangirl to Taylor Swift at Brighton Music Hall
Need to scream "All Too Well" with some fellow Swifties? Look no further.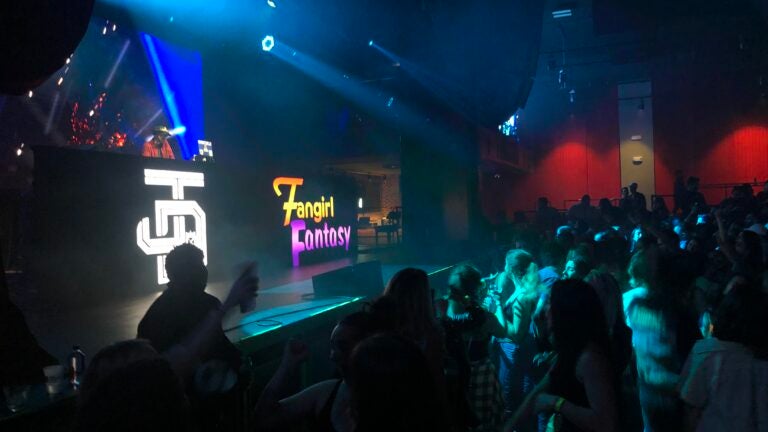 This isn't Foxborough.
But for Taylor Swift fans, it may as well be.
On Jan. 7, Swifties will be in full force at Brighton Music Hall for a phenomenon that's taken Boston by storm.
Launched here in Massachusetts, "Fangirl Fantasy" events dedicate an entire night to the music of a particular artist (or two), allowing for a completely immersive fandom experience. In this instance, picture a club playing Swift and nothing but Swift blasting out loud.
"In school, you might've been made fun of for going to see One Direction or whatever and now you're in this place, that every single person feels the same way about you," founder Julie Russell told Boston.com recently. "You can wear any merch that you want, you can scream as loud as you want, you can freak out and you're with people that feel the same way."
Russell, a 27-year-old from Billerica, launched the concept two years ago and has already seen notable success. The events usually sell out fast, including one featuring music from Swift and Olivia Rodrigo at Big Night Live in November. (The Swift night in January is no exception.)
"Taylor Swift is Taylor Swift and she just doesn't have a bad song," Russell said. "The Taylor Swift nights are just so fun that you just get to scream every lyric at the top of your lungs, so the Taylor Swift ones are becoming my favorite."
Grab some friends and maybe a trusty cardigan, and get ready to lose your voice in the crowd.
Need weekend plans?
The best events in the city, delivered to your inbox