Entertainment
This event has passed. Check out other things to do instead.
Get into a spirited 'Christmas Carol' in Beverly
North Shore Music Theatre mounts the 30th production of its holiday original starting Dec. 2.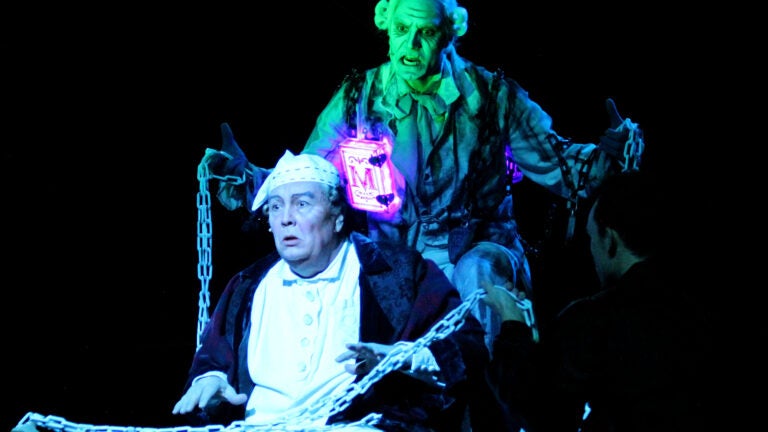 It's the stuff of North Shore legend: Back in 2008, when North Shore Music Theatre was under its previous ownership, the Beverly institution decided to replace its annual production of "A Christmas Carol" starring David Coffee with "High School Musical 2" instead.
A few months later, it was out of business.
That's a mistake the new owner, Bill Hanney, wasn't about to make when he took over in 2010. One of his first orders of business was to reinstate "A Christmas Carol" — the theater's own unique musical version, written by former NSMT artistic director Jon Kimball — as a yearly tradition. And this year, it's back with its 30th annual production (minus that unfortunate HSM2 year, the following year when the theater was closed, and last year, thanks to the pandemic).
"With everything we have been going through these past few years, I am sure that even though the show itself has not been changed, it will feel a little different for everyone," said Hanney. "The show has been incredibly important to so many over the years, and it continues to be an honor to produce something that is such a big part of so many people's holiday traditions."
It's a sentiment that Coffee, who will be playing Ebenezer at NSMT for the 27th time this year, would no doubt echo: ​​"When you see this show, or if you read the book, it just allows you to stop," Coffee told WBUR last year, after the production was canceled. "And the pandemic has helped this too — in some instances — to just stop, lean back, take a breath, and take note of where you are in your life, and [ask], 'How can you make the world better both for you and for everybody else?'"
A good way to make it better for you would no doubt be to treat yourself to this stellar (and a little bit scary!) holiday production, running in Beverly Dec. 2-23.
Need weekend plans?
The best events in the city, delivered to your inbox