Entertainment
This event has passed. Check out other things to do instead.
Meet comics creators of color in person at Boston Comics in Color
The second installment of the festival focusing on stories by and about people of color is back in Roxbury April 23.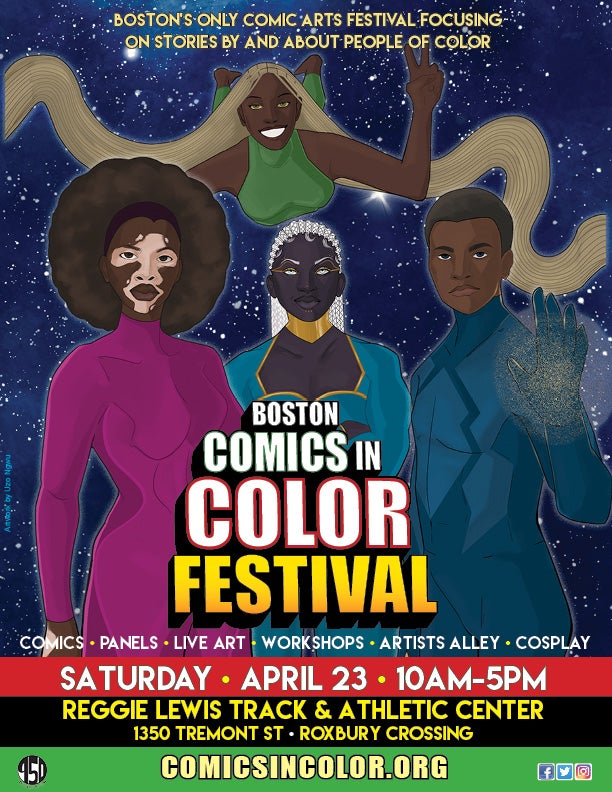 The first Boston Comics in Color — a comic arts festival focusing on stories by and about people of color — was supposed to take place in spring of 2020. We all know what happened that year.
"Of course, that festival never happened," says Cagen Luse, one of the founders of the festival and the cartoonist behind LunchTime Comix in DigBoston.
But even though it was far from a sure thing, Luse and fellow cartoonist Barrington Edwards pressed on — and in 2021 were able to finally hold the inaugural event, even with the COVID-19 pandemic still ongoing.
"We ended up doing a hybrid festival, where we did two days of online panels, which was really great, and then we did an outdoor artists alley at Roxbury Community College in the parking lot," Luse explained. "We lucked out with an incredibly nice day in April … We had probably 300 or 400 people come out."
But this year, they're going all-in on a typical comic convention format, with in-person panels, workshops, activities, and, of course, comics sales, all at a free event in the Reggie Lewis Center at Roxbury Community College this April 23. It's come a long way since Comics in Color was formed as a casual monthly meetup series for comics fans and creators at Dorchester's Grove Hall Library.
The final schedule is still being formulated, but highlights include: special guests Robb Armstrong ("Jump Start"), Joel Christian Gill ("Strange Fruit"), Ben Passmore ("Your Black Friend"), Ronald Wimberly ("Prince of Cats"), and Stephanie Yue ("Katie the Catsitter"); dozens of exhibitors, panels, and workshops; a cosplay showcase; kids' activities; and live art.
Moving from hybrid to 100% in person has been a challenge this year, says Luse. "With last year's festival, it was so much easier to put together panels when all you're asking someone to do is turn on their computer for an hour, whereas getting people to actually come and be in person and part of the panel takes a lot more coordination," he noted. But, he says, it's worth it.
"The experience of going to a con is being in the space with those people," he says. "Being able to have these face-to-face interactions and meet people and see their physical work, I think, is invaluable as a comics artist and as a comics enthusiast."
And that's especially important for comics creators of color, their fans, and the comics artists of the future, he says.
"I think that artists of color are underrepresented in the community," Luse points out. "I recently went to a con … it was great and they were very welcoming. But as I walked around it just cemented to me the reason why we need an event like this. There was not very much representation of people of color out there, and you know it's not their fault, it just is what it is. But I think that we need a space that we can come and share our stories and be appreciated.
"And so that's what we're trying to build, and also develop more young artists of color to go into the field," he says. "They have to see themselves represented, to know that their stories are valid, and worth telling."
For more information and updates on guests and schedules, visit comicsincolor.org.
Need weekend plans?
The best events in the city, delivered to your inbox