Environment
This event has passed. Check out other things to do instead.
Where to eat in Greater Boston during Earth Month
10 eco-friendly restaurants to celebrate Earth Month this year.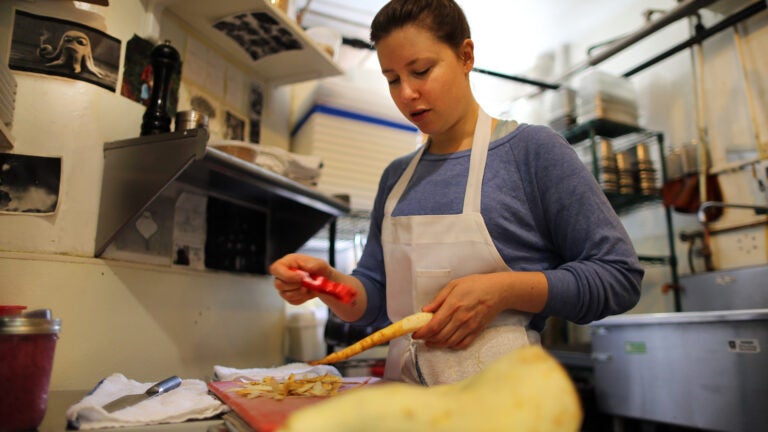 April is Earth Month — a time to raise awareness for issues that impact our planet, and how to make choices that are not harmful to the environment. There are many ways that you can practice eco-friendly habits like shopping secondhand clothes, taking public transit, and dining at farm-to-table restaurants that prioritize sustainability.
In honor of Earth Month, we've created a round up of restaurants that are offering Earth Day specials or practice sustainability in the Greater Boston area.
Field & Vine commits to sourcing their ingredients sustainably, from local farms and purveyors. The website states that "it's important to cook in alignment with our region," and they make everything from scratch. Their menu, like the New England weather, changes with the seasons offering new options for each. This season they are offering bay scallop tostada, beef tartare, grilled beets, stuffed nasturtium leaves, and more. They are open 5 p.m. to 8:45 p.m. Tuesdays through Thursdays, and 5 p.m. to 9:30 p.m. on Fridays and Saturdays.
9 Sanborn Ct., Somerville
"Nothing fancy, nothing fussy," their website reads. Forage serves food made from local ingredients and small production natural wine and craft cocktails. Their menu offers options like sherry streamed mussels with Meyer lemon, dandelion greens, and mahi-mahi spiced rice, pea shoots slivered almonds and pickled garlic scapes. They are open Mondays through Saturdays 5 p.m. to 10:30 p.m.
5 Craigie Circle, Cambridge
Earth Day Boston and Boston Vegetarian Society are teaming up to celebrate Earth Day at Grasshopper Restaurant with a vegan buffet and 33-minute documentary screening. The restaurant, which features Chinese vegan specialties, will host a post-documentary discussion to take a closer look at the question asked in the film: Why aren't governments and climate organizations promoting a shift to a plant-based food system? Join the free film screening and discussion followed by a buffet including soups, salad, appetizers, and multiple entrees for $12. The event will be held on April 16 from 3 p.m. to 5 p.m. Registering for the screening and buffet is encouraged.
1 N Beacon St., Allston
The Raw Bar at Island Creek Oyster Farm offers guests sustainable seafood while they can gaze out on Duxbury Bay. Their farm-to-restaurant, or sea-to-restaurant, practices allow guests to know their oyster grower, winemaker, distiller, brewer, and fisherman. "Here in our backyard we grow food – the kind that's good for the people who eat it, for the people who grow it, and for the place where it is raised," their website says. They serve oysters from their outdoor patio and indoor year-round raw bar, and offer a range of local craft beer, rosé, red and white wine. Their winter hours are Wednesdays and Thursdays from 4 p.m. to 10 p.m.; Fridays and Saturdays from 12 p.m. to 8 p.m.; and Sundays 12 p.m. to 8 p.m.
403-7 Washington St., Duxbury
"PAGU is a dynamic and transformative soul that pushes our friends and guests to live life fully, literally and physically." Through the art of cooking and service PAGU aims to celebrate family, friends, innovation, and creativity. They strive to make "feel-good homey food" that is inspired by local experiences and global travels. On April 19 at 6 p.m., PAGU kicks off a new dinner series, Roundtable, which will feature a five-course dinner featuring chefs David Vargas, Christine Lau, Jordan Rubin, and Kenshi Imura to discuss sustainability in the food industry. Tickets start at $120 per person.
310 Massachusetts Ave., Cambridge
Puritan & Company offers a New England-style menu made from locally-sourced ingredients. Their kitchen is led by chef and owner Will Gilson to bring modern American cuisine, local beer, and wine to its guests. They describe their space as casual but comfortable, hoping guests will share their excitement for the food and the friendly environment. Their menu currently offers options like kampachi crudo, Berkshire pork belly, cast iron seared ribeye, crab toast, and more. They are open Mondays through Wednesdays from 5 p.m. to 9 p.m.;Thursdays through Saturday 5 p.m. to 10 p.m., and Sundays from 5 p.m. to 8:30 p.m.
1166 Cambridge St., Cambridge
Ten Tables describes themselves as a true neighborhood restaurant. They consider their environment to be welcoming and comfortable, and strive to continue their work in a "delicious and distinctive way." They make the promise to continue to be as they have always been: affordable, attentive, casual, dynamic, tasty, familiar, and intimate. They strive to do all this with a menu that offers sustainable organic wine, hand-crafted food, cocktails, local craft beers. Menu options include house made warm foccacia, bavette steak, house made beet gnocchi, and more. Their hours are Wednesdays through Thursdays from 5 p.m. to 9 p.m.; Fridays and Saturdays from 5 p.m. to 10 p.m.; and Sundays from 5 p.m. to 9 p.m.
597 Centre St., Jamaica Plain
Celebrate Earth Week with Eataly at Terra, their third-floor restaurant, where they'll be hosting a special dinner with cocktails from Vermont-based gin producer Barr Hill. The three-course dinner with paired cocktails from the distiller comes with a walk-through of Bar Hill's production process. Tickets are $85 per person on April 19 from 5 p.m. to 9 p.m.
On April 22, Eataly's marketplace will also host a farmer's market offering complimentary samples of their sustainable products from local producers from cheese to wine.
800 Boylston St., Boston
After opening in 2010, True Bistro set out to create a high-end restaurant in the Boston area with a plant-based menu. The restaurant's goal "continues to be to offer great food and service while respecting our environment and its inhabitants." They partner with local producers like South River Miso, Rhode Island Mushroom Company, and Bantam Cider, to source ingredients. Their menu offers options like waffles with buttermilk fried tofu, Thai red curry and rice cake, and peach cheesecake. Their hours are Wednesdays through Sundays from 5 p.m. to 8 p.m. for dinner, and Saturdays and Sundays from 10 a.m. to 2 p.m. for brunch.
1153 Broadway, Somerville
Urban Hearth serves handcrafted food taking pride in its ingredients and service. Their menu celebrates foods from New England farms and fisheries with options changing daily. Some options include seared halibut and chamomile agrodolce, koji marinated duck breast, sweet potato dandies, raviolo cacio e pepe, and sweet cream semifreddo. They are open Tuesdays through Saturdays from 5 p.m. to 10 p.m.
2263 Massachusetts Ave., Cambridge
Need weekend plans?
The best events in the city, delivered to your inbox