Events
This event has passed. Check out other things to do instead.
10 things to do in Boston this Fourth of July weekend
BosTen is your weekly guide to the best events and coolest happenings in and around Boston.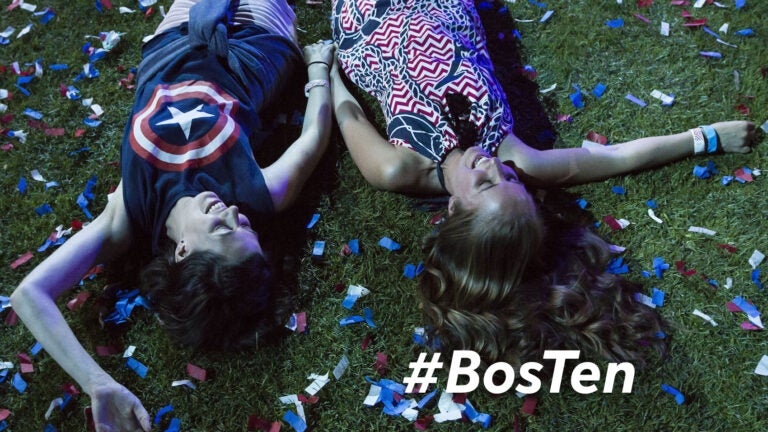 Welcome to BosTen, your weekly guide to the coolest events and best things to do in Boston this weekend. Sign up for our weekly email newsletter here. Have an idea about what we should cover? Leave us a comment on this article or in the BosTen Facebook group, or email us at [email protected]
Don't want to make the trek into the city for the 2022 Boston Pops Fireworks Spectacular on Monday? You'll likely be able to catch a great pyrotechnics display in a town near you, with more than 90 Fourth of July fireworks shows in Massachusetts scheduled to take place between now and July 16. For a comprehensive list of town-by-town info, check out our full schedule of 2022 July 4 fireworks shows in Massachusetts. — Kevin Slane
There's no need to limit Fourth of July celebrations to just July 4, which is why Boston Harborfest is celebrating our nation's history with four days of activities from July 1-4. Step back in time with reenactments from the 2nd Massachusetts Regiment, take historic tours along the Freedom Trail, and catch fireworks along the shores of Boston Harbor at 9:15 on July 2. Finish your weekend off with a Monday morning July 4 parade, which includes the traditional reading of the Declaration of Independence from the balcony of the Old State House. — Kevin Slane
While film fans have started heading back to regular movie theaters after two-plus years of COVID-19, the Boston area will once again offer a robust number of free outdoor movies now that summer has officially arrived. All summer long, you'll be able to catch a mix of fairly recent films and certified classics at pop-up outdoor movie screenings — free of charge. On Thursday, head to Cambridge Crossing for a double feature of "Moana" (at 5:30 p.m.) and "School of Rock" (at 7:30 p.m.), with free popcorn thrown in for good measure. If you'd prefer more frightful fare, head to Revere Beach for an 8 p.m. screening of "Jaws." If you show up early, there will be music, food and entertainment starting at 6 p.m. — Kevin Slane
The Boston JerkFest returns for its ninth year and will coincide with the celebration of Jamaica's 60th year of independence. The festival will take place over two days at the Harvard Athletic Complex. On Friday evening, ticket holders will gain access to an unlimited rum, beer, and cocktail tasting. A meal ticket is also included. On Saturday, the complex will be filled with food truck and restaurant vendors, each offering at least one jerk item for sale. The Boston Hot Sauce Fest will feature numerous spicy sauces, herbs, jellies, and more. There will also be a Seafood Throwdown and Jerk Cook-Off, where chefs will compete for the best tasting jerk dish. The festival will also feature family-friendly activities, so there's no reason your Fourth of July weekend shouldn't be spicier than usual. — Joel Ang
With more than 48 square miles of land split between 24 official neighborhoods, even long-time Boston residents can find a new area to explore if they search hard enough. Author and avid outdoorsman Miles Howard has done a lot of the legwork with his new City Walking Trail, a 25-mile path that takes urban hikers from the Neponset River to Bunker Hill, passing through immersive parks, urban wilds, community gardens, and greenways along the way. The path is broken into four sections, and has easy MBTA access at several junctures, if the idea of hiking 25 miles in a day sounds (understandably) daunting. Instead, consider driving to an area you haven't been before, hiking a few miles, then catching the T back to your car. For detailed descriptions of the trail and maps for each section, visit the City Walking Trail website. — Kevin Slane
This Saturday from 10 a.m. to 6 p.m., Chinatown Main Street will hold its annual Summer Festival with a day full of lion dancing, martial arts demonstrations, and Asian street food. Festival goers to one of the country's largest Chinatowns outside New York City will also find fun and games, arts and crafts, and likely encounter cuisine that they've never sampled before — keep an eye out for the curry fish balls. For more information, visit the festival website. — Natalie Gale
Are you ready to be emotionally lifted and devastated over the course of 90 minutes by a one-inch talking shell? That's the promise of "Marcel the Shell With Shoes On," a heartwarming indie curiosity from Milton native Jenny Slate and her ex-husband, Dean Fleischer-Camp now playing at select area theaters. Based on the soft-spoken, bug-eyed character the duo created for a series of short films last decade, the "Marcel" film is a mockumentary, in which a recently divorced filmmaker named Dean (Camp) discovers and films Marcel (Slate), a shell with a pet ball of lint and a wondrous outlook on life. When Camp's videos go viral, Marcel's life is turned upside-down, as he realizes just how big the world truly is. This might all sound a bit odd, a 100 percent freshness rating on Rotten Tomatoes should be all the assurance you need that "Marcel" is worth a watch. — Kevin Slane
The producers of NorthEast ComicCon will host a three-day Collectibles Extravaganza from Friday through Sunday at the Boxborough Regency Hotel this weekend, featuring memorabilia, antiques, comics, movies, games, books, live entertainment, cosplay, and more. The event includes cosplay contests on Saturday and Sunday at 1 p.m., with a $100 cash prize each day. Guests can take part in onstage pose-offs, group photo ops, and a kids cosplay parade. Friday night brings cosplay karaoke, and on Saturday the convention welcomes Sal Baglio's Rockhouse for a night of live rock music. Event goers can find memorabilia for all types of collectors, from sci-fi and Star Wars gear to sports collectibles to kitschy antiques. Items for sale include autographed keepsakes, vintage video games, old posters and vinyls, figurines, clothing and accessories, comic books, and countless other unique items. The show runs from 4 to 8 p.m. on Friday, followed by karaoke; 10 a.m. to 6 p.m. on Saturday; and 10 a.m. to 5 p.m. on Sunday. — Natalie Gale
Gillette Stadium will be feeling the groove this Saturday when Dead & Company swings through Foxborough for a show. The supergroup was created in 2015, when former members of The Grateful Dead (Mickey Hart, Bill Kreutzmann, and Bob Weir) recruited kindred musical spirits John Mayer, Allman Brothers' bassist Oteil Burbridge, and RatDog keyboardist Jeff Chimenti to go on the road with them. Now on their seventh tour since joining forces, tickets are still available for the 7 p.m. show through TicketMaster. — Gwen Egan
For the first time since 2019, the Boston Pops Fireworks Spectacular will once again bring the sounds of the Boston Pops to the Esplanade on July 4. As is typically the case, the 2022 Boston Pops Fireworks Spectacular will feature a number of musical guests accompanying conductor Keith Lockhart and the Boston Pops Orchestra. Among the highlights of this year's event are a performance from 10-time Grammy winner Chaka Khan, a tribute to the country of Ukraine, and a tribute to philanthropist David Mugar, who transformed the modern fireworks spectacular into a nationwide TV event. Mugar passed away earlier this year. For a comprehensive list of what to know about this year's celebration, check out our full guide to the 2022 Boston Pops Fireworks Spectacular. — Kevin Slane
Need weekend plans?
The best events in the city, delivered to your inbox