Events
This event has passed. Check out other things to do instead.
10 things to do in Boston this Memorial Day weekend
BosTen is your weekly guide to the best events and coolest happenings in and around Boston.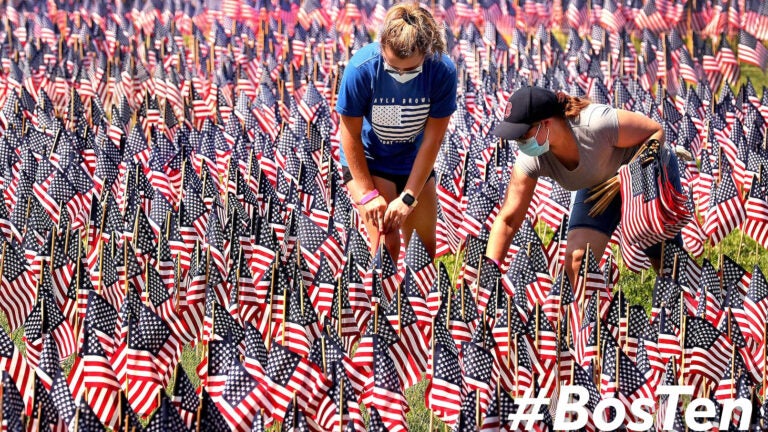 Welcome to BosTen, your weekly guide to the coolest events and best things to do in Boston this weekend. Sign up for our weekly email newsletter here. Have an idea about what we should cover? Leave us a comment on this article or in the BosTen Facebook group, or email us at [email protected].
Each Memorial Day weekend since 2010, Massachusetts Military Heroes Fund (MMHF) and its volunteers have created a garden of flags on Boston Common for the long weekend. The 37,000 flags, which will be on the Common from Thursday through Monday, represent every single Massachusetts person who has given his or her life to defend the country since the Revolutionary War. This year, MMHF will work with volunteers and staff from Home Base, a partnership of the Red Sox Foundation and Massachusetts General Hospital which helps veterans and their families as they heal from invisible wounds like traumatic brain injury and post-traumatic stress. Individual volunteers can also register to help with the creation or maintenance of the garden. — Natalie Gale
The Red Sox are moving the team's hall of fame induction ceremony onto the field at Fenway Park for the first time — and in doing so they're inviting fans to join the celebration as the spotlight shines on two of this century's marquee superstars. David Ortiz and Manny Ramirez will headline a five-member class that was originally scheduled to be inducted a couple of years ago, but had its moment of glory delayed by the pandemic. The two franchise icons will be joined on May 26 by former catcher Rich Gedman and the late Bill Dinneen, as well as former general manager Dan Duquette. NESN's Tom Caron will emcee the event from a stage that will be positioned near home plate. The seats being sold will offer a clear view of that stage, with pricing depending upon proximity. Grandstand seats are $20, with loge seats priced at $50, and the field box seats going for $100. — Dave D'Onofrio
Boston Ballet's artistic director Mikko Nissinen brings his enchanting adaptation of "Swan Lake" to the Opera House from May 26 through June 5. The ballet follows the tragic love story of Princess Odette and Prince Siegfried. The evil Baron Von Rothbart has cast a spell on Odette, transforming her into a swan by day — and only the prince's vow of eternal love will break the spell. The show's ballerina plays both Odette and Odile, Von Rothbart's daughter, symbolizing the battle between good and evil as she embodies the White Swan and the Black Swan. Tickets to "Swan Lake" are currently on sale on Boston Ballet's website. — Natalie Gale
The city's only rooftop pool with public access will be back open for the summer starting this weekend. Soak in the sun, snack on food, and sip on drinks above Back Bay, at the Colonnade Hotel's RTP, which opens for the season on Friday. Sitting 12 floors above Huntington Ave, the pool is open to the public Monday through Wednesday for a $60 entry fee and open for hotel guests seven days a week on a first-come, first-serve basis. From May 27 through Labor Day, you can enjoy chaise lounges and free sunscreen dispensers, with private cabanas and more amenities available for rent. — Marta Hill
After a three-year absence, the Harvard Athletic Complex will be filled with the sounds of music as Boston Calling 2022 kicks off its three-day festival on Friday. This year's edition had the misfortune of losing its three original headlining acts (Red Hot Chili Peppers, Foo Fighters, and Rage Against the Machine), but has found three top-notch replacements in Metallica, The Strokes, and Nine Inch Nails. Along with the headliners, top-billed performers include electronica group Rüfüs Du Sol, alt-rockers Weezer, sibling rock trio HAIM, hip-hop duo Run The Jewels, indie rock group Glass Animals, Aussie prog rockers King Gizzard & The Lizard Wizard, 2000s pop-punk icon Avril Lavigne, and psychedelic soul band Black Pumas. Tickets are still available through the Boston Calling website — not to mention countless three-day passes available at a steep discount through ticket resale companies like StubHub. — Kevin Slane
Sans Bar, based in Austin, Texas, is one of the country's first alcohol-free bars and is aiming to build a thriving booze-free community. In light of that mission, Sans Bar is touring its concept across major cities in 2022, and visits Boston this Saturday from 7-10 p.m. at the Pellas Art Gallery. Everyone is welcome to the event — the sober curious, the sober sometimes, and those that are in recovery. The Sans Bar team will host a night of curated conversations at a Newbury St. art gallery to build relationships, with unlimited alcohol-free drinks and gifts from community partners. — Joel Ang
Turner Classic Movies (TCM) and Fathom Events continue their celebration of presenting timeless popular films the way they were meant to be seen – in big rooms with huge screens – during the spring/summer leg of the TCM Big Screen Classics series. Set for multiple showings on May 29, and June 1 and 2, "Smokey and the Bandit" (1977) features Burt Reynolds as the Bandit who, with his accomplice Cledus (Jerry Reed), takes a gig hauling an illegal load of beer across many state lines. Runaway bride Carrie (Sally Field) is along for the ride, and blustery Sheriff Buford T. Justice (Jackie Gleason) is in pursuit. It's wild and raucous, it's a bit romantic, it costars a Bassett hound named Fred, and there's a brief side plot about Boston clam chowder. There are different cinemas and ticket prices, as well as varying showtimes for each of the titles. Please visit Fathom Events for detailed site and schedule information on the complete series. — Ed Symkus
Explore the MFA and ICA for free on Memorial Day
To celebrate Memorial Day, several area museums will offer free admission on May 30, including the MFA and the ICA. Some of the MFA's special exhibits include "Turner's Modern World," "Real Photo Postcards: Pictures from a Changing Nation," and "Philip Guston Now, while exhibits on view at the ICA include Roxbury resident Napoleon Jones-Henderson's solo exhibit and Bárbara Wagner and Benjamin de Burca's "Swinguerra." ICA admission also includes a free water shuttle ride to and from the Watershed exhibit in East Boston. — Natalie Gale
Icelandic keyboardist Ólafur Arnalds is a one-of-a-kind artist who manages to be creative in many different ways, sometimes alone, sometimes with accompaniment. He has done solo shows as well as duets; he's been backed by a string quartet, and by a chamber orchestra. For his Friday, May 27 Berklee Performance Center appearance — a delayed celebration of his 2020 album "Some Kind of Peace" — he and his pianos, synthesizers, and various electronic gizmos will be joined by a string quartet and a percussionist. The emotional, (mostly) instrumental music they'll be performing will undoubtedly be described as elegant, contemplative, and spiritual. It's also, if Arnalds sticks to what he's done on earlier albums, very layered, with simple arrangements developing into more complex ones. But it's that word "peace," part of the album's title, that's always at the fore of his recordings and shows. Peace and a touch of sadness. — Ed Symkus
This Thursday evening, show your love for Bay State bivalves with the Massachusetts Oyster Project, a nonprofit working to restore native shellfish populations to the state's beaches and coastal estuaries. The group is hosting a fundraiser party at the House of Blues Foundation Room from 6-9:30 p.m., where guests can enjoy tasty apps, drinks, and oysters on the half shell from some of the best local suppliers. Attendees will also hear from expert speakers who will share fascinating details about the newest initiatives to get more oysters back in Massachusetts waters. — Kevin Slane
Need weekend plans?
The best events in the city, delivered to your inbox