Events
This event has passed. Check out other things to do instead.
10 things to do in Boston this marathon weekend
BosTen is your weekly guide to the best events and coolest happenings in and around Boston.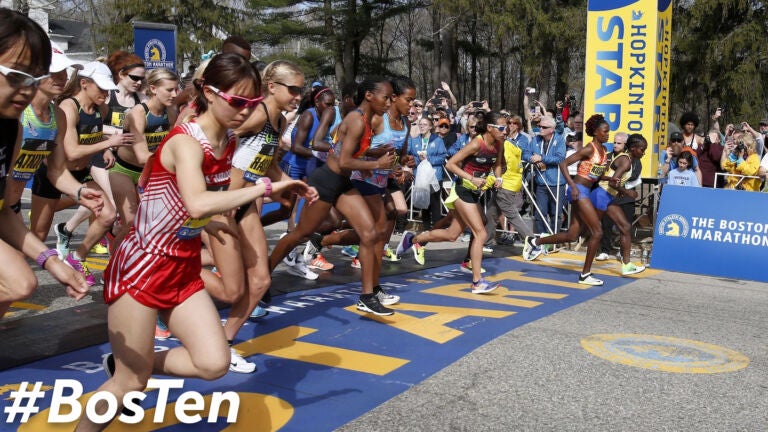 This week's BosTen offers a mix of in-person and virtual things to do in Boston this weekend. Have an idea about what we should cover? Leave us a comment on this article or in the BosTen Facebook group, or email us at [email protected].
Fans of Jack White know that he's a guy who doesn't like to stand still. He'd already been in several bands (initially as a drummer) before breaking through in the late-1990s, along with his wife Meg White, in the stripped-down garage band the White Stripes, for which he'd already switched to guitar. Follow-up bands would include the Raconteurs and the Dead Weather (in which he was back on drums) and, no surprise, solo projects. The current group, getting ready to head out on the international Supply Chain Issues Tour, just goes by the Jack White handle. In conjunction with the tour, which visits Agganis Arena on Sunday at 8 p.m., White is releasing two albums on his own Third Man Records label, "Fear of the Dawn" (April 8) and "Entering Heaven Alive" (July 22). If his recent single "Taking Me Back," and his new video, the title track from "Fear of the Dawn," are any indication, there's going to be some rockin' with no holding back at the upcoming shows. — Ed Symkus
Marathon Monday will offer plenty of opportunities for food and drink along the 26.2-mile route, including a handful of spots near the finish line. On Boylston Street, Abe & Louie's and Atlantic Fish Company both have ring-side seats and ticketed brunches with passed hors d'oeuvres, carving stations, fresh seafood, and desserts to enjoy inside the dining room and bar areas, or outside on the patios from 10 a.m.-4 p.m. Over on Newbury Street, Sonsie opens at 9:30 a.m., offering a modified menu of specialty brunch items and special marathon snacks, and a marathon blue cocktail, the 26.2 made with vodka, blue curaçao, and house-made lemonade. And the Fairmont Copley Plaza opens its OAK Long Bar + Kitchen opens at 7 a.m. for breakfast and remains open through midnight. Marathon specials include Sam Adams 26.2 on tap and a short-rib rigatoni pasta special, served all weekend. Click here for a full list of finish line Marathon Monday specials. — Linda Laban
The Boston Marathon is going back to where it belongs on the city's sports calendar. And it's bringing with it the fastest field in the race's history. For the first time in three years, the Boston Athletic Association's prestigious 26.2-mile race to Boylston Street will be run on Patriots' Day, returning to its traditional mid-April date after the 2020 event was held virtually due to COVID-19, and then the enduring pandemic prompted the 2021 event to shift to October. That means it will be barely six months since the last race when the starting gun fires in Hopkinton for the 126th edition — though that appears to have hardly quelled the anticipation, with 30,000 participants registered to run, including some of the world's premier distance runners. About as inspiring as an event as there is from a spectator's perspective, a visit to watch the Marathon should be on the bucket list of any sports fan in the Boston area — or, frankly, beyond. — Dave D'Onofrio
The New England Aquarium will host special activities and programming this month for families on April school break. Kids and their parents can enjoy animal feedings, whale watches, films, and presentations. The aquarium offers programming for every New England state's April break — April 11-15 for Rhode Island and some Connecticut students, April 18-22 for Massachusetts, Maine, Vermont, and other Connecticut students, and April 25-29 for New Hampshire students. Visitors can catch daily presentations at 2 p.m. in the New Balance Foundation Marine Mammal Center, which houses sea lions and fur seals, and at 3 p.m. in the Atlantic Harbor Seals Exhibit. Guests can also check out daily feedings at 9 a.m. and 2:30 p.m. for the penguins and 10 a.m. and 2 p.m. in the four-story Giant Ocean Tank. — Natalie Gale
When patio season comes back around after months of Boston's notorious winter weather, locals don't have to be enticed with freebies to get back outside. But, hey — we'd never say no to free pizza. That's just what's in store for the much-anticipated relaunch of a Harvard Square restaurant's roof deck. Brato at The Sinclair, a culinary partnership between The Sinclair music venue and Brighton's Brato Brewhouse + Kitchen, has reopened its roof deck for the season. To celebrate the long-awaited return of the patio, which hasn't been open since before the initial COVID-19 shutdown, Brato is dishing up 50 free bar pizzas per night from April 13 through 16. South Shore-style bar pies are the signature menu item at Brato at The Sinclair, a counter-service eatery attached to the acclaimed club. Ten-inch pan pizzas are a primo pre-show dinner option: Quick-cooking and easy to love, you can order and pay your bill from a bartender or via QR code from your phone. — Jacqueline Cain
Maestro Immersive Art and Lighthouse Immersive (of Immersive Frida Kahlo fame) have yet another venture coming to Boston. And this one begins with a kiss. Opening on April 14 in the Lighthouse ArtSpace in the Castle, "Immersive Klimt: Revolution" breathes life to famed artist Gustav Klimt's evolution from thousands of hand-drawn sketches to works from the pinnacle of his Golden Phase, such as the "The Woman in Gold," "Tree of Life" and his most famous and storied work, "The Kiss." You'll stand before all this electrifying world of sensual colors and vivid imagery, watching it seamlessly transform from image to image accompanied by multimedia composer Luca Longobardi's curated music selections and compositions. Along the way, the exhibit will also introduce the work of some of Klimt's contemporaries, Egon Schiele and Koloman Moser. — Cheryl Fenton
Launched by film producer Patrick Jerome in 2003, the Boston International Film Festival returns from April 14-20, bringing almost a hundred independent films from all over the world to Boston. The 19th annual Boston International Film Festival will award honors for feature narrative, feature documentary, short narrative, and short documentary, chosen from films that will screen at Bunker Hill Community College, Cambridge College, Kendall Square Cinema, Regal Cinemas at Fenway. For a full schedule, check out the BIFF website. — Natalie Gale
Boston's best restaurants and hotels are ready to host you and yours for Easter Sunday this weekend. Whether your spring celebration calls for brunch or dinner — with or without an egg hunt or a photo op with the Easter Bunny — or even a feast at home, there's surely a holiday dining option to fit your fancy. Among the many choices to check out are The Banks Fish House in Back Bay, which has festive plates like a Santa Barbara uni Benedict for its first-ever Easter brunch; and Bistro du Midi, which will offer a French-inspired prix fixe menu Sunday morning featuring duck confit-foie gras waffles, Spanish octopus au poivre, and more. For a full list of Boston restaurants we recommend for Easter, click here. A word of warning: with Easter and the Marathon on the same weekend, if you haven't already made reservations, it's time to hop to it. — Jacqueline Cain
After a successful fall Marathon run, Heather Abbott returns to Boylston Street to host a Boston Marathon watch party at Rochambeau to benefit her Heather Abbott Foundation. She'll also be cheering on the foundation's 11-person running team, Team Limb-it Less. Through the foundation, Abbott, a victim of the 2013 Boston Marathon bombings, raises money to purchase prosthetics for trauma victims. Tickets include small bites, passed apps, and music by DJ Zati. There is a cash bar. Elsewhere at Rochambeau on Marathon Monday, Mix 104.1 will broadcast from the ground floor café overlooking Boylston, where brunch items and pastries are on offer a la carte. The café's Mix 104.1 party featuring Morning Show hosts Karson and Kennedy runs 9 a.m.-6 p.m. — Linda Laban
You won't need to wait until that Monday morning to immerse yourself in the Boston Marathon experience. After all the miles run in training, and all the money raised, the Boston Marathon Expo will welcome runners, their families, and fans to Hynes Convention Center throughout the weekend prior for a variety of activities and opportunities, including pick-up of the bib numbers the racers will wear for their 26.2-mile jaunt. The event is free and open to the public. In addition to bib numbers, runners can pick up their race packet and T-shirt, while everyone can peruse sponsor exhibits, shop at adidas's Boston Marathon shop, and more. There'll surely be plenty of photo opps, too, as there was during last year's October Expo. The 2022 Expo opens Friday, April 15, at 11 a.m., and is open until 6 that evening. Saturday and Sunday (April 16 and 17) the Expo runs from 9 a.m.-6 p.m., although organizers note that hours are subject to change. — Dave D'Onofrio
Need weekend plans?
The best events in the city, delivered to your inbox