Events
This event has passed. Check out other things to do instead.
10 things to do in Boston this weekend
BosTen is your weekly guide to the best events and coolest happenings in and around Boston.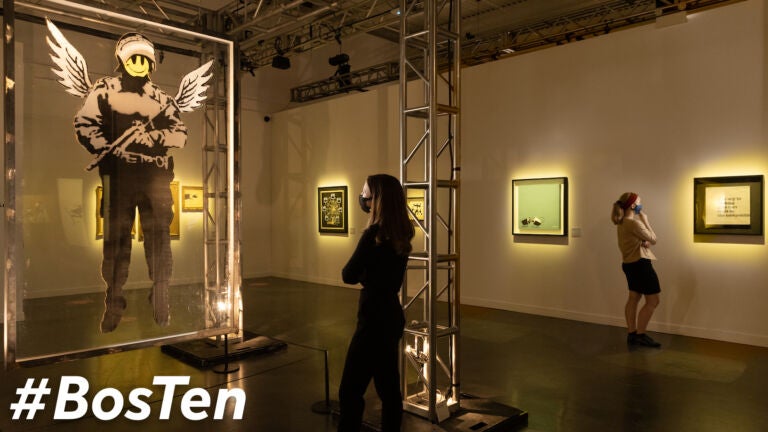 This week's BosTen offers a mix of in-person and virtual things to do in Boston this weekend. Have an idea about what we should cover? Leave us a comment on this article or in the BosTen Facebook group, or email us at [email protected].
Get your snacks ready and gear up for the 47th Annual Boston SciFi Film Festival & Marathon, which runs through February 21. Watch short, documentary, and feature films like "Beyond the Wasteland," "Out of Sync," and "Elulu." The annual festival takes place over the course of five days, and you can choose how you watch: snuggled under blankets at home or out at the Somerville Theatre. There will be about 30 curated and submitted films, 10 groups of shorts, totaling between 50 to 70 films. "The Marathon" starts at noon on Feb. 21 and ends 24 hours later — wrapping up the festival in a true all-nighter fashion. — Camille Bruni
"The Art of Banksy," which bills itself as "the largest touring exhibition of authentic Banksy artworks in the world," will be hosted in a building owned by the Harvard Coop at 12 Palmer St., Cambridge, from Feb. 17 to April 3. Among the pieces set to be on display are recognizable works like "Flower Thrower," "Rude Copper," and original variations of "Girl with Balloon," the artwork which caused a stir when it was shredded at an art auction in 2018. Most of the works featured in the exhibit were created between 1997 and 2008, and range from prints and canvasses to sculptures. — Kevin Slane
Born in Chicago in 1943, and a resident of Roxbury since 1974, Napoleon Jones-Henderson exhibits his most comprehensive solo museum exhibition in Boston at the ICA, which begins a five-month run this Thursday. Jones-Henderson works in mediums like woven tapestries, mosaic tile, sculpture, and works on paper. His tapestries and other works use bright colors and vivid design to focus on images of the experiences and cultures of people of the African diaspora. Touching on both the past and the future, some of his themes include Pan-Africanism and racial justice, along with references to figures like Duke Ellington, June Jordan, and Stevie Wonder. Jones-Henderson's exhibit will be at the ICA through July 24. — Natalie Gale
Looking for a night of laughs? Comedians Brandon Collins and Gordon Baker-Bone, joined by a number of guests, are bringing their interactive, boozy show to a Somerville location. The Rockwell in Somerville will host the two comedians this Thursday at 9:30 p.m. for a show where "prominent Black historical figures will finally get their due through drunken anecdotes from booked guests," according to the event description. "Drunk Black History" will feature J. Smitty, Sam Ike, Izzy da Rosa, and Bethany Van Delft, alongside the two hosts. — Marta Hill
When it comes to the kind of music she performs, Joan Osborne has never been one to wear a label. Though she's had only one hit single — the guitar-driven slow-rocker "One of Us," in 1995 — she's managed to keep a steady career going by constantly changing lanes. At different points, she's been described as a blues singer, a soul singer, and a country artist. She's dueted with Dylan and with Pavarotti, gone on tour with Phil Lesh & Friends, was a co-headliner on the first Lilith Fair tour, and had a couple of residencies at New York's Café Carlyle. Many of those styles and influences are front and center on her newest release, the self-produced "Trouble and Strife" (2020), on which she rocks out ("Hands Off"), gets all funky ("Meat & Potatoes"), reveals a fondness for disco ("Never Get Tired of Loving You"), and touches on some good old Southern soul ("Whole Wide World"). You'll be able to hear the full range of Osborne's talents at the Center for Arts in Natick, where she'll be performing on Friday at 8 p.m. — Ed Symkus
Calling all nautical novices, seasoned sailors, and water lovers: The 2022 Progressive Insurance New England Boat Show delivers your all-access pass to dive into the boating lifestyle. Connect with fellow boating enthusiasts, both new and experienced, to view a comprehensive selection of boats in New England — from center consoles and family cruisers to pontoons and wakesports boats. Newbies gain "Boating 101" education at Fred's Shed How-To Center, with a variety of daily seminars and demos on everything from getting started to service to operating, while your little ones enjoy splashing around a mini lake in a paddleboat or building their own toy boat. Showtimes are Wednesday, Feb. 16, through Friday, Feb. 18, from noon to 8 p.m.; Saturday, Feb. 19, from 10 a.m. to 8 p.m.; and Sunday, Feb. 20, from 10 a.m. to 6 p.m. — Cheryl Fenton
For 26 years, Levain Bakery has made its name as a must-try cookie destination, offering up crispy yet gooey cookies that started in New York City but have spread worldwide. This Saturday, Levain opens its first location in New England at 180 Newbury Street, giving Bostonians a chance to try its 6-ounce cookies, breads, and pastries starting at 8 a.m. Proceeds from Levain's opening day sales will be donated to Women's Lunch Place, a local shelter and non-profit charity that helps women experiencing hunger, homelessness, and poverty build self-sustaining skills. — Kevin Slane
Whether you are an avid New England homesteader or just want to connect with nature in a new way, tapping maple trees to produce syrup is a sweet life skill. This winter, learn all about the process while having fun with the family at Appleton Farms. The North Shore destination, one of the country's oldest continuously operated farms and a dynamic property of The Trustees, hosts hands-on maple sugaring workshops every weekend from Saturday, February 19 through March 27. Each two-hour session introduces the tools of maple sugaring, and lets participants try their hands at tapping trees amidst the snowy, rolling hills of Appleton Farms. This family-friendly maple sugaring program is offered both Saturday and Sunday throughout maple sugaring season, with sessions at 10 a.m. and 1 p.m. To kick off the season on Feb. 19, you can also sign up for a Maple Stroll at Appleton Farms. If you're interested in the history and science of maple sugaring but not so much in tapping trees, you can also attend a free presentation on weekend afternoons throughout the season. — Jacqueline Cain
Boston Winery, Dorchester's Italian-inspired spot where you can make your own wine, is celebrating its yearly harvest and wine production with a whole pig roast this Sunday at noon. Guests will also be able to enjoy house-made artisanal bread and pasta to go along with their crispy swine and not-as-crispy wine. Perhaps this event will inspire you to sign up for a winemaking membership — pick a grape and the team will walk you through each step of the process. Memberships start at 72 bottles a year, which means you'll either have to actually like the wine you make or have a lot of friends who love your wine. — Joel Ang
Calling all Bravo lovers: This Sunday at 6 p.m., Time Out Market Boston is hosting a tasting of Real Housewife and "Vanderpump Rules" star Lisa Vanderpump's eponymous Vanderpump Rosé, accompanied by an evening of drag bingo. Resident host Plane Jane will spin the tumbler for an hour of Bingo fun, along with appearances by fellow drag queens Candace Persuasion and The Queen Atlas. Prizes will be handed out throughout the event, and Time Out Market's 15 eateries and 2 bars will all be open for food and drink. — Kevin Slane
Need weekend plans?
The best events in the city, delivered to your inbox