Events
This event has passed. Check out other things to do instead.
10 things to do in Boston this weekend
BosTen is your weekly guide to the best events and coolest happenings in and around Boston.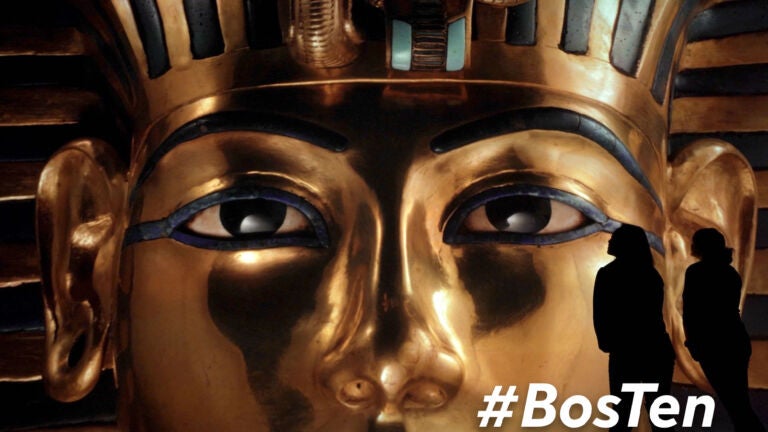 Welcome to BosTen, your weekly guide to the coolest events and best things to do in Boston this weekend. Sign up for our weekly email newsletter here. Have an idea about what we should cover? Leave us a comment on this article or in the BosTen Facebook group, or email us at [email protected]
This Thursday, the Corncord Museum will host a virtual conversation with author, activist, and educator Bill McKibben, whose new book "The Flag, The Cross, and The Station Wagon" draws from his years growing up in Lexington. The climate activist and New Yorker contributing writer recently published an excerpt from his new book in the magazine, which attempts to contextualize our nation's current racial and economic inequality by re-examining pivotal moments during his adolescent years. Registration for the event is free, though a donation via the museum's website is encouraged. — Kevin Slane
Have you ever wanted to see Egypt through the eyes of King Tut? National Geographic is granting that wish with their newest national exhibit coming to Boston, which celebrates the 100th anniversary of the discovery of King Tut's tomb. The North American tour of National Geographic's new exhibition, "Beyond King Tut: The Immersive Experience," is coming to Boston for a short time beginning on July 8 and running through September 18. The exhibit will combine projection mapping, a technique used to display video projections onto irregularly shaped objects or rooms, and "cinematic storytelling" to create an immersive experience. Tickets for the exhibit, which is produced by "Beyond Monet" company Paquin Entertainment Group, are available on the event website. — Gwen Egan
Boston Calling isn't the only major Massachusetts music festival. The vibes will be immaculate at the 2022 Levitate Music Festival, which brings jam bands from near and far to the Marshfield Fair grounds for a three-day festival from Friday to Sunday. As in years past, the headliners for this year's festival are decidedly jam-heavy, with Jack Johnson, Phil Lesh & Friends, and Vulfpeck getting top billing. Johnson's performance is his only visit to Massachusetts on his current tour, while the funky ducks of Vulfpeck will be performing live for the first time since their sold-out Madison Square Garden show in 2019. Others in the packed lineup include Stick Figure, Dirty Heads, Stephen Marley, Old Crow Medicine Show, and Umphrey's McGee. The official box office has closed in the last 48 hours, but fans can use the festival's official ticket exchange for hassle-free purchasing from fellow fans. — Kevin Slane
The idea of Jim Kweskin and Geoff Muldaur playing together on a stage isn't anything new. It's been going on and off and on again for about six decades. So, you can bet that, due to knowing each other so well, and in turn, appreciating each other's musical strengths, the audience will be in for a good night when they do it again at Club Passim this Friday at 8 p.m. The first time they met was in February, 1963, at the Community Church in Boston, where the two Cambridge residents, early in their solo careers, did a show that was billed as "The Bittersweet Blues of Geoff Muldaur and the Good Time Music of Jim Kweskin." They're still at it, with the 2016 album "Penny's Farm" proving that they still share the love of that old music along with the chemistry to play it together. — Ed Symkus
In ranking Yes the second greatest prog rock band ever, stalwart Boston music journalist Brett Milano wrote, "Few things embody prog like Jon Anderson's crystalline voice, Steve Howe's fretboard mastery, or a caped Rick Wakeman in the midst of a blazing [keyboard] solo." Anderson is currently commemorating the golden anniversary of the influential group's 1972 album "Close to the Edge" by performing the whole album – including the 18-minute title track – with teenage enrollees of The Paul Green Rock Academy. The group will visit the Cabot this Friday at 8 p.m., and tickets are still available. — Blake Maddux
Nostalgia Nights will return to Story Land in Glen, N.H., giving 21+ guests a chance to tap into their childhood every Saturday in July from 6 to 10 p.m. Since 1954, the 35-acre theme park has attracted thousands of visitors a year to the White Mountains region of New Hampshire for fairy tale-themed rides and attractions typically aimed at kids ages 2 through 12. On Nostalgia Nights, Story Land guests can revisit their favorite attractions and check out new ones. The park aims to have all rides open for the duration of the evening, from the antique cars to the teacups to the roller coasters. Face painting, photo ops, and live shows round out the evening, so guests can enjoy every Story Land feature of their childhoods. For tickets and more info, check out Story Land's website. — Natalie Gale
Drag queens from around the world will take the stage this Saturday from 7-10 p.m. at the House of Blues for War on the Catwalk, an evening of drag performances from "RuPaul's Drag Race" alums and noteworthy queens like Olivia Lux, Crystal Methyd, Kylie Sonique Love, Heidi N Closet, Priyanka, Icesis, Jimbo, and Kandy Muse. Hosted by Brooke Lynn Hytes and Miz Cracker, the all-ages show will showcase drag bits like lip syncing, comedy, and stunning costumes. For ticket to the show and an optional VIP meet and greet at 6 p.m., visit Ticketmaster. — Natalie Gale
This Sunday from 1-5 p.m., Bow Market in Somerville will transform into one giant raw bar patio, and you'll definitely want to be there. Bluefin, the small-but-great seafood market at Bow, will be providing the goods for a day of bivalve fun. There will be multiple raw bars set up, and other vendors will also be providing their own curated activities. Natural wine bar Rebel Rebel will host an "Oysters and Bubbles" class and Tanam will be serving a special five-course seafood dinner the same evening (here's the waitlist). While oysters will be available for sale on a walk-in basis, purchasing a ticket will guarantee you at least a half-dozen oysters during the festival (at a discounted rate, too!). You can also add on more oysters to your ticket — up to 18 per person — to ensure your Sunday afternoon fully captures that New England summer vibe. — Joel Ang
Settle in for some jazz music by the water this Sunday at the second annual Charles River Jazz Festival, a showcase for local up-and-coming talent. Held at the Herter Park Ampitheater in Allston, the free festival runs from 1 p.m. to 9 p.m. and will feature five artists, including Grammy-nominated singer and Berklee alum Debo Ray. For additional info including directions to the parking lot, check out the festival website. — Kevin Slane
While film fans have started heading back to regular movie theaters after two-plus years of COVID-19, the Boston area will once again offer a robust number of free outdoor movies now that summer has officially arrived. All summer long, you'll be able to catch a mix of fairly recent films and certified classics at pop-up outdoor movie screenings — free of charge. On Thursday, head to Revere Beach for an 8 p.m. screening of "Sing 2," or catch the original on Friday at dusk as part of Boston Harbor Hotel's Summer in the City series. Then on Saturday, you can head to the Prudential Center lawn for a sunset screening of "Encanto," completing the family-friendly movie trifecta. — Kevin Slane
Need weekend plans?
The best events in the city, delivered to your inbox