Events
This event has passed. Check out other things to do instead.
10 things to do in Boston this weekend
BosTen is your weekly guide to the best events and coolest happenings in and around Boston.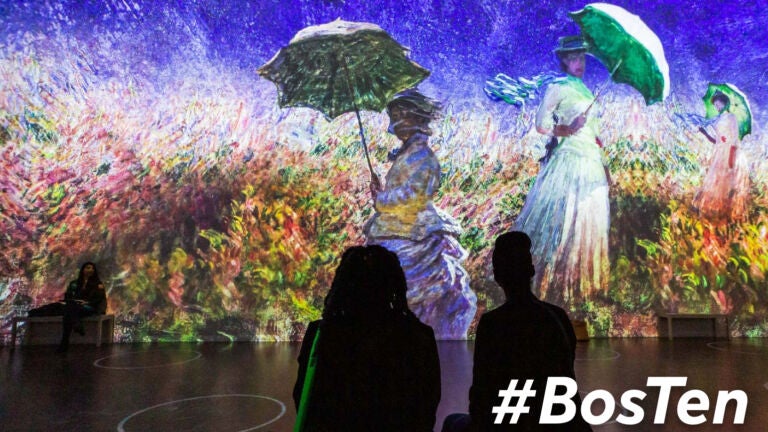 Welcome to BosTen, your weekly guide to the coolest events and best things to do in Boston this weekend. Sign up for our weekly email newsletter here. Have an idea about what we should cover? Leave us a comment on this article or in the BosTen Facebook group, or email us at [email protected].
Unfortunately, the 10,000 free tickets to the City of Boston's official NBA Finals Game 6 watch party at Fenway Park Thursday night have already been claimed. If you're still looking to be surrounded by Celtics fans, however, there are plenty of Game 6 watch parties around the city. Top options include Hurricane's, Bleacher Bar, and King's Dining & Entertainment in the Seaport, which will serve up Celtics Pride cocktails all night. — Kevin Slane
The sweetest adventure awaits you in Cambridge this summer. A chocolate-filled experience for all ages to enjoy, Choco Town is open now through July at the CambridgeSide Galleria. Journey through the Willy Wonka-esque village, where everything is based on (and made of) chocolate and sweets. From houses and fountains to chocolate chip rain and a bubble gum sound bath, guests will stroll down Choco Town's main street on a tasty journey to the town square, with plenty of photo ops against mouthwatering backdrops. Bonus: There's delicious chocolate samples along the way. Visits last from 60 to 90 minutes, and tickets are available now. — Cheryl Fenton
This Thursday from 6 to 9 p.m., Boston will host its annual disco in honor of Boston-born legend Donna Summer. Instead of the under-construction City Hall Plaza, folks will gather in Copley Square to dance the night away with live music and tribute performances to the Queen of Disco at this free and open event. This year's party will feature music by DJ Vince 1, a tribute performance by Mary Gaines Bernard, Donna Summer's sister and longtime backing vocalist, plus an appearance by her nephew O'Mega Red and other members of her family. — Natalie Gale
Prepare to have an impression left on you. After bringing "Immersive Van Gogh," "Immersive Frida Kahlo," and "Immersive Klimt" to Boston, Lighthouse Immersive and Maestro Immersive Art are shifting their focus to the Impressionist Movement of the late 19th century with their "Immersive Monet & The Impressionists." The new exhibit, which opens Thursday and runs through September, will project some of the Impressionists' most famous works onto the walls of the Castle's Lighthouse ArtsSpace — think Claude Monet, Auguste Renoir, Edgar Degas, Mary Cassatt, and other radical artists of the mid-1870s who shook up the art world by capturing both the transient nature of beauty and the timeless beauty of nature. Tickets for the Bay Village spectacle are available now. — Cheryl Fenton
This summer, the Trustees will expand their musical offerings, hosting dozens of outdoor concerts at venues across the state. At stunning locations like Castle Hill in Ipswich or Naumkeag in Stockbridge, guests can enjoy performances in a range of styles— from folk to Afropop to jazz. Some shows will have food trucks, and others encourage packed picnics. This Thursday, you can see Mike Weir at Weir River Farm in Hingham as part of the property's Sunset Picnics program. For Father's Day, head to the Bradley Estate in Canton for a blues concert from Luther "Guitar Junior" Johnson. For a full schedule and tickets, visit the Trustees website. — Natalie Gale
King Boston, a nonprofit continuing the work of Dr. Martin Luther King Jr. in the city, is hosting an Embrace Ideas Festival this Friday from 3-8 p.m. at area sites, such as Harvard Medical School and the ICA. The talks and live performances seek to inspire participants in "building the new Boston together." The festival will come to a celebratory end with a block party in Nubian Square. Music will be provided by "some of the city's best turntablists," including SuperSmashBroz, Slick Vick, and ReaL P with SILK OUTSIDE. There will be an abundance of food available from BIPOC-owned food trucks as well. — Joel Ang
Think you are an LGBTQ expert? Compete against other teams and test your knowledge of all things queer at Pride Trivia at Lamplighter Brewing Co.'s CX Upstairs Taproom this Thursday from 7-9:30 p.m. Questions will cover everything from queer history and gay icons to music and pop culture, according to Lamplighter Brewing Co. Attendees will have the chance to win "incredible prizes" according to Lamplighter, including gift cards, four packs of their Pride month beer, and tickets to the upcoming taproom Drag Race. — Marta Hill
Frank Turner didn't exactly go anywhere — except home, like the rest of us — during the coronavirus pandemic, but his new album "FTHC" (that stands for "Frank Turner Hard Core") still feels like a comeback, or at least a return to form. And as the title might seem to indicate, it does not go gently into that good night — as the kids say, it's fire. In addition to rocking hard, "FTHC" has the distinction of being Turner's first No. 1 UK album. So to celebrate, he's … coming to America! To 50 states in 50 days, to be specific, with Boston as his Massachusetts stop. Turner and his Sleeping Souls will take to the stage at Roadrunner this Friday, but don't worry if your dinner plans run late — he'll be bringing his typically extensive entourage of opening acts, in this case Avail, The Bronx, and Pet Needs. — Peter Chianca
In August 2016, 27-year-old Vanessa Marcotte was killed while jogging near her family's home in Princeton. This Saturday at 9:30 a.m., hundreds are expected to gather at the Wachusett Ski Mountain area for an annual 5k run in Marcotte's memory. The event is organized by the Vanessa Marcotte Foundation, which partners with organizations "that provide educational programs and mentorship opportunities to promote female empowerment and gender equality." — Kevin Slane
For almost 40 years, the Jimmy Fund has hosted the Scooper Bowl fundraising event, the largest all-you-can-eat ice cream festival in the country. This year the event moves out to Patriot Place in Foxborough this Saturday at noon, serving up scoops of over 50 ice cream flavors (including lactose-free ones!) from vendors like Hood, Baskin-Robbins, Ben & Jerry's, Friendly's, Breyers, and Häagen-Dazs. To date, the Scooper Bowl has raised more than $7.3 million to support cancer care and research at the Dana-Farber Cancer Institute. Along with dozens of flavors of ice cream, event-goers can enjoy live music from local bands and DJs. Regular tickets are $20 per person or $15 for children, and are currently on sale. — Natalie Gale
Need weekend plans?
The best events in the city, delivered to your inbox