Events
This event has passed. Check out other things to do instead.
10 things to do in Boston this weekend
BosTen is your weekly guide to the best events and coolest happenings in and around Boston.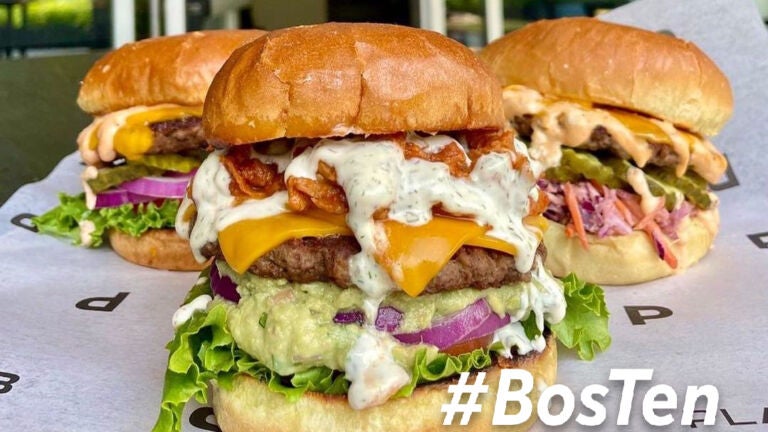 Welcome to BosTen, your weekly guide to the coolest events and best things to do in Boston this weekend. Sign up for our weekly email newsletter here. Have an idea about what we should cover? Leave us a comment on this article or in the BosTen Facebook group, or email us at [email protected].
Everett-based Night Shift Brewing has expanded its reach throughout the Boston area over the years with a number of pop-up beer gardens dubbed the "Owls Nests." Starting this Thursday, the brewery will open another beer garden in Kendall Square's Canal District, setting up shop in Termeer Park. Swinging by the new spot will also give visitors a chance to try out the recently opened PlantPub, a plant-based pub food restaurant from chef Mary Dumont (Harvest) and entrepreneur Pat McAuley located across the park. Guests will be able to scan QR codes on the brewery tables and select from dishes like Korean BBQ Cauliflower Wings, Street Corn Pizza, 'Chicken' Tahini Bowls, and what the company claims is Boston's only plant-based soft serve ice cream. — Kevin Slane
With City Hall Plaza being renovated, the city of Boston is moving its official outdoor watch party for Game 1 of the NBA Finals on Thursday across Congress Street to Faneuil Hall. Fans will gather at Samuel Adams Park (the open space that holds the Samuel Adams Statue) to cheer on the Celtics as they face off against the Golden State Warriors at 9 p.m. — Kevin Slane
What began in 1984 as 20 street performers, today has completely reinvented circus arts. And Cirque du Soleil is about to do something pretty cool again. Literally. A very first for the troop, these acrobats and talented performers take to the ice for "Crystal" — a one-of-a-kind performance that blends circus art and the world of ice skating, turning the Agganis Arena into a frozen playground full of skating and aerial feats from June 1-12. Watch world-class ice skaters and acrobats claim their new place on the ice with speed and fluidity as they challenge the laws of gravity with never-before-seen acrobatics. Created by Shana Carroll and Sebastien Soldevila, the story follows Crystal, the misfit lead character, as she takes you on an exhilarating tale of self-discovery throughout her imagination. As usually rings true for its shows, the arena transforms into a colorful experience with astounding visual projections and a soundtrack that seamlessly blends popular music with the signature sound of Cirque du Soleil. — Cheryl Fenton
Each summer, Boston's Parks and Recreation Department and the Boston Public Health Commission (BPHC) hold the city's Summer Fitness Series, a summer full of free fitness events around the city. This Thursday, the annual workout sessions return for the season with two free classes, starting at 5:30 p.m. in Copley Square. Attendees will receive a free giveaway item for the opening classes, which you can sign up for through the city's website. — Natalie Gale
Starting this Friday, the national Black Restaurant Week returns to Boston and other northeast cities for 10 days of specials and prix-fixe meals from Black-owned Boston food trucks, bakeries, and restaurants, as well as chances to win gift cards, cash prizes, and more. Founded in 2016 in Houston, Black Restaurant Week has since grown into a nationwide series of events that celebrate African-American, African, and Caribbean cuisine in local communities. You can see a list of participating restaurants on the Black Restaurant Week website. And if you're looking for even more options, check out this directory from the city's Black Hospitality Coalition, an organization founded in 2020 to preserve these businesses' 180-plus-year legacy of food, culture, and business in Boston's Black communities. — Jacqueline Cain
This Saturday, more than 100 musical acts will perform for free on 65 porches scattered throughout Newton as part of the city's annual PorchFest. Musical performances in the city's Auburndale, Lower Falls, and Waban Center neighborhoods run the gamut of genres from jazz to barbershop, pop to classical, and R&B to rock. To see a full schedule and list of bands, check out the Newton PorchFest website. — Natalie Gale
An action-packed motorsports experience for families, Monster Jam returns to Gillette Stadium for its 30th year this Saturday. Ryan Anderson, the 2021 Stadium Series champion, aims to repeat as series champion in Sonuva Digger, while Tyler Menninga makes his Stadium Championship Series debut during the 40th anniversary of the legendary Grave Digger. The fun begins at the Monster Jam Pit Party at 2:30 p.m., where guests can see the massive trucks up close, meet favorite drivers and crews, get autographs, and take pictures. At 7 p.m., fans can witness heated rivalries, high-flying stunts, and fierce head-to-head battles for a spot at the event championship in Orlando. — Cheryl Fenton
If you haven't yet explored the revamped Cambridge Crossing, a burgeoning office and retail neighborhood that abuts the relocated Lechmere Green Line stop, REI is giving you a good reason to stop by this Sunday at 9:30 a.m. The outdoor apparel retailer will host a 5k community run and post-run celebration at its Morgan Street store, with runners starting at the store, lopping through North Point Park, and returning to the store to pick up commemorative swag. Registration is now open on the REI website. — Kevin Slane
Poised to celebrate Pride Month in style on the dance floor, LGBTQ+ women and friends take over one of the hottest rooftop bars in the city (Dorchester Brewing Company's rooftop, for those keeping count) to continue LesbianNightLife's series of Summer Rooftop Tea Dance Parties. DJ JamilaAfrika will spin her nourishing deep Afro/soulful house music at the 21+ event on Sunday from 4 to 8 p.m., as guests dance under the open sky and brilliant sun with hand-crafted beer, cider, and kombucha in hand. Can't make this event? You'll get your chance throughout the summer and into fall, with other tea dances scheduled on July 10, Aug. 14, Sept. 11, and Oct. 2. — Cheryl Fenton
We're not sure exactly to what we owe the pleasure, but Melissa Etheridge — the raspy guitar rocker whose stellar career is now in its fourth decade — will be doing small-venue "One Woman Band" solo shows in exactly two cities this summer. And one of them is Boston, where Etheridge will play four shows on June 5, 6, 8, and 9. Etheridge's One Woman Band shows — which will be literally up-close and personal, given the intimate nature of the City Winery's 280-seat main room — might bear a resemblance to her live-streamed shows that were a staple during the early days of the pandemic. Those performances, filmed out of Etheridge's garage, were freewheeling, conversational affairs that might just as easily feature an old Prince or Bruce Springsteen cover as one of her own hits. — Peter Chianca
Need weekend plans?
The best events in the city, delivered to your inbox