Events
This event has passed. Check out other things to do instead.
10 things to do in Boston this weekend
BosTen is your weekly guide to the best events and coolest happenings in and around Boston.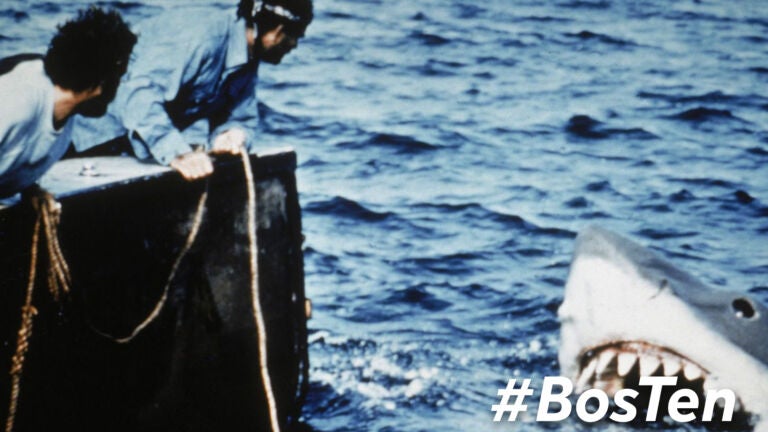 Welcome to BosTen, your weekly guide to the coolest events and best things to do in Boston this weekend. Sign up for our weekly email newsletter here. Have an idea about what we should cover? Leave us a comment on this article or in the BosTen Facebook group, or email us at [email protected].
Family experience company CAMP recently launched a new themed experience at Burlington Mall called Base Camp. Through July 29, families can head to the first floor of the mall for a retro summer camp-themed pop-up. Little campers can slide down slides, play on bunk beds, have a dance party in the disco cabin, paint in the splatter room, and more. The experience also includes the Canteen Store, full of curated children's products and toys. CAMP will host activities throughout the summer, including a school's out disco party on Friday and a Pride party on Saturday. Other rotating events throughout June and July include craft activities where kids can make their own birdhouses, secret diaries, tie dye slime art, and suncatcher lanterns. Those interested can book tickets for events and find the full event schedule on the website. — Natalie Gale
Just a handful of miles off shore from downtown Boston lives some of the world's most majestic marine life, protected at Stellwagen Bank National Marine Sanctuary. On Wednesday, the New England Aquarium opened a new exhibit by underwater photographer (and Newton native) Keith Ellenbogen, getting up close with the marine life of the sanctuary. "Space to Sea: A Photographic Journey into Stellwagen Bank Sanctuary" features up-close shots of creatures like great white sharks, sea turtles, and humpback whales, and will be open to the public on the aquarium's Central Wharf through November 1. — Natalie Gale
For its 24th edition, the Roxbury International Film Festival (a.k.a. RoxFilm) will be hosting in-person screenings at five local sites (The Museum of Fine Arts, Hibernian Hall, the Roxbury Branch of the Boston Public Library, Black Market in Nubian Square, and ArtsEmerson), as well as offering the opportunity to partake in many of the festivities virtually through the RoxFilm@Home Program. The fest's combined components begin this Thursday, and run daily through July 2. This year's schedule is packed with feature-length narrative and documentary films, along with a variety of shorts and some animation. But RoxFilm will also extend its scope with the inclusion of panel discussions, workshops, one-on-one conversations, and Q&A sessions with filmmakers. Highlights include opening night film "Remember Me: The Mahalia Jackson Story," a biopic starring R&B sensation Ledisi as the legendary gospel singer. All film programs are $15; online films are $10; and multi-program passes are available ($165 in-person, $50 online). For a complete schedule and more information, visit roxfilmfest.com. — Ed Symkus
It seems that the endless construction around Cambridge Crossing is finally coming to a close, and there's no better way to celebrate than with some free concerts under the stars. The event series kicks off this Thursday from 5:30 to 8:30 p.m. with performances from Blue Light Bandits + Dwight and Nicole. CX Summer Nights will be running in June, July, and August, featuring drinks from the East Cambridge Business Association, a variety of local food trucks, and a photo booth bus. For those who are not familiar with the area, parking is very limited, so public transit is highly recommended. The brand new Lechmere station is just a two-minute walk away, and Cambridge Crossing has several Bluebike stations nearby. — Joel Ang
A staple of the last few years of Pride in Boston, the Trans Resistance March and Festival, is back for 2022. It's the third annual march organized by Trans Resistance MA, a group that advocates for the "safety, joy, and liberation" of trans and queer people of color. The march starts at Cedar Square Park at 11 a.m. this Saturday. Beyond the march and festival performers, there will be food trucks, local vendors, and other resources. And after the march concludes, there will be a festival at the Franklin Park Playstead starting at 1 p.m. featuring more than 20 performers and artists, many of whom are from Massachusetts. — Marta Hill
It's not entirely clear why this food truck festival is named the "Hot Dog Safari," as it has no relation to Eddie Andelman's Hot Dog Safari, a staple of the local food festival circuit in the '90s and '00s. Maybe because The Sausage Guy is one of the featured vendors? Maybe the organizers have a few inflatable giraffes leftover from their last stop? In any case, the old racetrack at Suffolk Downs will be turned into a food and beer garden for an afternoon, with brews from Mighty Squirrel, Citizen Cider, Lord Hobo, and many more. If you plan to attend, be sure to buy your ticket online to save 50% off the price of general admission. — Joel Ang
While Boston-area film fans have started heading back to regular movie theaters after two-plus years of COVID-19, city officials will once again offer a robust number of free outdoor movies in Boston now that summer has officially arrived. All summer long, you'll be able to catch a mix of fairly recent films and certified classics at pop-up outdoor movie screenings — free of charge. On Friday, head to Rowe's Wharf at dusk for a free screening of "Jaws," part of the Boston Harbor Hotel's "Summer in the City" series. Or if you'd prefer, head to the USS Constitution Museum anytime before 8:30 p.m. for a free screening of the first "Pirates of the Caribbean" movie aboard Old Ironsides, with crew members projecting the swashbuckling film for guests on the ship's top deck. Space is limited aboard the ship, but if you decide to head over early, you'll hear from public historian Carl Herzog starting at 7:30 p.m., as he discusses the USS Constitution's history and how it relates to the movie. — Kevin Slane
This Saturday (at 8 p.m.) and Sunday (at 3 p.m.), the Boston Gay Men's Chorus will return to the stage at Symphony Hall for an evening of Disney songs in an event celebrating LGBTQ Pride. Disney's "PRIDE in Concert" represents the chorus's biggest shows to date, with 250 singers, 42 songs, and a 25-piece orchestra — and also happens to be the group's 40th anniversary concert. The concerts follow a 30-month hiatus for the chorus due the COVID-19 pandemic. The event has been in the works since last summer, and it's Disney's first collaboration to create an LGBTQ-specific concert package, according to a news release. After the concert, the show will be available for licensing in the future though Disney Concerts. The concert will also include memorable video clips from Disney films and storytelling "celebrating diversity and perseverance." — Marta Hill
Twenty-five-years ago, the French filmmaker Luc Besson, with the slick thrillers "La Femme Nikita" and "The Professional" already securing him a spot among directors to watch, decided to make a comedy. Well, a better term for what resulted — "The Fifth Element" — would be a science-fiction action comedy. It was a treat back then, and it will be one for anyone watching it again or catching it for the first time when it's re-released, in celebration of its silver anniversary, via Fathom Events, on Sunday, June 26 and Wednesday, June 29. "The Fifth Element" starts in the Egyptian desert in 1914, when a group of hulking ETs called Mondoshawans land their spaceship and attend to some business inside a pyramid. Then it jumps ahead approximately 300 years to the crowded streets and skies of New York City, where former army major turned cabbie Korben Dallas (Bruce Willis) runs into orange-haired alien Leeloominaï Lekatariba Lamina-Tchaï Ekbat De Sebat (Milla Jovovich) as she tries to evade police. Co-starring Ian Holm, Chris Tucker, and Gary Oldman, "The Fifth Element" will be playing at 3 p.m. and 7 p.m. at various theaters across Massachusetts. For a full list, check out the Fathom website. — Ed Symkus
They say that summer isn't officially here until you get to drink rosé on a boat — "they" being the organizers of the annual Rosé on the Water cruise. This Sunday from 1-4 p.m., for the eighth year in a row, you will have the opportunity to wear pink and drink rosé around the Boston Harbor. Snacks will be provided on board as well, and the cruise will take place rain or shine. The event may sound like the perfect setup for an episode of "Below Deck," though admittedly it's hard to tell the difference between reality TV and the things Bostonians do in the summer sometimes. — Joel Ang
Need weekend plans?
The best events in the city, delivered to your inbox