Events
This event has passed. Check out other things to do instead.
10 things to do in Boston this weekend
BosTen is your weekly guide to the best events and coolest happenings in and around Boston.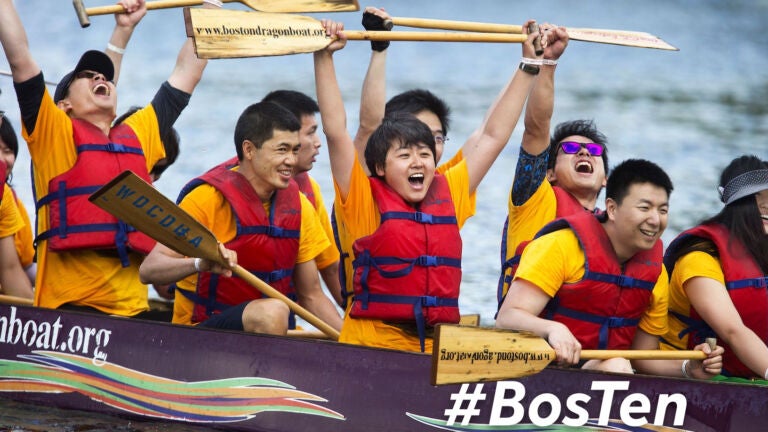 Welcome to BosTen, your weekly guide to the coolest events and best things to do in Boston this weekend. Sign up for our weekly email newsletter here. Have an idea about what we should cover? Leave us a comment on this article or in the BosTen Facebook group, or email us at [email protected].
Soak up the evening summer sun and take in live music and classic movies at the Boston Harbor Hotel's Summer in the City series, which is back for its 23rd year at Rowe's Wharf starting this Thursday. Every Tuesday from 6 to 10 p.m. will be Pop Soul Tuesdays, followed by Rat Pack Wednesdays, and Blues Barge Thursdays. Fridays are movie nights, with films beginning at dusk. Guests can enjoy the complimentary live entertainment with views of the Boston Harbor every week through Aug. 26. Thursday's show comes from New Orleans-style blues band Fat City, and Friday's film is the animated adaptation of Dr. Seuss's classic book "The Lorax." — Marta Hill
Boston Calling 2022 may have come and gone, but there's another Boston Calling-branded way to check out live music this summer — and this one's free. Boston Calling Block Parties return to The Greenway at Dewey Square this summer, happening every Thursday evening now through Aug. 11. Live music is set amidst The Greenway's gardens, overlooking a new mural by Rob "ProBlak" Gibbs. These free, outdoor parties will feature local music artists as well as lawn games, with beer and hard seltzer available for purchase. The events are sponsored by Miller Lite and as such, they are 21+. There's also an opportunity to reserve a private area, called the Dewey Garden Room, to host groups during the Block Parties for events or company outings. To inquire with The Greenway about the Garden Room, fill out this form. — Jacqueline Cain
The U.S. Open won't bring some of the top players in golf to The Country Club in Brookline until next weekend, but the Boston.com Cocktail Club is getting into the spirit of things early. This Thursday at 7 p.m., join host Jackson Cannon (The Hawthorne, Eastern Standard) and guest bartender Gabriel Cardarella (North American Ambassador for John Dewar & Sons) as they teach you how to make a Lemon Wedge — the first-ever official cocktail of this year's U.S. Open — and a South by Southwest. Attending the Zoom is free, and you can find a full list of necessary ingredients here. — Kevin Slane
The Greenway's Glow in the Park event lights up the night every June, raising money for the Rose Kennedy Greenway Conservancy and giving young professionals a night to celebrate the season. The 21+ event will be held this Friday from 6:30-10:30 p.m., and includes food trucks, lawn games, libations, live music, and dancing. This year's event heads to the Rings Fountain, one of the Greenway's most recognizable features, located at Atlantic Ave. and Milk St. The event's $80 ticket price includes food from trucks like Bon Me, Roxy's, and Moyzilla, beer from Sam Adams, wine from Lila Wines, live music performances by Sugar Babies and Vivian Luo, an outdoor lounge by Yogibo, and glow sticks and glow makeup by Glamsquad. An afterparty will follow at Central Wharf Co. on Milk St. All proceeds from the event benefit the ​​Rose Kennedy Greenway Conservancy, which is responsible for making sure the Greenway remains an inclusive, vibrant green space and maintaining its horticultural health, community events, and public art. — Natalie Gale
This year marks the 25th Boston Dyke March, a grassroots Pride event intended for anyone who believes in an "anti-capitalist, intersectional gender liberation," according to the event website. Hosted at the Boston Common, this year's celebration features three musical guests, a youth poet, and two speakers. Ideas Not Theories, a theatrical percussion company for "unconventional instruments;" shallow pools, a Boston-based band in the shimmer pop genre; and Kayla Blackburn, a singer-songwriter who graduated from Berklee College of Music, will all grace the stage at the Parkman Bandstand. The event will kick off at 6:30 p.m. on Friday at Parkman Bandstand for some pre-march programming with the march starting at 7 p.m. — Marta Hill
Boston's annual Hong Kong Dragon Boat Festival returns for an in-person celebration in 2022, complete with racing on the Charles all day Saturday and Sunday, Asian street food, activities for kids, and cultural performances. The oldest dragon boat festival in the country, Boston's festival was first held in 1979 and helped to popularize the sport across the country. The celebration takes place in Riverbend Park near the John W. Weeks bridge by Harvard Square. Festival-goers can expect performances like Taiko drumming, Kung Fu displays, and classical Chinese music, and food trucks will include Asian vendors like Bao Nation, Moyzilla, Bon Me, Nirvana, Eggroll Cafe, and more. — Natalie Gale
Lansdowne Street will swell with pride this Saturday during the first Pride Bar Fest. A wristband will grant you access to all the venues, so just pick where you want to start and check-in. The day will be filled with DJs, drag performances, and live music at Time Out Market, Lansdowne Pub, Bill's Bar, Bleacher Bar, Game On!, as well as Fenway Johnnies, House of Blues Restaurant & Bar, Cheeky Monkey, Loretta's Last Call, and Lucky Strike. There will be a Queer Vendor Market, and food is available at just about every venue. Don't want to wait in line? Cheeky Monkey VIP section gives you a dedicated bar, and Game On! is offering VIP tables with a dedicated server for groups of up to 10 people. For those under 21 who want to join in on the fun, Time Out Market is the designated space for you (all others will be 21+). — Cheryl Fenton
You can always count on David Sedaris to reflect on an odd situation and find the humor. Whether it's about removing a tumor and grappling with middle age in "Calypso" or purchasing a giant box of condoms at Costco in "Author, Author." In "Happy-Go-Lucky," his latest essay collection which was released on May 31, Sedaris reflects on the past few years, from his complicated relationship with his late father Lou, who died in 2021 at 98, to his observations on the Black Lives Matter movement and considering his own biases. The author will stop by Plainville's An Unlikely Story bookstore this Saturday at 6 p.m. for a short reading from the book and a discussion with moderator Cindy House, author of "Mother Noise" and Sedaris's former student. Tickets include a copy of "Happy-Go-Lucky," and a meet and greet with the author where you can have the book signed and personalized. — Emily Turner
When it comes to genres, Lake Street Dive spans many of them — pop, R&B, rock, and jazz, just to name a few. They also put on an impressive show, and will be in Boston this Saturday for a concert at the newly opened Roadrunner. Recent shows by the band, which formed at the New England Conservatory of Music right here in Boston, have included lots of songs from the band's newest album, "Obviously," as well as contributions from new guitarist, James Cornelison. Tickets for the 8 p.m. show are available on the venue's website. — Arianna MacNeill
Come to the Emerson Paramount Center this weekend and help the Boston Globe celebrate its 150th anniversary alongside the writers that populate its pages with the return of Globe Live, the company's nonfiction storytelling series. Mark Arsenault will share the tale of a World War II-era pilot's final flight, Laura Crimaldi recalls the tale of how a Boston cabbie gave the abortion rights movement one of its most famous slogans, and the Emancipator's Amber Payne and Deborah D. Douglas will share how they've been building an antiracist newsroom. All those stories, plus music, humor, poetry, and more. Tickets for Saturday's 7:30 p.m. show, Sunday's 2 p.m. show, and a virtual stream of Saturday's show are available through the Globe Live website. — Kevin Slane
Need weekend plans?
The best events in the city, delivered to your inbox