Events
This event has passed. Check out other things to do instead.
10 things to do in Boston this weekend
BosTen is your weekly guide to the best events and coolest happenings in and around Boston.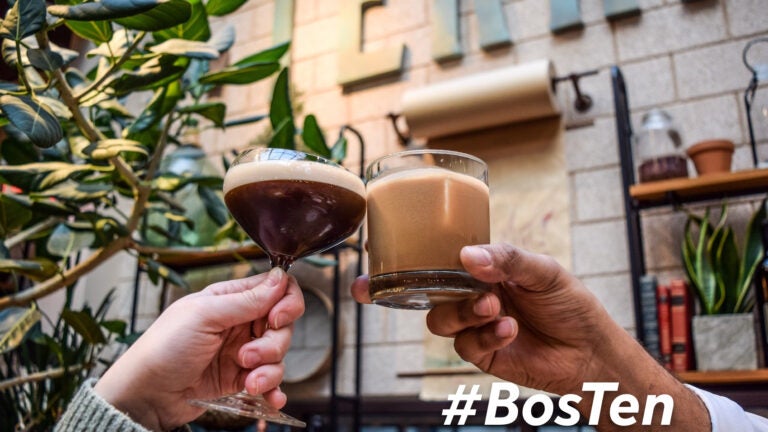 This week's BosTen offers a mix of in-person and virtual things to do in Boston this weekend. Have an idea about what we should cover? Leave us a comment on this article or in the BosTen Facebook group, or email us at [email protected].
Massachusetts is now home to more than 200 breweries, and that's certainly something to celebrate. The Bay State trade association Mass. Brewers Guild is doing just that from during Mass Beer Week, an annual organized effort to #DrinkMassMadeBeer running through Sunday. Breweries are planning various events and activities throughout the week, from special beer releases to trivia nights and pairing dinners. There are beer trivia nights around Boston, beer and cheese pairing events, and much more. Check out the full line-up of events at MassBeerWeek.org. — Jacqueline Cain
Shaken or stirred? Unless you're James Bond, you may have questions about the best way to prepare a classic martini — or a number of other popular cocktails, for that matter. This Thursday at 7 p.m., the Boston.com Cocktail Club will offer up assistance in perfecting your vodka cocktail game. Join host Jackson Cannon (The Hawthorne, Eastern Standard) and guest bartender Alice Farquhar (Global Education and Training Manager for Belvedere Vodka) as they teach you how to make two vodka cocktails — the Classic Martini and the Blackberry & Lemongrass Sour. Attending the Zoom is free, and you can find a full list of necessary ingredients here. — Kevin Slane
From zesty, fruited sour beers to rich and luscious stouts — and not to mention some of the top hoppy beers around — Night Shift Brewing in Everett makes beer for any occasion. So what's on tap for a five-course dinner at Pazza on Porter? Get tickets to the upcoming Night Shift Beer Dinner on March 10 to taste for yourself. The East Boston restaurant serves up Italian-American cuisine in a chic and social atmosphere. For the beer dinner, the chef is clearly taking inspo from the liquid guest of honor to craft a menu that leans more toward pub food than red sauce, and is elevating each dish with a twist. Look forward to sampling Night Shift beer-battered fish and chips with house-made remoulade; homemade sausage with peppers and caramelized onions; a fresh arugula salad with wintry accompaniments; a trio of vegetarian croquettes atop a grilled carrot purée; and toffee bread pudding with Nutella cream. Tickets are $60 per person and each course is matched to a unique Night Shift beer. — Jacqueline Cain
Dust off your favorite cosplay costume. The NorthEast ComicCon & Collectibles Extravaganza returns to the Boxboro Regency Hotel for three days of photo ops, panels, and presentations from Friday through Sunday. There will be vendors selling comics, toys, art, books, memorabilia, crafts, and pop culture collectibles; celebrity guests signing autographs and offering selfie ops; and comic book artists and writers ready to chat up their latest creations. Fans and collectors will love catching glimpses (and even – gasp – meeting) celebrity guests, such as Tara Reid (of "Big Lebowski," "American Pie," and "Sharknado" fame), Candy Clark ("American Graffiti," "The Man Who Fell To Earth"), Vernon Wells ("Mad Max," "Commando"), Guy Gilchrist ("The Muppets" comic strip), Philo Barnhart ("The Little Mermaid"), Ken Wheaton (Bongo Comics such as "The Simpsons"), Keith Williams ("The Phantom"), and many more. — Cheryl Fenton
Starting this Saturday, New Yorker illustrator Edward Koren and nature photographer Stephen Gorman will display their work side by side in PEM's new installment, "Down to the Bone." Koren's recognizable cartoons feature charming, hairy creature-characters, while Gorman's photographs document Inuit cultures and the frigid northernmost regions of the world. Presented together in this exhibit, Gorman's photos and Koren's drawings both focus on the climate crisis's collateral damage: animals. For this installation, Gorman shot photos of polar bears in the Arctic National Wildlife Refuge, near an Inupiat village in northern Alaska called Kaktovik. Koren, meanwhile, has illustrated a number of his familiar creatures, whose hairy, anthropomorphic forms often occupy the pages of the New Yorker, for "Down to the Bone." Woeful and resigned, they occupy landscapes decimated by human-made climate change. — Natalie Gale
Starting this Friday, two long-lived Boston institutions will join forces at the Lotvin Family Gallery in Hopkinton for a history lesson. Ahead of the running of the 126th Boston Marathon next month, a new exhibit looks at how the iconic race has evolved since 1897, reflecting on changes shown in the pages of The Boston Globe, which recently kicked off a year-long celebration of its 150th anniversary. "Coverage: The Boston Marathon As Reported By The Boston Globe" showcases how Boston's oldest newspaper has evolved as well, and visitors will be able to see some of the most eye-catching moments in Boston Marathon history through its pages. — Kevin Slane
ArtsEmerson addresses what happens when mundane moments become more meaningful during the world premiere of "Everyday Life and Other Odds and Ends," which debuts this Saturday. A multimedia work born from playwright Charlotte Meehan's own experiences and performed by Boston's acclaimed experimental theatre troupe Sleeping Weazel, "Everyday Life and Other Odds and Ends" is a powerful (and frequently hilarious) story that reveals the inner life of those living with and affected by Parkinson's disease. The play introduces three very different couples, each of their relationships uniquely impacted by the illness. Striving for unconditional love, each pair responds to the avalanche of advice heaped on them with a mix of hilarity, pain, and love, while every day patterns take on deeper meaning and urgency. Attendees can also meet with members of the show's creative team after certain performances for a conversation about navigating relationships — from the mundane to life-altering — and how the team at Sleeping Weazel made them theatrical. — Cheryl Fenton
The espresso martini is having a serious moment on the craft cocktail scene. A throwback shaken up with booze, a touch of sweetener, and freshly brewed espresso, it's typically served up in a chilled glass. Throughout March, Terra at Eataly Boston is celebrating Women's History Month by donating $1 to the Women in Coffee Project from every Women in Coffee Espresso Martini sold. The Women in Coffee Espresso Martini at Terra is made with an espresso blend of the same name from Caffè Vergnano — a 130-year-old Italian roasting company that sources high-quality coffee beans from around the world — plus St. George AP Vodka, Caffè Borghetti, and Frangelico. You can try one of three espresso martinis on the menu at Terra's recently reintroduced weekend brunch on Saturdays and Sundays from 11 a.m. to 3 p.m. — Jacqueline Cain
Known for creating layered narratives by mining advertisements, magazine headlines, comics, pop art, and iconic imagery, Boston artist John Joseph Hanright has joined with British photographer Nick Veasey for a month-long showing at the Samuel Owen Gallery in Boston's SoWa Art + Design District. "Iconic Style" brings together the two artists as they explore themes around what's natural and what's manufactured as seen through the lenses of pop art and photography. Hanright brings paintings that both celebrate and expose the nature of nostalgia through vintage materials of American culture, while Veasey brings new works made from his signature X-ray imagery exploring what lies beneath the surface of everyday life. — Cheryl Fenton
Longtime fans call them the Tones. Their official website refers to them as the Wolfies. Call them what you will, The Wolfetones — three pals who grew up in Dublin and have been singing together for almost 60 years — are an Irish treasure. Through constant touring and album after album, they've made an incredible career out of singing and telling stories of Ireland — some of them joyful, some sad, some politically charged. The group's shows are geared to families, and setlists can include everything from "Grace," a moving ballad about a doomed romance, to the raucous and comical sing-along "You'll Never Beat the Irish." Tickets are still available for the trio's show at Dorchester's Strand Theatre on Sunday at 7:30. — Ed Symkus
Need weekend plans?
The best events in the city, delivered to your inbox