Events
This event has passed. Check out other things to do instead.
10 things to do in Boston this weekend
BosTen is your weekly guide to the best events and coolest happenings in and around Boston.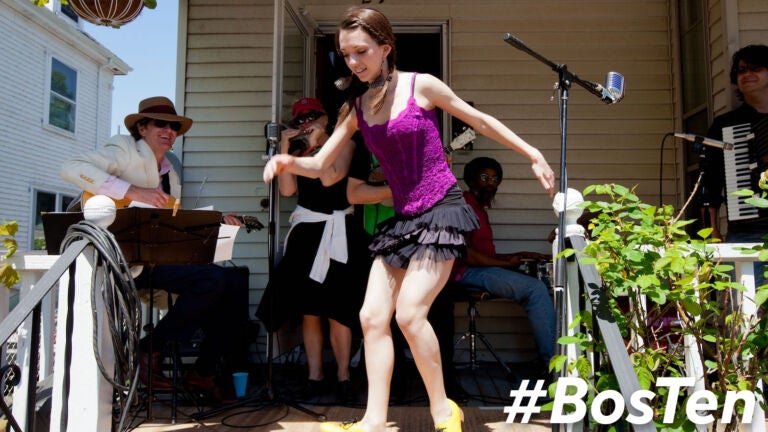 Welcome to BosTen, your weekly guide to the coolest events and best things to do in Boston this weekend. Sign up for our weekly email newsletter here. Have an idea about what we should cover? Leave us a comment on this article or in the BosTen Facebook group, or email us at [email protected].
The year was 1988, the city was Sacramento, California. Three high school pals — singer Chino Moreno, guitarist Stephen Carpenter, and drummer Abe Cunningham — started jamming together. Over time, they picked the name Deftones, became a quartet, became a quintet, had some lineup changes, played show after show, developed what would eventually be called the nu-metal sound, and recorded their first album, "Adrenaline," in 1995. What separated them from other hard-hitting bands, especially on later albums, was their penchant for switching things up. One song might be a real head-banger, with screaming vocals and screeching guitar feedback. Another — on the same album — would be softer, laid back, almost gentle, relying more on melody than explosiveness. All of the group's styles will be on display this Friday at 8 p.m. when Deftones visit Agganis Arena. To grab tickets, head to the venue's website. — Ed Symkus
Download our app to stay connected
Receive the latest news and breaking updates
Five years ago, the Power Beer Fest introduced the greatest gathering of Massachusetts breweries under one roof — and it returns to Boston this Saturday at the Cyclorama events venue in the heart of the South End. There will be two sessions, from 1 to 4:30 p.m. and 6 to 9:30 p.m. Ticket holders will have access to unlimited samples from 40 local breweries during each session, including Tree House, Vitamin Sea, Channel Marker, the Brewery at Four Star Farms, and more. From juicy IPAs to tart sours and luscious stouts, there will be beers for every taste. Food will include options from Brato Brewhouse + Kitchen, Eastern Standard Provisions, and Wild Fox Pierogi. Bring an empty canteen to fill up on cold, filtered still and sparkling water at the Bluedrop Water Station. The Power Beer Fest is the biggest annual fundraiser for the Mass. Brewers Guild, a nonprofit organization that works to protect and promote the interests of craft brewers across the Commonwealth. Tickets are $55 and $10 for designated drivers. — Jacqueline Cain
Once a year during PorchFest, Somerville transforms into one huge concert, with hundreds of musicians performing on porches across the city. This Saturday, artists on West Somerville porches will play throughout a 12 p.m. to 2 p.m. window, while those in Central Somerville will perform from 2 p.m. to 4 p.m., and those in East Somerville will take to their instruments from 4 p.m. to 6 p.m. More than 250 artists are slated to perform already, and even more will likely be added before Thursday's registration deadline. — Kevin Slane
During the warmer months in Boston, the Greenway Artisan Market unites dozens of local artists, crafters, makers, designers, and small business entrepreneurs at the Rose Kennedy Greenway each weekend. Powered by Somerville Flea, the market will reopen for the season this Saturday from 11 a.m. to 5 p.m., and can be found across the street from Quincy Market every weekend through October. — Kevin Slane
With more and more consumers watching movies on laptops or even cell phones, Somerville Theatre has remained dedicated to showing films on the big screens in the aspect ratios their creators intended with their annual 70mm and widescreen festival. This Saturday and Sunday (at 2 p.m. and 7 p.m.), the theater will show the Stanley Kubrick sci-fi epic "2001: A Space Odyssey" in glorious 70mm, ensuring audiences can appreciate every inch of the director's magnum opus. — Kevin Slane
On Saturday, Massachusetts College for Art and Design is hosting its first in-person fashion show since 2019. The show — entitled "404 Not Found" — features the work of 21 graduating seniors from MassArt and deals with themes such as gender identity and grief. MassArt is hosting two of the shows — at 5:30 p.m. and 8 p.m. — at the campus' Design and Media Center. Tickets are $40 and are available on MassArt's website. MassArt will also be live-streaming the event for those unable to attend. — Mia McCarthy
After a two-year hiatus, the Harvard Square Business Association will have its own outdoor party this Sunday from 11 a.m. to 6 p.m. with its 37th annual MayFair. Along with local businesses selling food from outdoor tents, there will be 40 artisanal booths featuring local vendors, several outdoor beer gardens, and four music stages scattered around the square featuring a multitude of genres. The musical highlight comes at 4 p.m. on the main stage, where reggae-rock group Roots of Creation. For a full list of performers and additional details, check out the HSBA website. — Kevin Slane
In late 1995, a Kentucky native named Joan Osborne released her soon-to-be ubiquitous debut single. "One of Us" — which was written by Eric Bazilian of the '80s pop duo The Hooters — peaked at #4 in the US and was comparatively or even more successful in several other nations around the world. Despite never duplicating the commercial success of that song, Osborne has continued to regularly release well-received albums over the past 20-plus years. Osborne's current tour includes a headlining spot at 6 p.m. on Sunday that caps off two full days of events and performances at The Newburyport Arts & Cultural Spring Festival — right on the water and free of charge. — Blake Maddux
Boston's thriving Polish-American community will convene in Dorchester this Sunday from noon to 6 p.m. for Polish Fest, a celebration of everything Poland run by the Polish American Citizens Club of South Boston. Guests can enjoy delicious food, live music, and an immersion into Polish-American culture and traditions. The festival will be held at 82 Boston St., a short walk from Andrew Square station on the Red Line in Dorchester. — Kevin Slane
Included on "Love & Rage," Carsie Blanton's 2021 album of what the New Orleans singer-songwriter refers to as "anti-fascist anthems," is a provocatively titled track called "S*** List" that's aimed at a certain brand of complainer who lately seems to make up an outsized segment of the general population. What's funny about "Sh*t List," like many of the tracks on "Love & Rage" and in the rest of Blanton's repertoire, is that it comes off as anything but an angry screed — Rage Against the Machine she isn't. Rather she's imbued her music with catchy hooks, power pop chords, and such downright delightful harmonies that her lyrical messages go down super-smooth. Blanton's play has been attracting attention — she's opened shows for none other than Paul Simon, and drew praise from another famous half-of-a-duo, John Oates, who said Blanton's "sly wit and urbane imagery" reminded him of Cole Porter. So if you hate fascists and love thoughtful, catchy songs (not necessarily in that order), you'll want to check in on Blanton when she plays City Winery this Sunday at 8 p.m. — Peter Chianca
Need weekend plans?
The best events in the city, delivered to your inbox