Events
This event has passed. Check out other things to do instead.
10 things to do in Boston this Labor Day weekend
BosTen is your weekly guide to the best events and coolest happenings in and around Boston.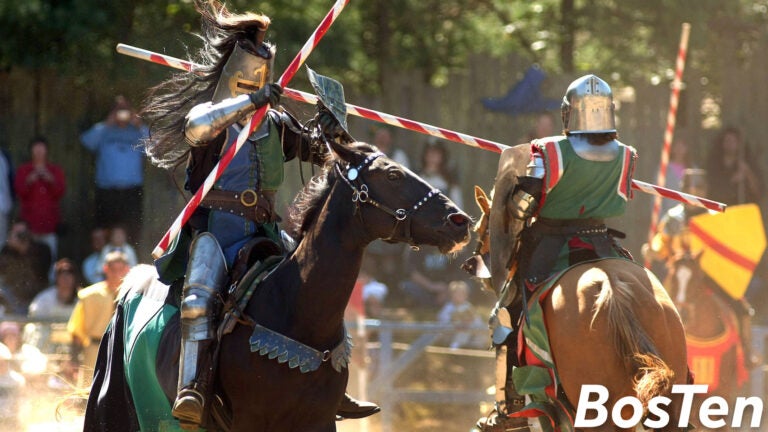 Welcome to BosTen, your weekly guide to the coolest events and best things to do in Boston this weekend. Sign up for our weekly email newsletter here. Have an idea about what we should cover? Leave us a comment on this article or in the BosTen Facebook group, or email us at [email protected]
Whether you're eagerly looking ahead to fall or mourning the end of summer, the Boston.com Cocktail Club will help to ease the changing of the seasons with cocktails sure to lift your spirits this Thursday at 7 p.m. Join host Jackson Cannon (The Hawthorne, Eastern Standard) and guest bartenders Andrew and Briana Volk (Portland Hunt + Alpine Club) as they teach you how to make two cocktails to help bridge the seasonal gap: the Chilton County and the Sherry Cobbler. Attending the Zoom is free, and you can find a full list of necessary ingredients here. — Kevin Slane
Paintings of former President Barack Obama and First Lady Michelle Obama are coming to the Museum of Fine Arts Boston for a limited time starting this weekend. "The Obama Portraits Tour," organized by the Smithsonian's National Portrait Gallery, will be on view for MFA members on Thursday and Friday before opening to the public from Sept. 3 through Oct. 30. The portraits of Barack and Michelle, by artists Kehinde Wiley and Amy Sherald, respectively, stand in stark contrast to the styles of previous presidential portraits and garnered a nationwide response upon their unveiling in 2018. Visitors will also be able to see "Portraits of Leadership," a crowd-sourced collection of portraits from the Boston community submitted to the museum earlier this year. Tickets to the exhibit are timed-entry and must be purchased in advance. The only exception to that rule is during the MFA's four free admission days: Monday, Sept. 5 (Labor Day); Monday, Sept. 19; Monday, Oct. 10 (Indigenous Peoples' Day); and Sunday, Oct. 30. On those four days, free admission will be available on a first-come, first-served basis. — Kevin Slane
Deep in the woods in Carver, an enchanting village known as Carvershire awaits — where royalty strolls alongside minstrels and jesters, knights battle on horseback, and kissing wenches steal smooches from unsuspecting victims. King Richard's Faire returns for its 41st season of entertainment, exciting rides, skilled games (yes, there will be axe throwing and archery), meals of spit-roasted giant turkey legs and mead, and more. Walk through the gates and back in time to the Renaissance period, as hundreds of entertainers (think acrobats, aerialists, jugglers, minstrels, fire eaters, and puppeteers) perform non-stop throughout the day on vibrant stages and meander on the property's winding paths. Talented artisans will also hawk their wares of glass blowing, portrait painting, hand-spun pottery, sword making, and more. Guests can come in period costume or wear modern day attire. — Cheryl Fenton
"King of Reggaeton" Daddy Yankee recently announced his pending retirement at the age of 45, but local fans of him and the genre — a dynamic blend of reggae, Latin American music, hip-hop and other influences — have one more chance to catch a live experience. The Puerto Rican rapper will be in Boston this Thursday as part of La Última Vuelta World Tour. This is the eighth and farewell concert tour by Daddy Yankee, in support of his seventh and final studio album, "Legendaddy." The new album has all the styles that have defined Daddy Yankee, whose international hit single "Gasolina" is credited with introducing reggaeton to audiences worldwide and making the music genre a global phenomenon. — Ria Goveas
Labor Day weekend tournaments featuring some of the world's best golfers became a budding Boston sports tradition with the Deutsche Bank Championship, which debuted back in 2003 and subsequently hosted events in 16 straight seasons. This year, pro golf returns to the area on those same days — but with the promise of a spectacle singaling a significant departure from what the PGA Tour used to put on at TPC Boston. This weekend it's the controversial LIV Golf tour that brings a collection of the planet's elite men's players to New England, specifically to Bolton and The International. Those players are expected to include Phil Mickelson, Dustin Johnson, Brooks Koepka, Bryson DeChambeau, and others who opted to sever ties with the PGA in favor of the Saudi-backed LIV – most after being presented with significant financial incentive to do so. In total the field will feature 48 players, and they'll compete in a much different format than fans of the PGA are accustomed to: Two days before the tournament, a draft will be held, through which 12 four-person teams will be determined. The next day they'll play a Pro-Am, then they'll play 54 holes over the course of Friday through Sunday, with shotgun starts sending players onto the course simultaneously. No, Toto, we're not in Norton anymore. — Dave D'Onofrio
There are three discernible sides to the Scotsman Craig Ferguson, all of which were on prominent display during his decade-long run (2005-2014) as host of "The Late Late Show." He's an intelligent, serious-minded, well-read interviewer (his 2009 chat with Archbishop Desmond Tutu won him a Peabody Award); he's a big fan of oddball pop culture (a 2010 cold opening of the show had him splendidly lip-syncing "Look Out, There's a Monster Coming"); he's eccentric (regular guests on the show, with whom he interacted, included the wisecracking robot Geoff Peterson and the pantomime horse Secretariat.) But there are even more sides to the Glasgow native-turned American citizen, who brings his "Fancy Rascal Tour" of standup comedy to the Wilbur this Thursday. He was a drummer for a punk band, a standup comic in the Scottish comedy scene, and eventually moved into on-camera acting with "The Drew Carey Show" and voice acting with "How to Train Your Dragon" and "Brave". Here's what fans should expect (aside from the unexpected) at the Wilbur: He will exert a great deal of energy. He will do a set that likely has nothing to do with any previous or future ones, as he's not the sort of fellow who plans out what he's going to say in advance. When he gets going on any topic, his normal speaking voice will undoubtedly shoot up into an excitable falsetto squeak. No word yet on whether he's bringing along his robot. — Ed Symkus
All summer long, Castle Hill, the Tudor mansion overlooking Crane Beach, has been hosting outdoor picnic concerts while the sun sets. If you've been missing out on this great event, be sure to catch the last concert with the Orville Giddings Band and their boogie blues music. Tickets are per car, so you're in luck if you own a minivan. Concert goers are welcome to bring their own meals, though both Beefie Boys and Plat Du Jour will also be on site with food. Dessert will be available for purchase as well, along with wine, beer, and mead. — Joel Ang
This Labor Day weekend, take the family to Sabores de Nuestra Cultura, a festival celebrating Eastie's diversity. The event, held on Saturday from 1-4 p.m., will feature free treats, music, games, and crafts, as well as the incredible views of the Boston skyline from Piers Park. A few lucky participants will also win free tickets for an afternoon sailing trip right from the sailing center at the park. If you're looking for more to eat after the event, be sure to visit Tawakal Halal Cafe, a stellar Somali restaurant that's only a short walk away. — Joel Ang
After a difficult couple of years for movie theaters, more than 30,000 cinemas nationwide are saying thank you to cinephiles who helped them stay afloat during the pandemic with a day of discount tickets. The Cinema Foundation is partnering with major movie chains like AMC and Regal as well as small local theaters like the Somerville Theatre to offer $3 movie tickets all day on Saturday. To see a full list of participating theaters, visit the National Cinema Day website. — Kevin Slane
Ringo Starr's Labor Day concert at Tanglewood has been a long time coming. Originally scheduled for June 2020, then June 2021, the former Beatle and his All-Starr Band were finally set to play the Koussevitzky Music Shed in June 2022 before a positive COVID-19 case delayed the show once more. Now, the drummer will finally play Tanglewood at 6 p.m. Monday, and will be joined by a slew of his musically inclined pals that span genres and generations: vocalist Warren Ham (Kansas), multi-instrumentalist Edgar Winter, guitarist Steve Lukather (Toto), guitarist Hamish Stuart (Average White Band), singer Colin Hay (Men at Work), and drummer Gregg Bissonette. — Kevin Slane
Need weekend plans?
The best events in the city, delivered to your inbox