Events
This event has passed. Check out other things to do instead.
10 things to do in Boston this St. Patrick's Day weekend
BosTen is your weekly guide to the best events and coolest things to do in Boston.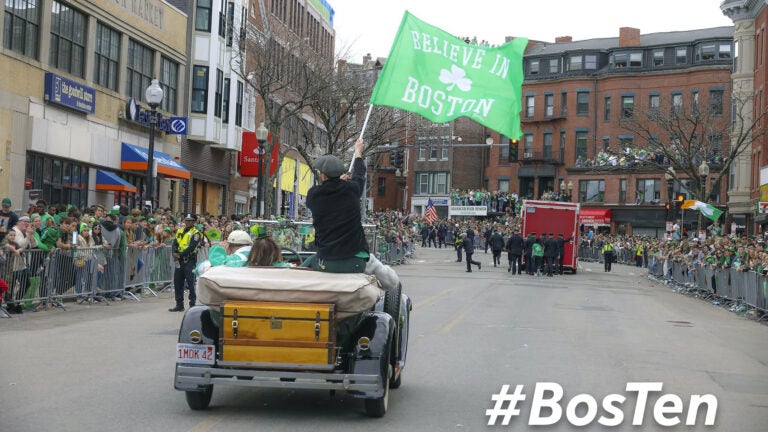 Welcome to BosTen, your weekly guide to the coolest events and best things to do in Boston this weekend. Sign up for our weekly email newsletter here. Have an idea about what we should cover? Leave us a comment on this article or in the BosTen Facebook group, or email us at [email protected].
It's time again to plan to make a nice dent in your list of restaurants to try. Dine Out Boston, the city's official restaurant week, is back in action now through March 25 with dining deals for lunch and dinner. Spots in Downtown Boston, Eastie, West Roxbury, and other neighborhoods — including Cambridge and Somerville — will offer special, multi-course menus ranging from $22 to $32 at lunchtime, and $36 to $46 at dinner. No matter what cuisine you're craving, you're bound to find more tempting menus than would be possible to eat in two weeks. Browse the full list of 140+ participating restaurants here and start thinking about your reservations. — Jacqueline Cain
You can get in the spirit of Saint Patrick's Day by picking up festive Lucky Charm Monkey Bread from South Boston's Lincoln Tavern, taking it with you to bake at home. The loaves are $25, and they're covered in icing, rainbow sprinkles, and Lucky Charms marshmallows. Order yours online, then pick it up Thursday-Saturday from noon-4 p.m. — Shira Laucharoen
Ingrid Andress's vocal talents won her a scholarship to the Berklee College of Music, from which she graduated in 2013 with a degree in songwriting and performance. Her subsequent move to Nashville led to her co-writing songs for Charli XCX, among others. More recently, Andress received four Grammy nominations in four different categories: Best New Artist, Best Country Album ("Lady Like"), Best Country Song ("More Hearts Than Mine") — all in 2020 — and Best Country Duo/Group Performance for "Wishful Drinking," a duet with fellow multi-time Grammy nominee Sam Hunt from her 2022 album "Good Person." Andress will be joined by Carter Faith when she plays Sinclair on Thursday at 7:30 p.m. — Blake Maddux
Dress up in green, and head over to Tiffani Faison's Sweet Cheeks Q, to celebrate Saint Patrick's Day in the Fenway. For $26, you can get a "Boiled Dinnah," which features house-brined prime corned beef brisket, glazed carrots, braised cabbage, and boiled potatoes. Or instead, you may want to try the corned beef sandwich, filled with corned beef, house sauerkraut, and Thousand Island dressing, served on marble rye. Raise a toast, and enjoy the holiday! — Shira Laucharoen
You can make reservations for brunch, dinner, or a show all weekend at long at The Burren in Somerville, a year-round haven for Irish music in Davis Square. In particular, you should reserve tickets for a seating between 9 a.m. and 7 p.m. on Friday to catch the St. Patrick's Day Special Variety Dinner Show, which includes a traditional Irish meal of soda bread with corned beef and cabbage, Guinness beef stew, or a vegetarian entree, and a shamrock cake for dessert. The Burren co-owners Tommy McCarthy and Louise Costello are traditional Irish musicians whose deep connections and experience are showcased on their stages. Expect many special guests to appear in The Burren Backroom as they lead the St. Patrick's Day variety show featuring traditional Irish jigs, reels, ballads, stories, and dancing. — Jacqueline Cain
In what has become an annual tradition, The Dropkick Murphys will be shipping up to to Boston on St. Patrick's Day weekend for a trio of performances from Friday through Sunday. Unlike in previous years, however, Ken Casey and Co.'s Saint Paddy's shows will be split between two venues. Performances on Friday and Saturday will be at MGM Music Hall at Fenway, while Sunday's set will be at the band's previous St. Patrick's Day home, House of Blues Boston. The band has been touring in support of its upcoming album "This Machine Still Kills Fascists," a tribute to the work of the late folk legend Woody Guthrie out Sept. 30. The Dropkick Murphys will be joined for its MGM Music Hall shows by The Rumjacks, and by Jesse Ahern for its House of Blues performance, while country music group Turnpike Troubadours will join the group for all three shows. For those who can't make it to Boston, the band is also selling tickets to a livestream of Friday night's show. — Kevin Slane
For a decade and a half, the rock band Dawes has been going through all sorts of changes … starting with their name. Originally called Simon Dawes — "Simon" was guitarist Blake Mills' middle name, and "Dawes" was lead singer Taylor Goldsmith's middle name — the "Simon" part was dropped after Mills left the group. They originally played straight-ahead indie rock, but eventually added a folky side to the mix. Anyone picking up their newest album "Misadventures of a Doomscroller" will immediately note that there's now a jazzy element in their music. (Have they been listening to Steely Dan in their spare time?) The quintet's current tour will feature tracks from the new album — "Comes in Waves" is a hot one — but fans should also expect to hear hits including "When the Tequila Runs Out" and "Who Do You Think You're Talking To?" when the band takes the stage at Roadrunner on Friday at 8 p.m. — Ed Symkus
This Sunday, the streets of Southie will be filled with green as Boston's annual St. Patrick's Day Parade returns in full force after two years of pandemic-related cancellations in 2020 and 2021 and a shortened route in 2022. In previous years, the celebration hosted by the South Boston Allied War Veterans Council (SBAWVC) has brought more than one million parade-goers to the area, so expect big crowds to line Broadway when the parade starts at Broadway Station at 1 p.m. For those celebrating at home, the parade will be broadcast live on NECN. — Kevin Slane
Thanks to the parade and its history as an Irish neighborhood, Southie is a bastion of St. Patrick's Day celebrations. So you can imagine the neighborhood's Castle Island Brewing Company is going all out for the weekend: Special beers on tap will include Dearg Doom Irish red ale and a new seasonal, dry Irish stout. In-house bar-pizza kitchen Bardo's is crafting food specials. Celtic music group Boston's Erin Og will play on St. Patrick's Day beginning at 8 p.m. On Sunday, March 19, Connacht takes the stage at 3 p.m. — Jacqueline Cain
The New York Times referred to author-actor-comedian Jacqueline Novak's hit off-Broadway show "Get On Your Knees" as "the funniest show about Cartesian dualism you will see all year," but don't let that dissuade you. (Nobody ever knows what the New York Times is talking about.) All that means is, if you're in the mood for a super-smart, unapologetically feminist, and totally frank (i.e. raunchy) take on the power and perils of modern womanhood, you should not miss Novak's side-splitting performance when she brings it to the Wilbur this Sunday at 7:30 p.m. — Peter Chianca
Need weekend plans?
The best events in the city, delivered to your inbox