Events
This event has passed. Check out other things to do instead.
10 things to do in Boston this New Year's Eve weekend
BosTen is your weekly guide to the best events and coolest happenings in and around Boston.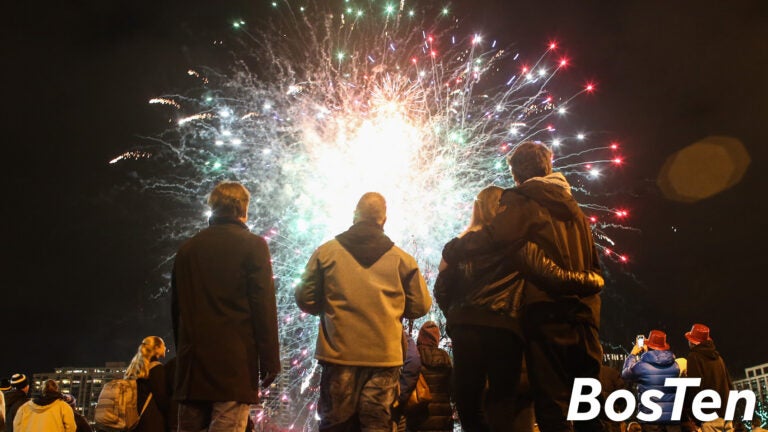 Welcome to BosTen, your weekly guide to the coolest events and best things to do in Boston this weekend. Sign up for our weekly email newsletter here. Have an idea about what we should cover? Leave us a comment on this article or in the BosTen Facebook group, or email us at [email protected].
Looking to wow your New Year's Eve guests with a signature drink this year? This Thursday at 7 p.m., the Boston.com Cocktail Club will offer up some champagne cocktails sure to lift your spirits. Join host Jackson Cannon (The Hawthorne, Eastern Standard) and guest bartender Ryan Lotz (Traveler Street Hospitality) as they teach you how to make two champagne cocktails — the Champagne Julep and the Jimmy Roosevelt. Attending the Zoom is free, and you can find a full list of necessary ingredients here. — Kevin Slane
The 2023 edition of the NHL Winter Classic will be held at Fenway Park on January 2 as the Bruins face off against the Pittsburgh Penguins at 2 p.m. Monday. Whether or not you have tickets to the sold-out game, fans can head to City Hall Plaza on Friday (from 2-8 p.m.) and Saturday (from 10 a.m.-6 p.m.) for a ton of free activities at the NHL's Outdoor Fan Festival. Current and former Bruins will be signing autographs, fans can skate and shoot on a miniature rink, and you can even snag a photo of yourself posing with the Stanley Cup. For a full list of planned events, check out the NHL website. — Kevin Slane
Why does New Year's Eve get all the hype when New Year's Day can be just as fun? That's the idea behind the latest changes to First Night Boston, the city's annual year-end celebration, which attracts hundreds of thousands of revelers to downtown Boston each year. For the first time, First Night Boston will include programming on January 1 as well, bringing live musical performances to Copley Square on New Year's Day. The fun begins on Saturday at noon, with dozens of local musicians, artists, and performers sprinkled throughout the Back Bay. To find out more information about the performance schedule, parade route, fireworks times, and anything else you might need to know, check out our comprehensive guide to First Night Boston 2023. — Kevin Slane
Ring in the new year with glitter beer and a dance party at Aeronaut Brewing Company in Somerville. The taproom has a few things going on to ring in 2023, including a party beginning at 7 p.m. with Boston pop-up Hungry Nomads and DJ Donuts. The menu includes hot honey chicken sandwiches, chili, hand-cut fries, burgers, and more. DJ Donuts hits the stage starting at 8 p.m. General admission tickets are $25 and available now. (To see more Boston-area New Year's Eve parties, click here.) — Jacqueline Cain
Treat yourself to a New Year's Eve cocktail with a ticket to the party at Boston's first distillery. Bully Boy Distillers is dressed up for the holidays, so you should, too — think "disco" vibes with sequins, groovy outfits, and platforms. The $40 ticket guarantees you entry after 8 p.m., a welcome cocktail upon arrival, a midnight toast, and late-night pizza. — Jacqueline Cain
One of Boston's most extravagant New Year's Eve parties is happening in a former jail. Gilded, a Lavish New Year's Fête, takes over all three levels of The Liberty Hotel's main rotunda, featuring a Boston DJ set up on every floor, two dance floors, and aerial performances by The Boston Circus Guild. A light dinner buffet will also be served between 8-10 p.m. Ticket options start at $105 and include general admission, table service with or without dinner, and overnight room packages. — Jacqueline Cain
Take the plunge with the L Street Brownies
On New Year's Day morning, hundreds of L Street Brownies (and those who dare to join them) rush into the icy waters of the Boston Harbor for their annual polar plunge. A tradition in Southie since 1904, revelers taking the plunge brave the elements on Carson Beach wearing everything from traditional bathing suits to tutus to viking helmets to full-on Santa suits. Some even add a charitable element by raising money with their chilly dip. — Cheryl Fenton
For those whose new year goals include fresh air and exercise, plenty of free guided hikes are taking place across the state on Jan. 1. The Massachusetts First Day Hikes program is a free guided hiking event that began in Massachusetts in 1992 and was rolled out nationwide in 2012. This year, the Department of Conservation and Recreation (DCR), which manages more 150 state parks, will offer First Day Hikes at 10 locations across the state. This year's DCR hikes, many of which include a hot chocolate social at the end, will take place at spots like Blue Hills Reservation in Milton, Halibut Point State Park in Rockport, Walden Pond State Reservation in Concord, Wachusett Reservoir in West Boylston, and more. To see a full list of First Day Hikes, visit the DCR website. — Kristi Palma
Head out to the suburbs to start the new year and enjoy brunch at Lexington's beautiful Inn at Hastings Park. The property's Town Meeting Bistro is hosting a lavish buffet ($114; $60 for children 4-12 years old) full of corned beef hash, shrimp and grits, eggs Benedicts, steak and eggs, and more, including an appetizer spread of oysters, shrimp cocktail, deviled eggs, and assorted pastries. There will also be a mimosa bar set with sparkling wine and an assortment of fresh juices and garnishes; plus a Bloody Mary bar for an additional cost. Reservations are available. (To see more Boston-area New Year's Day brunches, click here.) — Jacqueline Cain
Coppa's beloved Sunday brunch returned in December, and that means the hangover pizza is back just in time to cure your holiday hangover. On New Year's Day and every Sunday, Coppz is open for brunch from noon-3:30 p.m. with breakfast-lunchy menu additions and cocktails like Don't Even Say It, an espresso martini made with St. George NOLA Coffee Liqueur. Reservations are available. — Jacqueline Cain
Need weekend plans?
The best events in the city, delivered to your inbox