Events
This event has passed. Check out other things to do instead.
10 things to do in Boston this weekend
BosTen is your weekly guide to the best events and coolest happenings in and around Boston.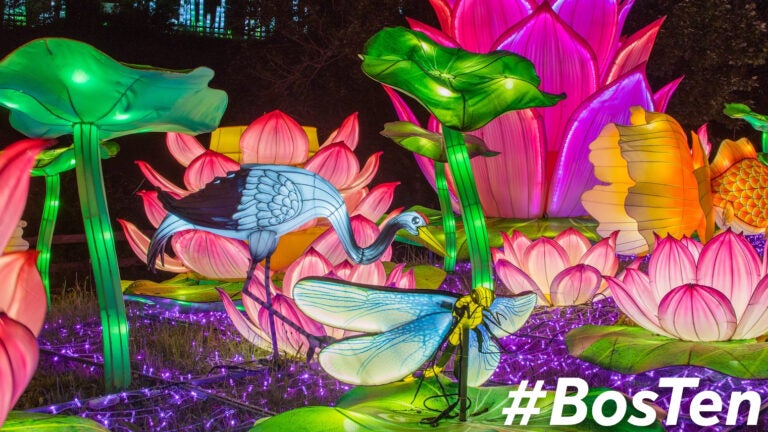 Welcome to BosTen, your weekly guide to the coolest events and best things to do in Boston this weekend. Sign up for our weekly email newsletter here. Have an idea about what we should cover? Leave us a comment on this article or in the BosTen Facebook group, or email us at [email protected]
While film fans have started heading back to regular movie theaters after two-plus years of COVID-19, the Boston area will once again offer a robust number of free outdoor movies now that summer has officially arrived. All summer long, you'll be able to catch a mix of fairly recent films and certified classics at pop-up outdoor movie screenings — free of charge. On Thursday, visit Revere Beach for an 8 p.m. showing of "Jungle Cruise." Then on Friday, you can catch "Guardians of the Galaxy" at dusk as part of Boston Harbor Hotel's Summer in the City series. Come Saturday, head to the Prudential Center lawn, where "Tangled" will be screening at sunset. Finally, you can wrap up the weekend of free movies on Sunday with an 8:10 p.m. showing of "Selma" at Christopher Columbus Park. — Kevin Slane
For the first time in two years, the Museum of Fine Arts's Concerts in the Courtyard returned this summer, featuring everything from indie rock and folk songs, to music with soul and jazz influences. Wrapping up the Concerts in the Courtyard series this Thursday is Lakou Mizik, a "powerhouse collective" of Hatian musicians that formed after the 2010 earthquake in Haiti, according to the MFA. Doors open at 6 p.m. and performances start at 7:30 p.m. — Marta Hill
Everything is illuminated at the Franklin Park Zoo for the next couple of months thanks to the return of its seasonal exhibit, "Boston Lights: A Lantern Experience." Stroll through a 66-foot-long rose corridor, an 82-foot octopus tunnel with color-changing tentacles, and pathways lined with lotus, bamboo, and traditional Asian lanterns, among other eye-catching attractions. In all, 55 giant illuminated displays are spread across the zoo's 72-acre grounds, and will be on hand until September 25. Timed entrances to the zoo grounds are available daily every half hour from 6 p.m. to 10:30 p.m., and can be booked on Zoo New England's website. — Kevin Slane
The Institute of Contemporary Art, Boston will welcome two new exhibits to its halls this Thursday, which is also a day on which you can score free admission to the waterfront museum from 5 p.m. to 9 p.m. with advance registration. Making their debuts are "Fantasy and Truth," an exhibit by NYC-based textile artist Jordan Nassar; and "Legacies," a collection of ceramic sculptures by Pueblo artist Rose B. Simpson. Even if you can't score free passes Thursday night, both exhibits will be on display through January 2023 and are well worth the price of admission. — Kevin Slane
The force will be strong with Boston this weekend at Fan Expo Boston 2022. Actor Ewan McGregor ("Obi-Wan Kenobi") headlines a group of Star Wars actors who will appear at the annual pop culture conference, which will be held at the Boston Exhibition and Convention Center Friday through Sunday. McGregor will be answering questions, posing for photos, and signing autographs along with C-3PO actor Anthony Daniels, Ming-Na Wen ("The Book of Boba Fett"), Giancarlo Esposito ("The Mandalorian"), Gina Carano ("The Mandalorian"), Carl Weathers  ("The Mandalorian"), and Ashley Eckstein ("Star Wars: The Clone Wars"). Another key event at Fan Expo 2022 is "The Four Hobbits: An Unexpected Reunion," which will bring together the four hobbits from "The Lord of the Rings" series — Frodo (Elijah Wood), Pippin (Billy Boyd), Merry (Dominic Monaghan), and Samwise (Sean Astin) — for a panel discussion and Q&A. The event will feature dozens of other notable names in geek culture, including David Tennant ("Doctor Who") Tom Welling ("Smallville") William Zabka ("Cobra Kai"), and Matthew Lewis of the "Harry Potter" series. Three-day passes are sold out, but you can buy single-day tickets to Friday, Saturday, and Sunday on the Fan Expo website. — Kevin Slane
Boston alt-rockers Guster are back this weekend with the fourth installment of On The Ocean, their notoriously loosey-goosey music festival in the Portland, Maine area. Friday starts off with an acoustic performance from the group and Josh Ritter as an opener and continue Saturday at Thompson's Point with Shovels and Rope, Amythyst Kiah, Darlingside, and Pete Kilpatrick. Then, on Sunday, the band will host what they're calling "Camp Guster" at Camp Winnebago in Fayette, Maine, where the band will serve as camp counselors for an afternoon of games and activities, capped off by a campfire sing-along and s'mores. Tickets for both the full weekend and individual daily shows are available on the festival website. — Peter Chianca
Boston's '90s Pride Bar Crawl returns for a third year this Saturday, with organizers expecting between 2,000 and 4,000 revelers to visit a host of Faneuil Hall watering holes. Participating bars including Sissy K's, Hong Kong, Hennessey's, and The Bell In Hand will be serving discounted beers and cocktails to ticketholders, and will be raffling off prizes like Red Sox tickets, Super Nintendos, and cold hard cash. The bash will also feature karaoke contests, photo booths, multiple DJs, and a '90s costume contest. — Ria Goveas
Before we barrel into apple picking season, warm up your fruit-picking arm at the Peach Festival at Cider Hill Farm in Amesbury this Saturday and Sunday from 8:30 a.m. to 4 p.m. The multi-weekend event (which continues on August 20-21) features free live music from noon to 3 p.m., food truck specials, peach-themed snacks and desserts, an outdoor hard cider bar, hayrides, and other family-friendly activities. There's also plenty of peaches to pick at your own pace as well. — Kevin Slane
Singer-songwriter Ellis Paul's lengthy career started on the open mic circuit in Boston, where he regularly performed throughout the 1990s at the Nameless Coffeehouse, O'Brien's, and the Old Vienna Coffee House. Since then, the folk musician has enjoyed myriad accomplishments. Among them: 20 studio albums, numerous guest spots at Fenway Park to sing the National Anthem, 15 Boston Music Awards, and songs appearing on the soundtracks of the Farrelly Brothers films "Shallow Hal," "Me, Myself, & Irene," and "Hall Pass." For his return to Passim this Saturday at 8 p.m., Paul's set list will have selections from his 2019 release "The Storyteller's Suitcase" and, taking into consideration what's on his 2021 pandemic-induced cover album, "Ellis Paul's Traveling Medicine Show, Vol. 1," he could also do anything from "If I Only Had a Brain" to "Day Tripper." Longtime fans know that an Ellis Paul concert will often include a surprise or two: some brand new songs that he's still trying out. — Ed Symkus
For the 52nd year, the Chinese Consolidated Benevolent Association (CCBA) of New England will host the August Moon Festival in Chinatown this Sunday from 10 a.m. to 5 p.m. Second only in importance to the Chinese New Year, the August Moon Festival celebrates a successful harvest, similar to American Thanksgiving. Vendors will line the streets for this free event around the Chinatown Gate — Beach, Tyler, and Hudson Streets, and Harrison Avenue. Along with purveyors of Chinese cuisine, arts and crafts, Chinese calligraphy, and other merchandise, event goers can expect cultural performances like lion dancing, traditional folk dance, and martial arts. — Natalie Gale
Need weekend plans?
The best events in the city, delivered to your inbox