Events
This event has passed. Check out other things to do instead.
10 things to do in Boston this weekend
BosTen is your weekly guide to the best events and coolest happenings in and around Boston.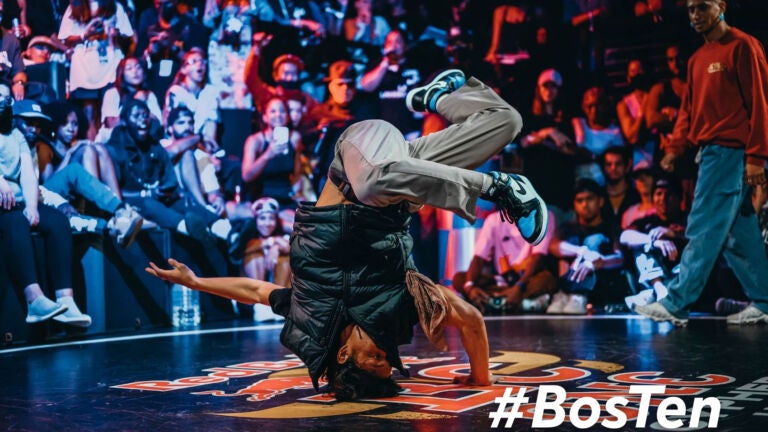 Welcome to BosTen, your weekly guide to the coolest events and best things to do in Boston this weekend. Sign up for our weekly email newsletter here. Have an idea about what we should cover? Leave us a comment on this article or in the BosTen Facebook group, or email us at [email protected]
While film fans have started heading back to regular movie theaters after two-plus years of COVID-19, the Boston area will once again offer a robust number of free outdoor movies now that summer has officially arrived. All summer long, you'll be able to catch a mix of fairly recent films and certified classics at pop-up outdoor movie screenings — free of charge. On Thursday, visit Revere Beach for an 8 p.m. showing of "Luca," then on Friday catch "Encanto" at dusk as part of Boston Harbor Hotel's Summer in the City series. Saturday's family-friendly offering is a sunset screening of "Sing 2" on the Prudential Center lawn, while adults can catch a nautical screening of "Captain Phillips" on board the USS Constitution at 8:30 p.m. Finally, you can wrap up the weekend of free movies on Sunday with an 8 p.m. showing of "Batman Begins" at Christopher Columbus Park. — Kevin Slane
Before breakdancing becomes an official Olympic sport at the 2024 games, you can catch some of the region's top breakdancers at Red Bull BC One, a prestigious one-on-one competition, this Saturday at 5 p.m. at Sinclair. Hosted by local DJ & breakdancer Lean Rock, the regional competition will allow 32 of the Northeast's top competitors to face off for a chance to move on to the National Finals in Los Angeles. top spot to advance to the Red Bull BC One National Finals in Los Angeles ahead of the World Finals. — Kevin Slane
Boston's oldest continuous Italian festival, the Fisherman's Feast began in 1910 when Sicilian immigrants, who made up much of the Boston and Gloucester fishing fleets, brought their traditions to the area. The 112th edition of the feast, which returns to the North End Thursday through Sunday, looks similar today as it did over a hundred years ago, with lights strung from the buildings and food vendors and music in the streets. Fleet, North, and Lewis Streets are closed to car traffic during the festival, while the streets are packed to the brim with food vendors selling Italian specialties—sausages, calamari, pasta, pizza, arancini, and more. Live bands provide entertainment each night, playing old rock favorites, newer pop hits, and some traditional Italian music. Other weekend entertainment includes a meatball contest, where area restaurants compete for the title of Boston's Best Meatball, and the Cooking Stage, where chefs share some of their favorite recipes with the audience. — Natalie Gale
In a Venn diagram of horticulturists and beer aficionados, you may not imagine much of a crossover. But the Massachusetts Horticultural Society is out to break down your stereotypes. The Garden at Elm Bank, described as the "horticultural jewel of Greater Boston," will stay open late this Thursday from 6-9 p.m. to host a beer tent with live music. There will also be yard games for guests to enjoy, and best of all, the event will be included in the price of a regular Garden admission ticket (and free to all Horticultural society members). — Joel Ang
The 15th annual GreenFest, hosted by the nonprofit Foundation for a Green Future, returns to the Rose Kennedy Greenway this Friday through Sunday. The festival highlights music and dance performances, panels, food, and sustainable products, all focused on educating event goers about a more sustainable future. Other festivities on the Greenway include electric car and bicycle showcases, activities like yoga and hula hoops, sustainable technology displays, and music and dance performances. Funds raised at GreenFest will go towards the Foundation for a Green Future's educational programming. For a full schedule of events, visit the festival's website. — Natalie Gale
Turn up the heat with a three-day event (this Friday through Sunday) that showcases the love of the Latin dance salsa. The largest salsa dance event in New England, the Boston Salsa Festival transforms the Boston-Waltham Westin Hotel into a salsa lover's paradise, with three days and two nights of workshops and performances by world-class dancers and instructors, along with social dancing until the wee hours of the morning. Sharpen your salsa skills in workshops and classes for every level, from beginner footwork and partnering to Brazilian Zouk, or just enjoy watching the dance. Performances are each night at 8 p.m., but the "Salsa Challenge" is the real deal — six hours of training over the course of two days, culminating in a performance alongside your instructors at the Sunday night showcase. — Cheryl Fenton
This Saturday from 11 a.m. to 7 p.m., Devir Park in Malden will host a Haitian Food Festival, bringing the best Haitian restaurant and food trucks in Boston to one place. There's no entry fee to the festival, and food will be priced at a discount "for guests to sample as many vendors as possible." It's hard to argue with that. The festival will be family-friendly, with plenty of games and photo booths for the kids, and some "crazy eating challenges" for enthusiastic attendees. — Joel Ang
You'll be able to feel the lightning and thunder in Boston this Saturday when Imagine Dragons perform at Fenway Park, joining a packed weekend lineup that includes Bad Bunny, Lady Gaga, and comedian Bill Burr. The Grammy-winning rock group is coming to town as part of its Mercury World Tour in support of the Las Vegas group's latest album, "Mercury — Act 1." The band will be joined for their Fenway concert by "Thrift Shop" rapper Macklemore and singer Kings Elliot. Tickets to the 6:15 p.m. show are still available through the Fenway Park website. — Kevin Slane
Bill Burr will make stand-up history this Sunday when he becomes the first comedian to perform at Fenway Park. The Canton native will bring his Bill Burr (Slight Return) Tour to the home of the Red Sox Sunday evening starting at 7:00 p.m. "I started doing stand-up in Boston 30 years ago," Burr said in a press release. "Never imagined it would lead to Fenway. Kind of speechless, which is rare for a big mouth like me." Tickets for the show are available through the Fenway Park website. — Kevin Slane
The Decemberists were set to celebrate 20 years with a tour in 2020. That, of course, got canceled. But now it's 2022, and the tour — which is being called, appropriately enough, "ARISE FROM THE BUNKERS!" — is on. For those who want to see the notoriously eclectic indie rock band live, they're set to venture into Boston for a show at Roadrunner this Sunday at 8 p.m. The band's last tour was back in 2018, on the heels of its most recent album to date, "I'll Be Your Girl." Reviews of the group's 2018 shows praised the band's wild set pieces, high energy, and exuberant audience participation. We're willing to bet all three will be a key part of Sunday's show as well. — Arianna MacNeill
Need weekend plans?
The best events in the city, delivered to your inbox