Events
This event has passed. Check out other things to do instead.
10 things to do in Boston this weekend
BosTen is your weekly guide to the best events and coolest things to do in Boston.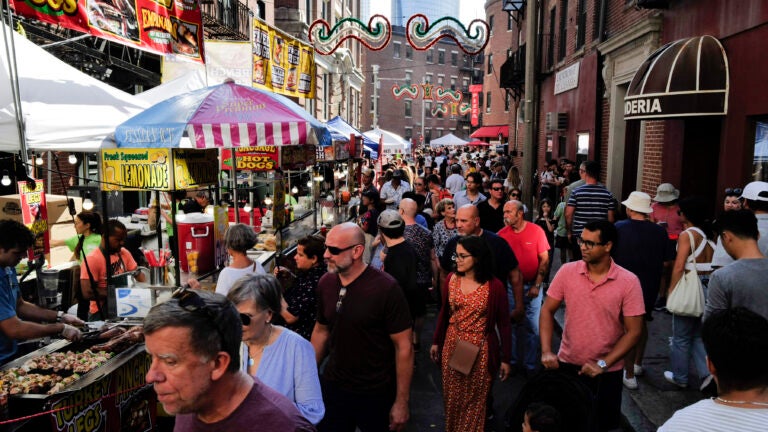 Welcome to BosTen, your weekly guide to the coolest events and best things to do in Boston this weekend. Sign up for our weekly email newsletter here. Have an idea about what we should cover? Leave us a comment on this article or in the BosTen Facebook group, or email us at [email protected].
Get ready for a special pop-up in Brookline, hosted by Jewish delicatessen Mamaleh's. The restaurant's kitchen manager, Martha Alvarez, will be serving handmade pupusas, thick stuffed corn tortillas, with fixings. They'll come in flavors like pastrami and cheese, bean and cheese, and spinach and cheese, and can be ordered with a side of plantains. The fun starts at 5 p.m. this Thursday, but you'll also be able to join Backgammon Night at 6 p.m. Stop by for a delicious meal and game, while sipping on a horchata or hibiscus tea. — Shira Laucharoen
August is the season of street festivals in the North End, and this weekend will see the return of St. Anthony's Feast for four days of street food, live entertainment, and the procession of St. Anthony's statue. Begun in 1919 by Italian immigrants from the town of Montefalcione in Avellino, Italy, the feast pays homage to their patron saint, Sant'Antonio Di Padova Montefalcione. This year marks the 104th festival, and North End streets will be closed to car traffic to make way for parades, religious services, artisan vendors, live entertainment, and over 100 food vendors selling arancini, sausages with peppers and onion, quahogs, calamari, pizza, pasta, zeppole, cannoli, and gelato. For more information about this year's festival, which kicks off Thursday night and culminates Sunday with a 10-hour parade of the Saint Anthony statue, check out the schedule here. — Natalie Gale
Labor Day is next weekend, and school is almost back in session. But before summer is gone for good, you can enjoy another weekend full of free outdoor movies in the Boston area. On Thursday, head to Cambridge Crossing to watch a double feature of "Shrek" and "Ferris Bueller's Day Off." Then on Saturday, the Prudential Center will open up its lawn for a showing of "The Bad Guys" at dusk. Also this weekend is the Films at the Gate Festival, an annual Chinatown tradition that brings games, martial arts demonstrations, and free screenings at dusk that showcase Asian and Asian-American filmmakers. Friday brings the Jackie Chan/Donnie Yen documentary "Kung Fu Stuntmen: Never Say No!," Saturday is Jackie Chan's early hit "Police Story," and Sunday is an early Michelle Yeoh action film "Yes, Madam!". — Kevin Slane
In the aftermath of the fires in Hawaii, you may be thinking about what you can do to help. Somerville's Posto will be holding a Polynesian Party now through this Sunday, and a dollar of every item sold on their special menu will be donated to Maui Food Bank to support disaster efforts. You'll be able to dine on pulled pork pizza, glazed salmon, and tuna crudo. To drink, think of sipping on the Scorpion Bowl, made with Equiano rum, or the Tropical Elixir, featuring pineapple-infused vodka. Finally, for dessert, you can enjoy a pineapple upside-down cake with vanilla gelato. Offer your support while having a great meal in Davis Square. — Shira Laucharoen
The label "best movie ever" is a subjective one. But since 1952, the British Film Institute's Sight and Sound poll has been the most authoritative arbiter, publishing a list every 10 years of the best films ever made, as selected by more than 1,600 of "the most influential international film critics, academics, distributors, writers, curators, archivists and programmers." Now through next Wednesday, Independent Film Festival Boston will be showing the entire top 10 as part of its "Sight and Sound Summer Vacation" series. This weekend's screenings (all at 7:30 p.m.) feature films ranked from No. 7 to No. 4, with Claire Denis's "Beau Travail" (1998) on Thursday, Stanley Kubrick's "2001: A Space Odyssey" (1968) on Friday, Wong Kar-wai's "In The Mood For Love" (2001) on Saturday, and Yasujirō Ozu's "Tokyo Story" (1953) on Sunday. You can also catch a 2 p.m. Sunday matinee screening of the No. 1 film, Chantal Akerman's "Jeanne Dielman, 23 quai du Commerce, 1080 Bruxelles" (1975) before it closes the festival on Wednesday night. — Kevin Slane
For the Institute of Contemporary Art, Connecticut-based artist Tammy Nguyen has created a new body of paintings and drawings, inspired by East Asian landscapes, on view in a new exhibit opening this Thursday and running through Jan. 28. A multidisciplinary artist, Nguyen uses painting, works on paper, artist books, and publications to weave together exhibits with environmental, geopolitical, and spiritual themes. In her new ICA exhibit, her first solo museum exhibition in the U.S., she creates gilded paintings of lush East Asian landscapes that, along with works on paper and artist books, highlight the relationship between humans and the wilderness. She drew inspiration from Ralph Waldo Emerson's influential book "Nature," written in Concord in 1836, showcasing the timelessness of his work and relating it to land reform programs during the Vietnam War. — Natalie Gale
As the war in Ukraine slogs on with no end in sight, humanitarian efforts need assistance more than ever. Help support the country's residents while learning more about its culture at the Boston Ukrainian Festival, which brings musical performances, crafts, and exhibitions to BU Beach this Saturday. Entrance to the festival is free, but any donations made via Eventbrite will benefit Sky Philanthropy, a nonprofit providing needed aid to Ukraine. — Kevin Slane
The annual Columbia Threadneedle Investments Boston Triathlon — the city's only triathlon — returns to South Boston this Saturday and Sunday, hosting both Olympic and sprint distance triathlons along with Kids Splash & Dash races. Participants swim across Dorchester Bay, bike along the Southie shoreline between Carson Beach and Pleasure Bay, and run through Moakley Park. (Find the full race course maps here.) The event is USA Triathlon-sanctioned, meaning all USAT rules and regulations will apply. Folks of all experience levels are encouraged to participate, even if it's your first triathlon. Event registration is currently open here. — Natalie Gale
After a difficult few years for movie theaters, more than 3,000 cinemas nationwide are saying thank you to cinephiles who helped them stay afloat during the pandemic with a day of heavily discounted tickets. The Cinema Foundation is partnering with major movie chains like AMC and Regal as well as small local theaters like Apple Cinemas in Cambridge to offer $4 movie tickets all day on Sunday. To see a full list of participating theaters and pick out showtimes for movies like "Barbie," "Oppenheimer," or "Blue Beetle," visit the National Cinema Day website. — Kevin Slane
Ben Schwartz's showbiz career began in sketch comedy, with the actor making a name for himself on CollegeHumor and other improv showcases. From there, he graduated to scene-stealing roles on "Parks and Recreation" and eventually achieved leading man status, albeit in animated form, in "Sonic the Hedgehog." But Schwartz hasn't left his improv and sketch comedy roots behind, doing a completely improvised Netflix show with Thomas Middleditch and touring the country with fellow performers over the last few years. Schwartz and co. will be back for a Sunday night show at the Chevalier Theatre, and given how many friends he's made over the years in Hollywood, you never know who he might bring out. — Kevin Slane
Need weekend plans?
The best events in the city, delivered to your inbox