Events
This event has passed. Check out other things to do instead.
10 things to do in Boston this weekend
BosTen is your weekly guide to the best events and coolest happenings in and around Boston.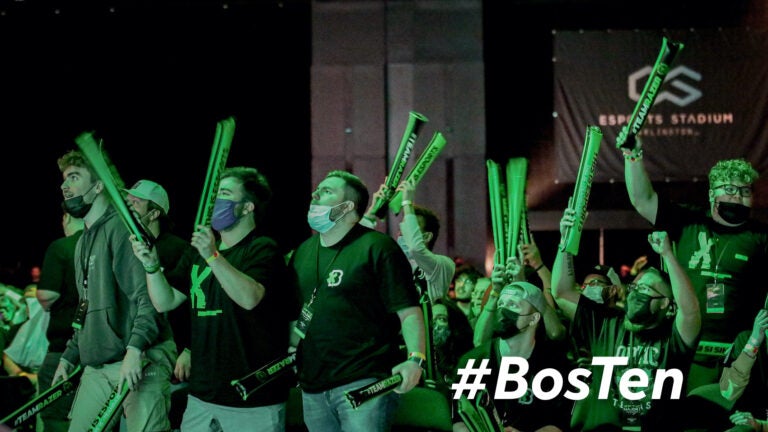 Welcome to BosTen, your weekly guide to the coolest events and best things to do in Boston this weekend. Sign up for our weekly email newsletter here. Have an idea about what we should cover? Leave us a comment on this article or in the BosTen Facebook group, or email us at [email protected].
Now in its third year, The Boston Globe's Black History Month Film Festival will celebrate the creativity and culture of Black Americans with 28 days of film programming. Registering for the free event will give you to access a number of new and classic films for virtual viewing, which will be discussed during Zoom events with Globe writers and editors, filmmakers, and talent over the next month. Along with the virtual screenings, the MFA will host an in-person screening of "The Rebellious Life of Mrs. Rosa Parks" next Friday. The virtual viewing window for the first film, "Embrace: The Kings," is open now through Sunday. — Kevin Slane
Among albums filed under the alternative/indie subcategory of shoegaze, Ride's 1990 debut, "Nowhere," is right up there with My Bloody Valentine's second and third albums in terms of general overall significance. However, their two more pop-spirited follow-ups demonstrated that Ride was not a one-trick pony. The Charlatans UK, on the other hand, included doses of what was dubbed Madchester – so-called because its main practitioners were from Manchester, England – in their early '90s material, and evolved from there while remaining productive (unlike Ride) throughout the aughts and 2010s. The bands will both be in Boston Thursday at 7 p.m. for a show at Big Night Live. — Blake Maddux
On Saturday morning, Gore Place in Waltham will host a family-friendly event celebrating Robert Roberts, one of the first commercially published Black authors in America. Published in 1827, Roberts' "The House Servant's Directory" was marketed as a how-to handbook, but in retrospect offers keen insight into Black life in the 1820s. Children will be able to tour Gore Place, where Roberts worked as a butler, and learn more about how the house operated in that era. Tickets are available on the Gore Place website. — Kevin Slane
If the James Beard Awards are the Oscars of the food world, the Yelp 100 must be the culinary equivalent of the People's Choice Awards. The review app recently released a list of its top 100 restaurants in America, and Taqueria El Amigo in Waltham made the cut. Yelpers recommend trying the al pastor or the beef cheek tacos at this small spot, or instead opting for one of several tortas on the menu. Be warned: Like many great out-of-the-way spots, Taqueria El Amigo is cash only, and seating is limited. — Kevin Slane
In case you've missed it, Esports have gone fully mainstream in the last half-decade. The thrill of watching top gamers compete will be on full display this weekend at MGM Music Hall, where Oxygen Esports — the top Esports brand in New England — will host a "Call of Duty" tournament with more than $500,000 in prizes on the line. Among the 12 professional teams competing is Boston Breach, who is seeded third in the tournament and will face Atlanta's faZe in Round 1. Tickets for Saturday and Sunday's matchups are already sold out, but seats for Thursday and Friday's action are still available. — Kevin Slane
Once the bitter cold of Saturday has faded away, head to Kendall Square's Canal District (at 300 Athenaeum Street in Cambridge) for a free afternoon of ice skating from 12-4 p.m. thanks to the Kendall Square Association. Along with free rink time, there will be arts and crafts, food, and hot chocolate on hand. Tighten up your laces and glide over to Community Skate @ Canal District Kendall. There will be arts and crafts, food, and hot chocolate to end your weekend on a warm note. Skate rentals are also available on a first-come, first-served basis. — Kevin Slane
Comedian Taylor Tomlinson seemed to come out of nowhere in 2018 with her appearance on Netflix's "The Comedy Lineup," followed by her first Netflix special, 2020's "Quarter-Life Crisis." Thanks to her tightly constructed jokes and her occasional foray into the personal, Tomlinson's fanbase seems to be growing exponentially: Her latest Netflix special, 2022's "Look At You," was filmed at the Wilbur Theatre, and now she's performing four shows this weekend at a venue with more than triple the capacity in the Boch Center Wang Theatre. Tickets for Friday's 7 p.m. show are sold out, but a handful remain for Thursday's 7 p.m. show and Friday's 10 p.m. set. — Kevin Slane
You've probably walked every inch of the Freedom Trail, but have you ever trekked the 1.6-mile Black Heritage Trail? In honor of Black History Month, explore the path that zig-zags through Beacon Hill, which was once a thriving Black community full of abolitionists and activists before, during, and after the Civil War. Many of the homes featured on this tour are private, but the last two, Abiel Smith School and the African Meeting House — are open to the public. For a self-guided tour, check out the National Park Service's free app. — Kevin Slane
In honor of Black History Month, expand your culinary horizons and take part in the Boston Black Restaurant Challenge. The initiative, which began in 2018, challenges all Boston residents to visit at least four Black-owned restaurants in Boston during the month of February. For some inspiration, check out this list of Black-owned restaurants in the Boston area. Most spots are open for both takeout and dine-in. — Natalie Gale
Get set for a night of heavy metal heaven this Sunday at House of Blues from double headliners Anthrax and Black Label Society. These two bands were on tour together over the summer, and in picking it up again in the colder months they haven't missed a beat. Black Label Society, featuring former Pantera guitarist Zakk Wylde (who often dons a kilt), is opening, blasting out crowd favorites such as "Trampled Down Below" and "Fire It Up" (which has been featuring Wylde and co-guitarist Dario Lorina in a shredding duel). Anthrax then ups the energy ante with tunes reaching deep into their catalog. Think "I Am the Law," "Bring the Noise," and "Madhouse." Warning, especially when that last one starts: The sounds are loud and the mosh pit is alive and well. — Ed Symkus
Boston.com Tonight
Sign up to receive the latest headlines in your inbox, every night.