Events
This event has passed. Check out other things to do instead.
10 things to do in Boston this weekend
BosTen is your weekly guide to the best events and coolest happenings in and around Boston.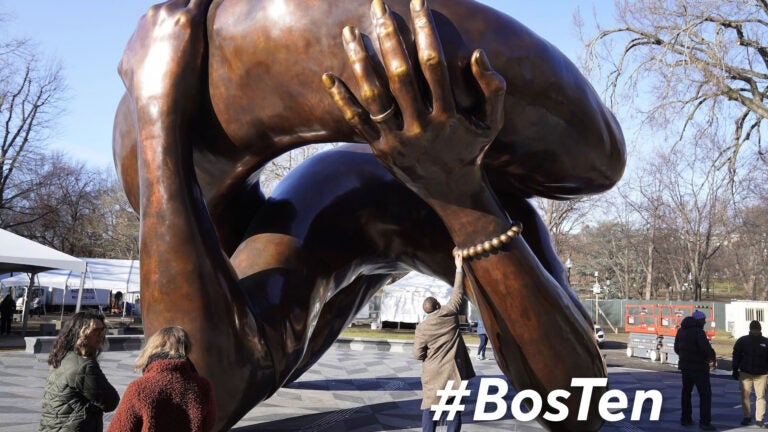 Welcome to BosTen, your weekly guide to the coolest events and best things to do in Boston this weekend. Sign up for our weekly email newsletter here. Have an idea about what we should cover? Leave us a comment on this article or in the BosTen Facebook group, or email us at [email protected].
Oenophiles, gather 'round and raise a glass to the return of the annual Boston Wine & Food Festival starting this Thursday. The nation's longest-running wine and food festival (going strong for 34 years) is back and will be directed by David Daniels, executive chef at Boston Harbor Hotel, Nancy Bean, longtime food and wine festival expert, and Nick Daddona, the sommelier at Boston Harbor Hotel. The three-month long festival kicks off Thursday night with a special evening featuring one of Napa's most iconic wineries, Staglin Family Vineyard, and follows with an all-star lineup of intimate winemaker-hosted dinners, seminars, thematic receptions, and celebratory brunches at the iconic waterfront Boston Harbor Hotel. For a full listing of events, check here. — Cheryl Fenton
For the 21st year, the Museum of Fine Arts is offering free admission to all Massachusetts residents on Monday in honor of MLK Day. Partnering with Citizens Bank, the museum hosts an open house commemorating the life and work of Dr. Martin Luther King Jr. Tickets are available in person on a first-come, first-served basis. Exhibit highlights will include "Frank Bowling's Americas," "Making Past Present: Cy Twombly," and the final day of "LIFE Magazine and the Power of Photography." The day will also include interactive painting and music from DJ WhySham in the Shapiro Family Courtyard, a short talk and performance in the "Touching Roots" exhibit at 1:00 and 2:30 p.m., and a noon discussion on the making of "The Embrace," a new public monument celebrating the work and lives of Dr. Martin Luther King Jr. and Coretta Scott King. — Natalie Gale
The Boston Children's Chorus will perform "Becoming King," its 20th annual MLK tribute concert, at 4 p.m. on Monday. The singers of Boston Children's Chorus will reflect on King's life and legacy, including his years spent studying philosophy in Boston. The concert takes place at Symphony Hall, and tickets, which can be purchased here, range from $15 to $75. — Natalie Gale
The Institute of Contemporary Art is once again offering free admission from 10 a.m. to 5 p.m. on Monday. Exhibits available that day will include "Rose B. Simpson: Legacies," "Jordan Nassar: Fantasy and Truth," and "To Begin Again: Artists and Childhood." Timed tickets are required and will be available 24 hours before the event starts on Monday. — Natalie Gale
Spend time outdoors with lions and tigers at Franklin Park Zoo in Boston or bears and reindeer at Stone Zoo in Stoneham, both offering free admission on Monday for MLK Day. The zoos offer educational programming year round. Zoo New England offers a list of animals typically seen during winter visits at Franklin Park Zoo and Stone Zoo. — Natalie Gale
In collaboration with the Museum of African American History, the Boston Youth Symphony Orchestra will perform its annual free tribute concert at 1 p.m. at Faneuil Hall on Monday. The concert will be conducted by Marta Zurad. Though the event is free, tickets must be reserved in advance here. — Natalie Gale
Têt is the Vietnamese Lunar New Year celebration, and each year the Vietnamese American Community of Massachusetts (VACM) and the New England Intercollegiate Vietnamese Student Association (NEIVSA) organize Têt in Boston. This year's celebration takes place on Sunday at Flynn Cruiseport at 1 Black Falcon Ave. from 10:30 a.m. to 5 p.m. and includes dozens of food and art vendors plus information booths, activities for kids, photo ops, and both traditional and modern Vietnamese performances. Admission to the festival is $3 online or $5 at the door. — Natalie Gale
2022 marked the 20th anniversary of Cass McCombs's debut EP, "Not the Way," and the release of his tenth LP, "Heartmind." In a 2016 New York Times article titled "Imagine Beckett as a Cranky Singer-Songwriter," music journalist Ben Ratliff anointed McCombs "one of the great songwriters of his time." Based on the critical acclaim heaped upon him throughout his career, it is unlikely that Ratliff is the only such person to think so highly of the 45-year-old. In fact, "Heartmind" – which features appearances by, among many others, Wynonna Judd and Danielle Haim – may very well be McCombs's most highly praised effort to date. Concertgoers will likely hear plenty from his new release when McCombs visits The Sinclair on Sunday at 7 p.m. — Blake Maddux
On Friday, a long-planned 22-foot statue honoring Martin Luther King Jr. and Coretta Scott King will be unveiled on Boston Common near the site of a 1965 rally led by the Civil Rights leader. "The Embrace" will be one of the country's largest new memorials dedicated to racial equity, where Martin and Coretta first met as students in 1952. After a private unveiling ceremony on Friday, the statue will be open to the public. You can also watch coverage of the unveiling on NBC10 Boston from noon to 3 p.m. — Kevin Slane
Want to explore the great outdoors more in the new year but don't know where to start? The National Park Service (NPS) is once again waiving entrance fees for all National Parks on five days in 2023, including MLK Day. Of the more than 400 National Parks country-wide, 110 parks charge entrance fees ranging from $5 to $35. New England parks that typically charge a fee that will be free on the five designated days include Adams National Historical Park in Quincy ($15/person), Acadia National Park in Bar Harbor, Maine ($15/person, $30/vehicle), and Saint-Gaudens National Historical Park in Cornish, N.H. ($10/person). — Natalie Gale
Need weekend plans?
The best events in the city, delivered to your inbox