Events
This event has passed. Check out other things to do instead.
10 things to do in Boston this weekend
BosTen is your weekly guide to the best events and coolest happenings in and around Boston.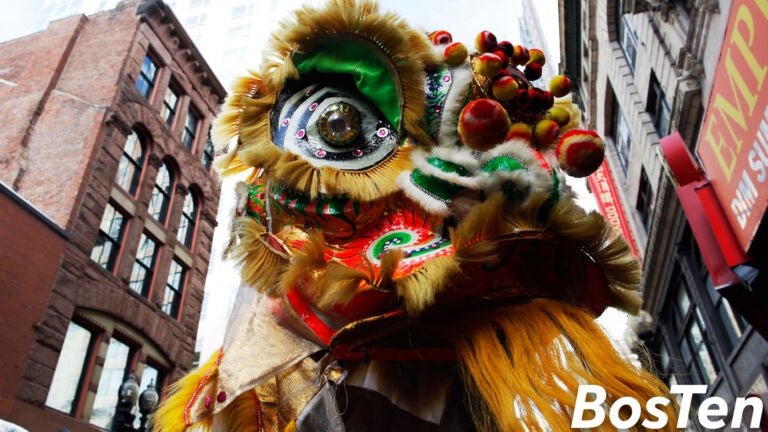 Welcome to BosTen, your weekly guide to the coolest events and best things to do in Boston this weekend. Sign up for our weekly email newsletter here. Have an idea about what we should cover? Leave us a comment on this article or in the BosTen Facebook group, or email us at [email protected].
Dry January is almost at its end, but if you're still looking for new ways to mix up non-alcoholic concoctions, the Boston.com Cocktail Club will offer up some virtual alcohol-free cocktails sure to lift your spirits this Thursday at 7 p.m. Join host Jackson Cannon (The Hawthorne, Eastern Standard) and guest bartender Yuna Asriyan (Catchall Collective) as they teach you how to make two nonalcoholic cocktails — the Classic Sour and the Spritz Life. Attending the Zoom is free, and you can find a full list of necessary ingredients here. — Kevin Slane
You and Ticketmaster got bad blood after the Taylor Swift concert ticket fiasco? Shake it off at Big Night Live during its late-night The Taylor Party. This Taylor Swift-inspired dance party lets you cheat the codes, bypass the waiting room, and dance the night away with all your fellow Swifties. With amped up energy, strobe lights, and the occasional bouncing red beach ball, guests can sing along to every hit song as DJs spin hours of jam-packed pop. While the 18+ event on Friday is sold out, there's no need to be your kids' anti-hero: An all ages show has been added on Thursday at 7 p.m. Are you ready for it? Tickets are available via — believe it or not — Ticketmaster. — Cheryl Fenton
To celebrate the year of the rabbit, Peabody Essex Museum will host a day of Lunar New Year activities this Saturday, including tours of Yin Yu Tang, the museum's 200-year-old Chinese home. From 10-4 p.m., the museum will have activities highlighting Chinese cultural traditions, including folktales from special guest Limin Mo, a lion dance performance, art making, and calligraphy lessons. While all of the activities are included with regular museum admission, advance reservations are required for some events via PEM's website. — Kevin Slane
The New York metro region's Chocolate Expo visits Boston for the first time this Sunday as dozens of vendors of artisan chocolate, baked goods, cheese, specialty foods, and craft beverages set up shop at the Shriners Auditorium in Wilmington for a day of chocolate samples and family fun. Visitors can sample small, tasting-size portions of products as they shop. While most vendors, like chocolate makers, old-fashioned candy shops, and bakeries, sell sweets, some act as palate cleansers, like cheese vendors, wineries, and cideries. Special guests at the Wilmington expo will include actor Paris Themen (Mike TeeVee from 1971's "Willy Wonka & the Chocolate Factory"), magician Peter Gross, and chef Larry Rosenberg from the Food Network. Tickets are available now via Eventbrite. — Natalie Gale
Boston's annual Chinese New Year parade takes place this Sunday, bringing crowds, street food, dancing, firecrackers, and music to the streets of Chinatown from 10-3 p.m. Most of Chinatown closes to car traffic during the event, while the parade proceeds around Kneeland Street, Harrison Ave, and Essex Street. Parade goers will see dance troupes and kung fu groups performing lion dances with elaborate costumes and many restaurant owners in the neighborhood leave offerings to "feed" the lions, ensuring good luck for the new year. The parade also usually includes a dragon dance, as long as the weather holds up so the delicate dragon costumes aren't damaged. — Natalie Gale
Pao, Chinatown's community arts center, will host interactive Lunar New Year arts activities throughout the day this Sunday, like Chinese red envelope folding, Korean calligraphy, Korean dasik cookie stamping on clay, and rabbit-related crafts. It will also host three lion dance demonstration sessions at 11:30 a.m., 1 p.m., and 2 p.m. Visitors can also head to Pao Arts Center any time through February 25 to see "Under the Oak Tree," an art showcase by the students of the Red Oak Program at Boston Chinatown Neighborhood Center. — Natalie Gale
A chef who's been cooking in kitchens around Boston for a decade, Matthew Bullock premieres the Southern Pines Supper Club with a 2023 dinner series in Cambridge. The menu follows the New England season but with a Southern twist, per Bullock, and is available at Forage on the last Sunday of each month, starting this weekend. That means the chef's take on dishes like pimento cheese with benne seed crackers, killed lettuce with country ham and cornbread crumbles, and savory grits with smoked apple and fried shallots. To make a reservation for Southern Pines Supper Club, call Forage at 617-576-5444 or find the experience on OpenTable. — Jacqueline Cain
Chef Colton Coburn-Wood has made his mark on Mexican cuisine in Boston. Currently chef at Cosmica, a South End neighborhood restaurant serving Cal-Mex specialties, Coburn-Wood previously crafted the opening menu at Yellow Door Taqueria, among several other roles in local restaurants. Now, the chef introduces Taqueria No Mames, a pop-up series coming to Revival Cafe in Somerville's Davis Square this Sunday from 5-8 p.m. featuring his take on traditional Mexican cuisine following New England's harvest seasons. That presently translates as snacks like tamales filled with green chili-carnitas and butternut squash topped with "autumn escabeche;" a scallop and citrus tostada with pomegranate and cashew salsa macha; tacos on locally made tortillas topped with the likes of brisket and guajillo salsa; and mushrooms with chipotle-mashed potato. Check out the menu for this weekend's pop-up and keep up with future announcements on Taqueria No Mames' Instagram. — Jacqueline Cain
Though it's being billed as The Final Tour, the mom-and-daughter duo of Naomi and Wynonna Judd broke up in 1991, after an eight-year run as country queens, and got back together for a few reunion shows. But this one has an irrevocability to it. Naomi Judd died in April. Wynonna Judd is headlining this tour — which visits Worcester's DCU Center this Sunday at 7:30 p.m. — in celebration of her mom. As a duo, their initial single "Had a Dream (For the Heart)" charted, and the follow-up, "Mama He's Crazy" earned them a Grammy. Though Wynonna is the star here, performing many of her own songs, she's also keeping her mom's contributions very much in the picture (with the aid of some guest artists). Recent encores have included the Judds hits "Grandpa (Tell Me 'Bout the Good Old Days)" and "Why Not Me?." Tickets are available now via Ticketmaster. — Ed Symkus
Since her late teens, Suki Waterhouse has flexed her talents as a model, a photographer, a film and television actor, an entrepreneur, and a musician. Having put out several singles since 2016, the 30-year-old London native released her first album, "I Can't Let Go," on May 6, 2022 via Sub Pop, and followed it up with an EP, "Milk Teeth," in November, so she'll have plenty of new material for her show Sunday at Paradise Rock Club at 7 p.m. And while there's no evidence this will happen, wouldn't it be crazy if Waterhouse's long-term partner, Robert Pattinson ("The Batman"), showed up? — Blake Maddux
Need weekend plans?
The best events in the city, delivered to your inbox