Events
This event has passed. Check out other things to do instead.
10 things to do in Boston this weekend
BosTen is your weekly guide to the best events and coolest happenings in and around Boston.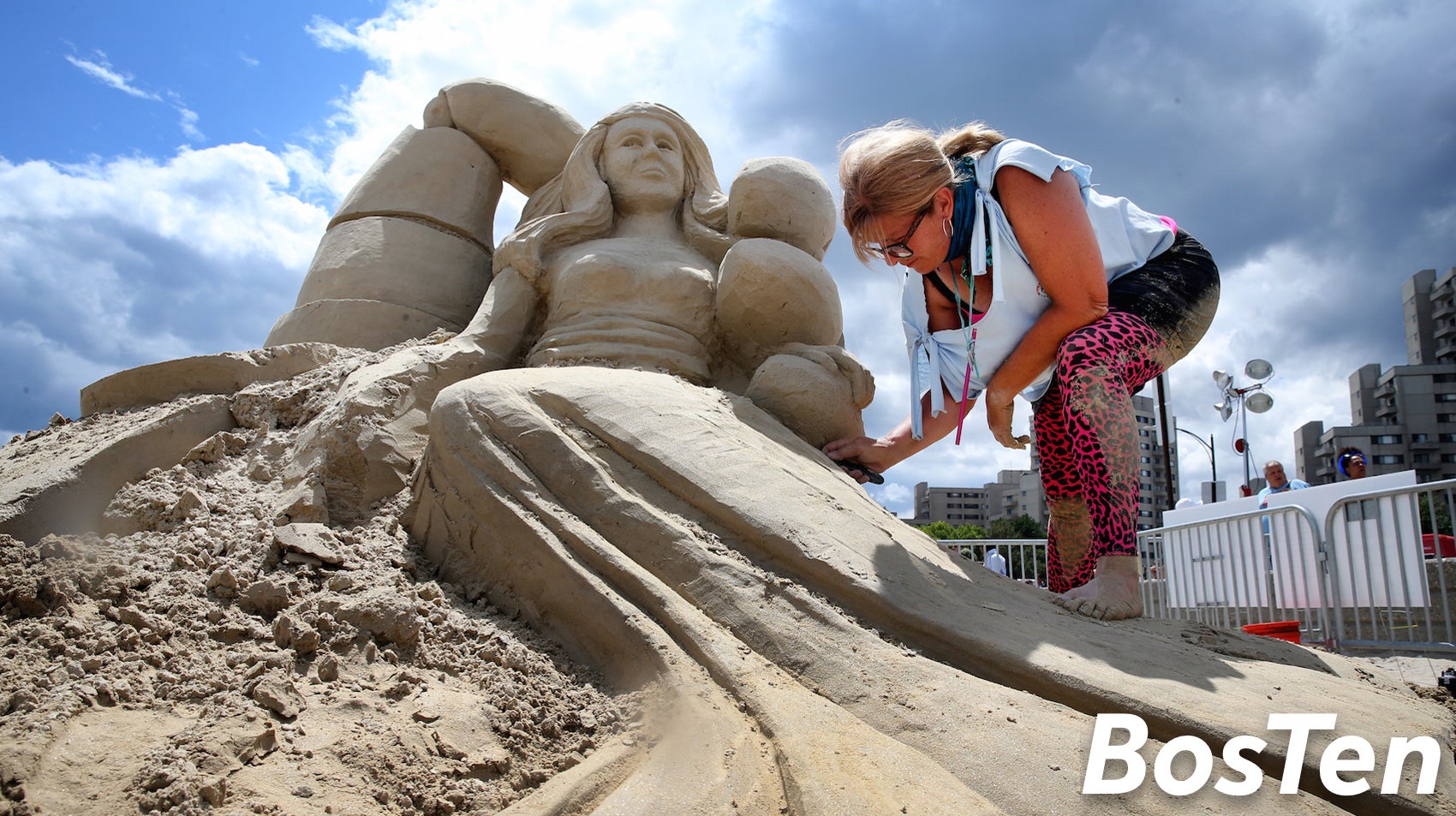 Welcome to BosTen, your weekly guide to the coolest events and best things to do in Boston this weekend. Sign up for our weekly email newsletter here. Have an idea about what we should cover? Leave us a comment on this article or in the BosTen Facebook group, or email us at [email protected].
For the first time in two years, the Museum of Fine Arts's Concerts in the Courtyard is returning this summer. A series of four concerts will take place from July 21 to August 11, featuring everything from indie rock and folk songs, to music with soul and jazz influences. The first performance of the season comes this Thursday from Massachusetts native Barrie, who will perform her collection of synth-pop, art-pop, indie rock, and folk songs starting at 7:30 p.m. On Lindsay's album "Barbara," her first self-produced album, Lindsay explores and confronts new relationships, the loss of a parent and the impulse to separate herself from her music. Doors open at 6 p.m. — Marta Hill
With temperatures staying in the 90s all week, many folks may stick to the comfort of their own air-conditioned homes for socializing this weekend. To help beat the heat, the Boston.com Cocktail Club will offer up some virtual summer-themed cocktails this Thursday at 7 p.m. Join host Jackson Cannon (The Hawthorne, Eastern Standard) and guest bartender John Gertsen (Bayberry Garden) as they teach you how to make summer-inspired takes on two classic cocktails — a fruit-infused version of the classic French 75 and a Watermelon Margarita. Attending the Zoom is free, and you can find a full list of necessary ingredients here. — Kevin Slane
Think you're good at sand castles? While there may be a grain of truth to that, there's a sculpting event that has you beat. Set along Revere's three-mile crescent beach, America's first public beach, the International Sand Sculpting Festival puts the spotlight on giant works of art created by renowned master sculptors from across the U.S. and Canada. The festival draws an estimated 1 million people to Revere Beach each year. Utilizing individual 12-ton allotments of sand imported from Hudson, N.H., this year's theme is "Wonders of the World." Festival goers will enjoy a backdrop of live music, carnival games, food trucks, and a fireworks show taking place Saturday at 9 p.m. Those who go early to the three-day festival can watch the artists crafting their sculptures. — Cheryl Fenton
Ladies and gentlemen, The Weekend. The Canadian singer-songwriter will bring his melancholy R&B stylings to Gillette Stadium this Thursday at 6:30 p.m. as part of his first-ever global tour. The tour is The Weeknd's first concert series since the release of his smash album "After Hours," which broke countless Billboard records following its March 2020 release. Of particular note, his single "Blinding Lights" spent a record 90 weeks on the Billboard Hot 100, with the magazine later naming it the greatest Hot 100 hit of all time, supplanting Chubby Checker's 1960 hit "The Twist." Also joining The Weeknd at the home of the Patriots this summer is rapper/singer-songwriter Doja Cat, who has had her own Billboard success with the likes of "Say So" and "Kiss Me More." Tickets are still available now via Ticketmaster. — Kevin Slane
Before the WWE arrives for one of its signature events later this year – Survivor Series – the world's preeminent professional wrestling federation will host another televised show in Boston this summer, with Friday Night Smackdown broadcasting from TD Garden this Friday at 7:45 p.m. The card is subject to change, of course, as storylines evolve and pinfalls shift the story arcs. But billed among the participants for the event is Women's Smackdown Champion (and MMA legend) Ronda Rousey, as well as The Usos, who entered the summer as WWE's undisputed tag team champions. Smackdown hasn't been in Boston for a couple of years, though the weekly FOX TV show has consistently attracted around 2 million viewers in recent months. Tickets in the balcony are available on Ticketmaster and can be had for less than $30 (before fees), with seats closer to the squared circle priced as high as $156.50. — Dave D'Onofrio
While film fans have started heading back to regular movie theaters after two-plus years of COVID-19, the Boston area will once again offer a robust number of free outdoor movies now that summer has officially arrived. All summer long, you'll be able to catch a mix of fairly recent films and certified classics at pop-up outdoor movie screenings — free of charge. On Friday, you can catch "The Wizard of Oz" at dusk as part of Boston Harbor Hotel's Summer in the City series, On Saturday, you can head to the Prudential Center lawn for a sunset screening of "The Parent Trap." Finally, you can wrap up the weekend of free movies on Sunday with an 8:30 p.m. showing of "Dirty Dancing" at Christopher Columbus Park. — Kevin Slane
Part bar hop, part cocktail celebration, the Boston Margarita & Mimosa Fest gets you moving through the West End on the hunt for beer, hard seltzer, hand-crafted margarita, and mimosa specials. Register from 2 to 4 p.m. at The Greatest Bar on Saturday to receive the coveted wristband that will give you access to great drink specials from five bars and restaurants all within walking distance. All specials and venues will be listed on the event's Facebook page the week of the event, and a handy map is available to screenshot so you'll stay on the right path. — Cheryl Fenton
Beer and BBQ is an undoubtedly great pairing, much like peak Brady and the Pats. But if the thought of red wine with your brisket is a little unusual, Commonwealth Wine School, located right in the heart of Harvard Square, is here to change your mind. At this in-person class on Saturday from 6:30-8 p.m., wine educator Adam Centamore will lead you through wines that bring out the best in a variety of BBQ meats. By the end of the evening, you might be convinced that sometimes new pairings can actually be amazing. Sometimes, Brady, sometimes. — Joel Ang
By the end of July, Todd Rundgren's 2022 Boston gigs will include opening for Daryl Hall at Orpheum Theatre, serving as the de facto headliner of "It Was 50 Years Ago Today: A Tribute to The Beatles' Rubber Soul & Revolver" at Chevalier Theatre, and performing solo at his return visit to The Cabot. Furthermore, Rundgren and guitarist Adrian Belew (David Bowie, Frank Zappa, Talking Heads, King Crimson, etc.) will front the band that will hit the road in October and November for the "Celebrating David Bowie" tour. No Boston date is currently scheduled, but there is room for one. So the question is less, "When will the 74-year-old ever stop working and/or being relevant?" and more, "Why should he do either when he has been doing both so successfully for five-and-a-half decades?" Rundgren's gig in Beverly on Saturday at 8 p.m. will be part of his current "Unpredictable" tour, a trek that in the past has comprised a genuinely odd assortment of covers and lesser-known known originals, including ones from his bands. — Blake Maddux
This Saturday and Sunday, the annual Columbia Threadneedle Investments Boston Triathlon returns to the city, hosting both Olympic and sprint distance triathlons, the Boston Corporate Cup, and a Kids Day. Boston's only triathlon, the weekend of events takes place in South Boston, where participants will swim from Carson Beach, bike down Day Boulevard, then run a winding course through Moakley Park. Participation is encouraged from folks of all ages and skill levels, whether this is a racer's first triathlon, or their tenth. Organizers expect some participants to travel from around the country and from abroad for this world class race. Registration is currently open, and more details like course maps, schedules, and frequently asked questions can be found on the event website. — Natalie Gale
Need weekend plans?
The best events in the city, delivered to your inbox