Events
This event has passed. Check out other things to do instead.
10 things to do in Boston this weekend
BosTen is your weekly guide to the best events and coolest happenings in and around Boston.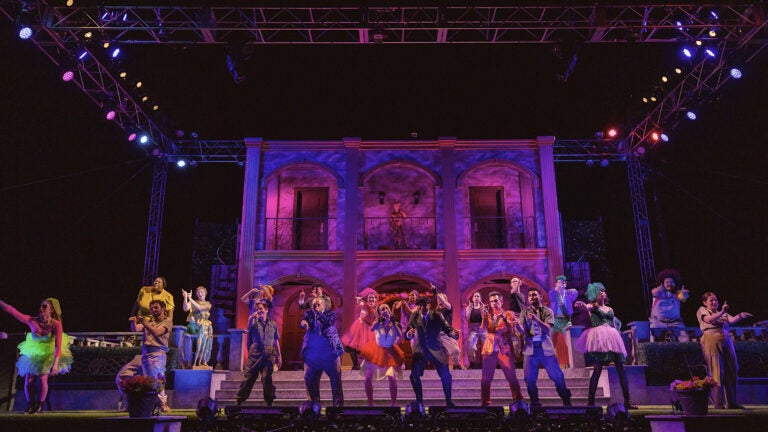 Welcome to BosTen, your weekly guide to the coolest events and best things to do in Boston this weekend. Sign up for our weekly email newsletter here. Have an idea about what we should cover? Leave us a comment on this article or in the BosTen Facebook group, or email us at [email protected].
Call it much ado about something. The Commonwealth Shakespeare Company is back this summer with its free annual al fresco productions nightly through August 7. The Parkman Bandstand on Boston Common comes alive as this summer's troupe takes on William Shakespeare's classic comedy "Much Ado About Nothing" as directed by Megan Sandberg-Zakian. One of the Bard's most popular and frequently performed plays, this comedic romp also touches upon some serious themes (trust and betrayal, power and privilege, gendered expectations around chastity and violence). Sit on a blanket under the stars (perhaps with a DIY picnic) and watch the plot unfold around two couples — Beatrice and Benedick, who publicly proclaim their disdain for each other but yet fall madly in love; and naïve Hero and Claudio, who fall quickly in love only to be thwarted and then reunited. Plot twist — this production is set in the '90s instead of the 16th century. — Cheryl Fenton
While film fans have started heading back to regular movie theaters after two-plus years of COVID-19, the Boston area will once again offer a robust number of free outdoor movies now that summer has officially arrived. All summer long, you'll be able to catch a mix of fairly recent films and certified classics at pop-up outdoor movie screenings — free of charge. On Thursday, visit Revere Beach for an 8 p.m. showing of "Ghostbusters: Afterlife," or head to Cambridge Common for a double-header of "Encanto" (5:30 p.m.) and "The Sandlot," (7:30 p.m.) complete with free popcorn. On Friday, you can catch "Luca" at dusk as part of Boston Harbor Hotel's Summer in the City series. If you can't make it Friday but still want to see the recent Pixar hit, head to the Prudential Center lawn on Saturday, where "Luca" will be screening at sunset. Finally, you can wrap up the weekend of free movies on Sunday with an 8:30 p.m. showing of "The Philadelphia Story" at Christopher Columbus Park. — Kevin Slane
Like many of us, The Black Keys spent some of the COVID era working on what's most important: in their case, hill country blues. Recorded in a two-day session in late 2019 and released last year, the rock duo's "Delta Kream" captured the band's raw passion for its influences, sliding and grooving through staples of 11 artists the band has always held in high regard, bluesmen like R.L. Burnside and Junior Kimbrough. Now the Keys, which also includes singer-guitarist Dan Auerbach, are hitting the road for the first time since pre-pandemic times. They're not playing any juke joints, but they will be making a swing through the Xfinity Center in Mansfield this Friday at 7 p.m. "The Dropout Boogie Tour," which features special guests Band of Horses and — in select cities — Ceramic Animal, Early James, and The Velveteers, will be the band's first trip back to New England since touring behind "Let's Rock," their 2019 release. Tickets are still available now via Live Nation. — Christopher Gavin
With the goal of staying united and keeping their culture alive, the Puerto Rican Festival of Massachusetts is a three-day celebration this Friday through Sunday that typically attracts 90,000 people to Boston's Franklin Park. Artists (both local and from as far as Florida and Puerto Rico) will take to the stage to perform free concerts with a backdrop of carnival rides, souvenir tents of cultural merchandise, and Puerto Rican food. Kiosks offer a variety of activities, including a health fair, face painting, storytelling of Puerto Rican stories and legends, and lessons in Puerto Rican musical percussion. On Sunday, bring the whole family to watch the Puerto Rican Parade, one of Boston's largest parades, complete with marching twirlers, colorful dance troupes, bands, and musical floats. — Cheryl Fenton
Newburyport's Greek Food Festival, an event that has been running over the past four decades, will once again take place at the Annunciation Greek Orthodox Church this Friday through Sunday. This will be the first time that the festival has been held since the COVID-19 pandemic first began, with the church opting for smaller "Greek To Go" events in the last two years. Volunteers prepare all of the food together in a commercial grade kitchen in the church, often beginning work as early as May. Popular items include the gyros, falafel, spinach pie, moussake, Greek salad, and chicken and lamb meatballs. OPA Entertainment will provide live music, and guests can nibble on desserts like rice pudding as well. — Shira Laucharoen
Experience every type of folk music imaginable at the 35th Lowell Folk Festival, taking place on a number of stages throughout downtown Lowell this Friday through Sunday. The free event, which features 14 headliner acts, kicks off with a dance parade on Friday at 6 p.m., followed by concerts on two stages from 7-10 p.m. On Saturday, concerts will happen on five stages from noon to 6 p.m., then on two stages from 7-10 p.m. The music (and food and art) celebration winds down on Sunday with concerts on two stages from noon to 6 p.m. The exact schedules — when and where each artist will perform — are available on lowellfolkfestival.org. — Ed Symkus
If you can't stand the heat, get into a movie theater. And the New England Aquarium has a seat or two waiting for you. On Saturday at 7 p.m., the beloved Boston destination begins its "Cult Classic Movie Nights" with a one-night showing of "Sharknado" (a movie so bad it's good) — the story of a group of friends who struggle to steer clear of vicious, man-eating sharks washed ashore in Los Angeles thanks to a freak storm. A new aptly ocean-inspired film drops each month for one night at the aquarium's Simons Theatre, one of New England's largest movie screens. The film schedule continues with "Waterworld" (Aug. 20), "Jaws" (Sept. 10), and "The Life Aquatic With Steve Zissou" (Oct. 1). — Cheryl Fenton
With a stated goal of raising $2.5 million for the clinical care and support of veterans and their families, the Run to Home Base will be held in and around Fenway Park — with a virtual option, as well — this Saturday. The 2022 race marks the 13th edition of the annual run, though organizers from the Red Sox Foundation and Massachusetts General Hospital suggest their mission has taken on an even greater importance this year as a result of the COVID-19 pandemic. After the opening ceremonies at 7 a.m., those runners will start out from Fenway at 8 a.m., then complete their 9K run or 5K run/walk by returning to the ballpark and crossing home plate. Friends and family aren't allowed on Fenway's track or turf, but those wishing to cheer on a field full of military members and veterans are welcome to do so from the stands. Amid the 4,000 runners there will surely be hundreds — if not thousands — of inspiring stories to root for, whether that's by cheering in person or donating from a distance. — Dave D'Onofrio
Families with children receive free admission to the Institute of Contemporary Art's East Boston annex, the Watershed, this Saturday as part of "Play Date: Watershed Family Day." The Watershed's summer exhibit, "Revival: Materials and Monumental Forms," will be on view during Family Day. The large-scale exhibit features the work of six artists from around the world, all using reclaimed industrial and everyday materials to create artwork focused on the industrial background of the Watershed, a former copper pipe factory. Artist El Anatsui (Anyako, Ghana) creates glittering tapestries from old bottle caps and other debris, while Boston-based Joe Wardwell has put together a new site-specific installation about the history of labor songs. The ICA's water shuttle, which provides service between the Watershed and the ICA main building, is also free with ICA general admission. Advanced general admission ticket reservations are strongly recommended and can be made on the ICA website. — Natalie Gale
Hot sauce isn't synonymous with New England, but Gabe DiSaverio, founder of The Spicy Shark and the first New England Hot Sauce Fest, wants to change that. At the New England Hot Sauce Fest, located at the Smuttynose Brewery in Hampton, N.H., brave attendees can participate in pepper-eating contests and hot wing contests (and break the heat with beer from Smuttynose's onsite brewery) while listening to '80s music this Saturday from 11 a.m. to 5 p.m. This family-friendly event even includes a bouncy house and face paint for kids. Mike Jack, holder of four Guinness World Records, is flying in from Canada to break the world record for the most Carolina Reapers ever eaten, a challenge by League of Fire, a website with a league-based ranking system for chili enthusiasts. With a mission this genuine paired with good food, beer, and a little heat, the New England Hot Sauce Fest aims to become an annual event in the region. — Ria Goveas
Need weekend plans?
The best events in the city, delivered to your inbox