Events
This event has passed. Check out other things to do instead.
10 things to do in Boston this weekend
BosTen is your weekly guide to the best events and coolest things to do in Boston.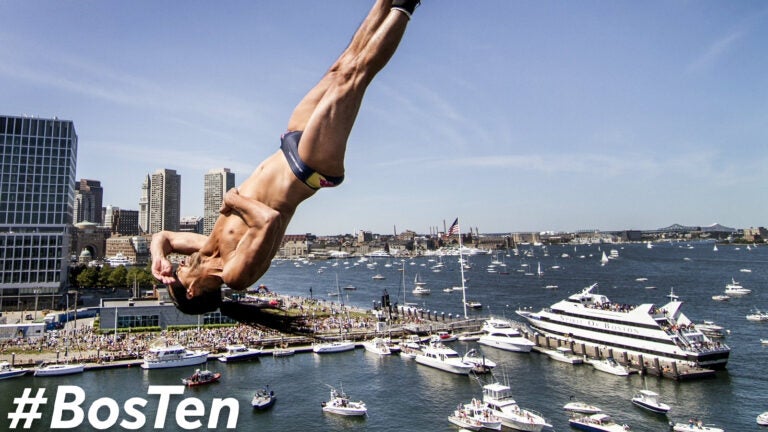 Welcome to BosTen, your weekly guide to the coolest events and best things to do in Boston this weekend. Sign up for our weekly email newsletter here. Have an idea about what we should cover? Leave us a comment on this article or in the BosTen Facebook group, or email us at [email protected].
Head to Salem for three days of arts, culture, and community fun starting this Friday during the 15th annual Salem Arts Festival. Spanning dozens of downtown venues, the festival will feature outdoor art, live music, theatre performances, and kid-friendly crafting activities. For a full schedule of events, check out the Salem Art Festival website. — Kevin Slane
Friday marks the return of the national Black Restaurant Week to Boston and other Northeast cities, with guests able to enjoy ten days of specials and prix-fixe meals, gift card raffles, cash prizes, and more from Boston food trucks, bakeries, and restaurants. Founded in 2016 in Houston, Black Restaurant Week has since grown into a nationwide series of events that celebrate African-American, African, and Caribbean cuisine in local communities. You can find a list of participating restaurants on Black Restaurant Week's website. Along with those participating eateries, there's never a bad time to visit any of the dozens of restaurants and food trucks across Boston neighborhoods that are Black-owned: Check out this directory from the city's Black Hospitality Coalition, an organization founded in 2020 to preserve these businesses' 180-plus-year legacy of food, culture, and business in Boston's Black communities. — Jacqueline Cain
Dorchester Brewing Company will kick off Pride Month by partying in style this Saturday. The Massachusetts Ave. taproom will serve a special Pride beer flight, and M&M BBQ will be offering their regular menu, which features beef brisket, baked mac and cheese, and honey hot chicken sammies. There will be live DJs, drag bingo with Harlow Havoc, themed paint 'n' pour pop-ups with Rahim Grey, exclusive merch, and much more. The Game Room is also worth a visit, if you'd like to play skeeball, arcade games, pinball, pop-a-shot, or tabletop shuffleboard. — Shira Laucharoen
As part of its 40th anniversary celebration, the Cape Ann Artisans, a group that unites artists living in Gloucester and Rockport, will host a free open studios weekend on Saturday and Sunday from 10-5 p.m. For a map of where to find all of the artists on the North Shore peninsula, check out the group's website. — Kevin Slane
April showers bring May flowers, and May flowers bring Porchfests. Following the example of Somerville's annual celebration of local music — which has featured hundreds of local artists performing on porches around the city since 2011 — several other towns and neighborhoods will hold their own versions throughout May and June. Starting Saturday at noon, Newton, Medford, and Dorchester will all hold their own Porchfests — with Dorchester cleverly naming its festival Dorchfest. For a full list of participating artists, check out the websites for Newton Porchfest, Medford Porchfest, and Dorchfest. — Kevin Slane
This Saturday, the Red Bull Cliff Diving World Series will kick off its international season, as divers soar from platforms atop the iconic ICA museum in the Seaport District and slice through Boston Harbor's chilly waters. Saturday's event marks the 14th edition of the annual series that ends in Auckland, New Zealand, where the top man and woman will be crowned with the coveted King Kahekili Trophy. The free-to-attend outdoor competition will feature 24 of the world's most elite high-divers (a dozen men and a dozen women) leaping, twisting, and somersaulting from breathtaking heights in front of thousands of spectators. It provides a platform (literally) for awe-inspiring action and dives of incredible complexity where participants launch themselves from heights of up to 90 feet, hitting the water in under three seconds. — Cheryl Fenton
For 40 years, the Jimmy Fund has hosted the annual Scooper Bowl, a warm-weather ice cream social that raises money for the Dana-Farber Cancer Institute. Attendees who trek to Patriot Place for the two-day event this Friday and Saturday enjoy all-you-can-eat ice cream scoops in dozens of flavors from retailers like Ben & Jerry's, Häagen Dazs, Hood, and more. The event has been extended into a two-day extravaganza this year, with ice cream available from noon to 8 p.m. on Friday and Saturday. Friday night's Scooper Bowl becomes 21+ from 5 to 8 p.m. with two drink tickets included in the admission price. — Natalie Gale
With comics and graphic novels being among the most challenged books during the recent upswing in complaints about what's on the shelves in schools and public libraries, some might forget the role the medium has played in turning millions of kids onto reading — not to mention providing joy, fun, and excitement to generations of readers. This Saturday, the Boston Kids Comics Fest is here to remind you, with its largest free event ever from 10-5 p.m. at the Curry Student Center at Northeastern University. Dozens of exhibitors, special guests, and presumably thousands of visitors will celebrate the ingenuity of kids' comics, including Cara Bean ("Draw 500 Faces and Features"), Erica Henderson ("The Unbeatable Squirrel Girl"), and Marjorie Liu ("Wingbearer"). — Peter Chianca
Each year, a group of artists and gallerists in Beacon Hill bring their works to the sidewalk for the annual Beacon Hill Art Walk. This year's event, which will be held on Sunday from noon to 6 p.m., will feature around 100 artists, showcasing works of all styles. If the sidewalks get too crowded, a number of residents also open up their private courtyards to exhibit more art or host live music. — Kevin Slane
Tiffani Faison's pizza spot in the Fenway, Tenderoni's, will be holding a Sunday Service Drag Brunch, featuring some spectacular stars. Hosts Pamela Manderson and Bruiser will lead the show, along with resident DJ Coleslaw. The talented drag queens taking the spotlight include Ladda Nurv, Secret Queen, and Kenya Mone Heart. Tickets are $75 each and come with a family style meal and a welcome cocktail. Come with cash prepared to tip the queens, and enjoy an afternoon of fun and entertainment. — Shira Laucharoen
Need weekend plans?
The best events in the city, delivered to your inbox