Events
This event has passed. Check out other things to do instead.
10 things to do in Boston this weekend
BosTen is your weekly guide to the best events and coolest things to do in Boston.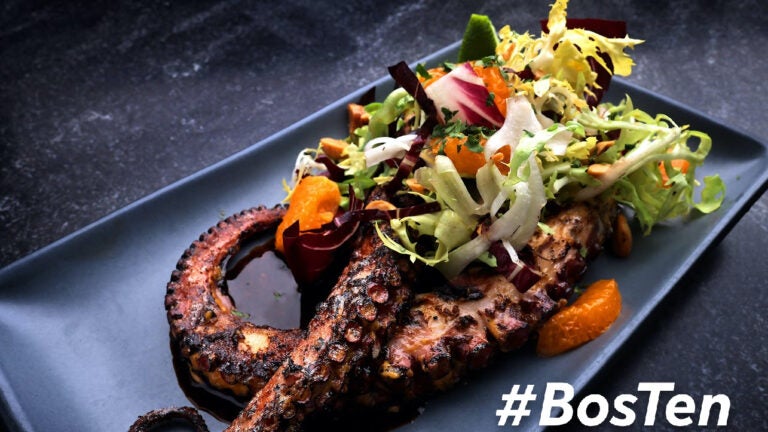 Welcome to BosTen, your weekly guide to the coolest events and best things to do in Boston this weekend. Sign up for our weekly email newsletter here. Have an idea about what we should cover? Leave us a comment on this article or in the BosTen Facebook group, or email us at [email protected].
Pescador, a seafood restaurant in the heart of Kenmore Square, will hold a "Ceviche Bar Takeover" as part of a Guest Chef Series on Thursday from 6 to 8 p.m. Chef Jamie Bissonnette, of Coppa, Toro, Little Donkey, and Faccia a Faccia, will join Pescador chefs Dan Bazzinotti and Keith Pooler at the eatery's 18-seat ceviche bar. They'll host a five-course dining experience that will showcase international takes on crudo, ceviche, and more. Pairings and a la carte beverages will also be available. Tickets are $95 per person. — Shira Laucharoen
Starting Thursday, tens of thousands of gaming enthusiasts will flock to the Boston Convention and Exhibition Center for PAX East, one of the biggest festivals of its kind nationwide. You'll find hundreds of active exhibitions and tournaments devoted to board games, video games, role-playing games, and every other type of game at what one organizer has called "Woodstock for gamers." Single-day passes for Saturday are sold out, but you can still snag tickets for Thursday, Friday, and Sunday. — Kevin Slane
Born Alexander Kotz in London, Elderbrook is a multi-instrumentalist who has released numerous singles, several EPs, and two full-length albums — 2020's "Why Do We Shake in the Cold?" and this year's "Little Love" — over the course of the past eight years. The 2017 single "Cola" was a hit across Europe, topped the U.S. Dance Club Songs chart, and was up for the Best Dance Recording honor at the 2018 Grammys. Elderbrook will be joined by ford. and EREZ for a show this Thursday at Royale, with doors set to open at 8 p.m. — Blake Maddux
Once Upon a BookFest, which will be held at Ashland Public Library from 10-4 p.m. this Saturday, bills itself as "a one of its kind book festival devoted to the young at heart." The event promises to be a good one for for younger readers and families who want to get the chance to attend workshops, book signings, and meet authors and illustrators. Registration is free and walk-ins are welcome. — Emily Collins
Stephen Sondheim's "Into the Woods" comes directly from Broadway, fusing together fairytales and giving them a darkly comedic spin. Watch Cinderella escape from her prince, Jack encounter giants in the sky, and a baker learn about the meaning behind a journey. Expect songs from the 2023 Grammy-award winning album, like "No One is Alone" and "On the Steps of the Palace," to be stuck in your head. Producers have added a second week (through April 2) due to popular demand, so tickets for this weekend are limited. — Shira Laucharoen
The Boston Underground Film Festival (BUFF) returns to the Brattle Theatre in Cambridge for its 23rd installation through Sunday. What started as an all-night film marathon at the Revolving Museum in Southie is now an internationally acclaimed annual genre film fest featuring horror films and unconventional flicks of all kinds. Highlights of this year's lineup include the East Coast premieres of "Divinity," a retro sci-fi fresh off of its Sundance debut, "The Angry Black Girl and Her Monster," right off its SXSW premiere, and Czech film "Nightsiren." Viewers can also see the New England premieres of Cornish "Enys Men" and environmental thriller "How to Blow Up a Pipeline." Tickets for individual screenings cost $15, or $12 for students or Brattle members. — Natalie Gale
This "immersive experience" collaboration between Urbanity Dance and MASARY Studios will explore three kinds of ether: the ether in outer space, in the daily world around us, and within our bodies. The choreography will navigate the sensations of "being off balance, over-stimulated, surrounded by complete newness," according to a press release. Tickets for "Of the Ether," which will be performed Friday and Saturday at the Multicultural Art Center in Cambridge, are available now. — Shira Laucharoen
Raise a glass to the Boston Wine Expo, which brings more than 100 national and international wineries to the Park Plaza Hotel this Saturday and Sunday. Along with tasting classes, sessions with wine producers, and seminars with wine sommeliers, there will also be Grand Tastings on both Saturday and Sunday from 1 to 3 p.m. and 4 to 6 p.m., along with a VIP Tasting on both days from 11 a.m. to 12:30 p.m. for extra one-on-one time with the wineries. VIPs will also receive a gift bag with special offerings from sponsors, wineries, and restaurants near the Park Plaza for post-event dining options. — Cheryl Fenton
Even if you're not a fine art aficionado, you probably know of Japanese artist Katsushika Hokusai for his work "The Great Wave off Kanagawa," an image so ubiquitous that Apple based its wave emoji on the painting. Starting this weekend, the MFA will offer visitors a new look at Hokusai with "Hokusai: Inspiration and Influence," which showcases more than 100 works by the 19th century artist and an additional 200-plus works by his "teachers, students, rivals, and admirers." The exhibit opens to the public starting Sunday, but MFA members can get a sneak preview on Friday or Saturday. — Kevin Slane
Tiffani Faison's Fool's Errand in the Fenway brings you the first cocktail class in a recurring series at 2 p.m. Sunday. Sip your way through the spirits and cocktails of South America, while getting a lesson in history and culture. The menu will be progressive, featuring a light, bright pisco punch, as well as Canelazo, a "warm, spice aguardiente-based drink hailing from Ecuador," according to Rob Boudreau, principal bartender at Fool's Errand. While you sip your drinks, enjoy snacks as well, such as mini pork empanadas and chocotorta, an Argentinian dessert of "coffee-soaked cookies layered with dulce de leche and crema." The classes are meant to be fun and relaxed and may feature spirits like sherry and vermouth later on. Tickets are $120 each. — Shira Laucharoen
Need weekend plans?
The best events in the city, delivered to your inbox