Events
This event has passed. Check out other things to do instead.
10 things to do in Boston this weekend
BosTen is your weekly guide to the best events and coolest things to do in Boston.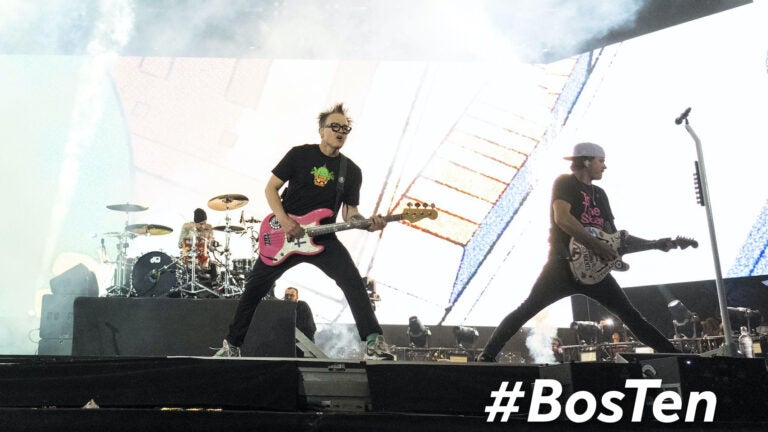 Welcome to BosTen, your weekly guide to the coolest events and best things to do in Boston this weekend. Sign up for our weekly email newsletter here. Have an idea about what we should cover? Leave us a comment on this article or in the BosTen Facebook group, or email us at [email protected].
In recognition of AAPI Heritage Month, a roundtable event will be held at Pagu in Cambridge this Thursday at 5:30 p.m. The dinner will bring together chefs, organizers, and neighbors who will share food, drinks, and stories, discussing topics such as the idea of a "model minority" and hopes for the future. Featured chefs include Tracy Chang (Pagu), Jason Doo (Wusong Road), Laurence Louie (Rubato), Alex Nystedt (Hot Chix), Ted Woo (Mimi's Chuka Diner), and KT Cheung (formerly of Cloud & Spirits). Purchase tickets here. –Shira Laucharoen
Each year, the Boston Press Photographers Association highlights some of the best shots taken by its talented photojournalists with an outdoor exhibition on Boston Common. See brilliant photo essays from Boston Globe photogs like Erin Clark and Jessica Rinaldi, triumphant sports snapshots from the biggest competitions around the world, and emotionally searing images of refugees in Ukraine and Latin America. The exhibit can be seen next to Park Street Station through May 28, before it moves to Jamaica Pond from May 29 to June 12. — Kevin Slane
Through Thursday, Bakes for Breast Cancer will be encouraging diners to eat confections, all in support of a good cause. Through the Boston-area fundraiser, select eateries will be donating proceeds from a specific dessert or, in some cases, 50% of proceeds from the whole dessert menu, raising funds and awareness for breast cancer research. Dig into chocolate bread pudding, cookies, and strawberry profiteroles with sauce and chantilly at participating spots like Henrietta's Table, Alta Strada, and Foundry on Elm. Follow this map to see where you can stop by to indulge in a bite. — Shira Laucharoen
Boston is making great strides toward becoming a cyclist-friendly city, adding protected bike lanes and connecting disparate paths in the city and beyond. The city will go above and beyond in its appreciation this Friday at City Hall Plaza with its annual Bike to Work Day Festival. Stop by on your two-wheeler from 7-9 a.m. for free breakfast, coffee, and a T-shirt (while supplies last), and visit exhibitors who will be offering goodies and free bike repair. — Kevin Slane
HarpoonFest once again returns to Harpoon Brewery in the Seaport this Friday and Saturday, celebrating local music, beer, and food. The event features cover bands and DJ sets, libations from breweries like Harpoon, UFO, and Arctic Chill, and some of Boston's favorite food trucks. Food vendors at this year's fest include Chicken & Rice Guys, The Whoo(pie) Wagon, Tenoch Mexican, and pretzels from Harpoon's kitchen. Friday's festivities run from 6-11 p.m., while Saturday's events are from noon to 7 p.m. Tickets for the 21+ event start at $35, which includes one drink ticket. Doors will close an hour and a half before closing time on both days. For any Taylor Swift fans who missed out on tickets to her shows at Gillette that weekend, HarpoonFest will host T-Swift tribute karaoke on Friday night from 9 to 10 p.m. — Natalie Gale
Whether you're celebrating securing Taylor Swift tickets or drowning your sorrows after missing out, The Liberty Hotel will feature a special Swift-themed cocktail and bites menu for the whole month. Sip on Champagne Problems, made with prosecco, gin, lemon juice, and simple syrup, topped with pink cotton candy. If you're looking for something to eat, try the Nashville chicken wings, Cornelia Street tacos, and the Tuna Tar-Taylor. — Shira Laucharoen
Beach season kicks off on the North Shore when Revere Beach hosts its eighth annual Kite Festival this Saturday from 11 a.m. to 2 p.m. across from Kelly's Roast Beef. Free and open to the public, the event features family-friendly activities, professional kite flyers, and live music. The first 300 kids in attendance under the age of 12 will receive a free kite to build, decorate, and fly in the festival. Visitors may also bring their own kites. The Kite Festival marks the first of several events at Revere Beach this year, including a summer music series on Thursdays throughout the summer, the Revere Beach Art Festival on Sept. 16, the Revere Beach International Sand Sculpting Festival (2023 dates are TBA), and the Pumpkin Dash 5K on Oct. 22. — Natalie Gale
Each of Boston's 23 neighborhoods has its own vibrant artist community, and this weekend will be your chance to see some of the best Dorchester has to offer. Studios at 11 Humphreys St. and 1486 Dorchester Ave. will showcase a mix of painting, photography, sculpture, mixed media, and even culinary arts this Saturday and Sunday from 11a.m.-5 p.m. For more info on the participating artists, check out the Dorchester Open Studios website. — Kevin Slane
Out in the suburbs, Lexington has attracted a robust artist community as well, with small galleries and home studios dotting every corner of the town. There is no central hub for the town's open studios on this Saturday and Sunday, with the town instead providing a map and artist directory so visitors can plot their own route among the galleries from 11 a.m.-5 p.m. — Kevin Slane
West Coast pop-punk trio Blink-182 has experienced an up-and-down career that started hot with the release of their 1993 EP "Fly Swatter." They earned a solid spot in the mainstream when their third and fourth LPs — "Dude Ranch" and "Enema of the State" — came out in 1997 and 1999. But members left and were replaced and sometimes returned, and there were four years in the mid-2000s when the band was temporarily broken up. On top of that there were medical issues. Now, the reunited lineup of Mark Hoppus, Tom DeLonge, and Travis Barker make their way to the Garden this Sunday for a 7 p.m. show. Their most recent album, 2019's "Nine," was a strong entry, and their 2022 single release "Edging" is a hell of a rocker. — Ed Symkus
Need weekend plans?
The best events in the city, delivered to your inbox