Events
This event has passed. Check out other things to do instead.
10 things to do in Boston this weekend
BosTen is your weekly guide to the best events and coolest things to do in Boston.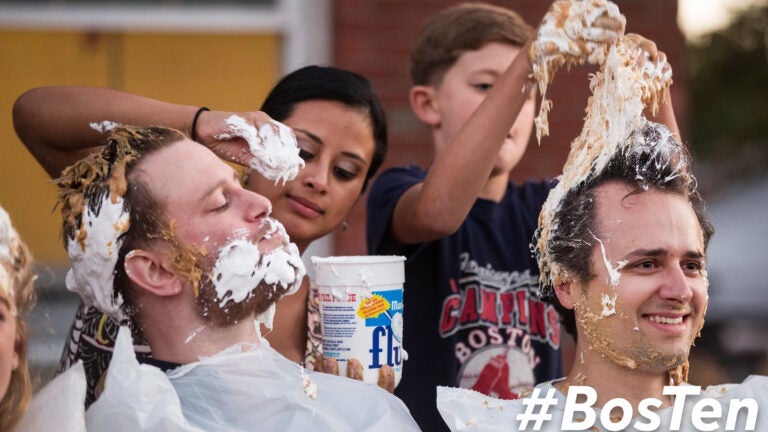 Welcome to BosTen, your weekly guide to the coolest events and best things to do in Boston this weekend. Sign up for our weekly email newsletter here. Have an idea about what we should cover? Leave us a comment on this article or in the BosTen Facebook group, or email us at [email protected].
If you're looking to join in some Oktoberfest celebrations, you may want to visit Monument Restaurant & Tavern in Charlestown for a Bavarian-themed evening this Thursday. They'll be pouring a Zero Gravity "Oktoberfest" Märzen, a Notch "Festbier," a Jack's Abby "Copper Legend" Festbier, a Grimm "Festooning" Märzen, and more. You'll also be able to enjoy food specials from chef Conor Seip, participate in a stein holding contest, and possibly win a prize in a competition for the "best dressed." (Thursday, Sept. 21 from 5-11 p.m.; Monument Tavern, Charlestown; free) — Shira Laucharoen
Both Boston locations of the Sam Adams brewery are raising a glass for Oktoberfest on the weekend of Sept. 22. All weekend long, the Faneuil Hall taproom and Jamaica Plain brewery will each offer Fest Beer Flights and a Fest Plate food special, plus live music, stein-hoisting contests, and more fun throughout the weekend. Check out the lineup of ticketed events going down downtown, including beer hall brass bands and rooftop DJs. Tickets are $10 and include entry, a half-pint of Octoberfest, and a souvenir krug. At the Jamaica Plain brewery, things kick off Thursday with a VIP Octoberfest Beer Dinner from 6 to 8 p.m. featuring three courses by No Joke Smoke and beer pairings, including a tasting of Barrel Aged Octoberfest. (Thursday, Sept. 21 from 6-8 p.m.; Samuel Adams Brewery; $75; 21+) — Natalie Gale
There's no better way to ring in the arrival of autumn than with a festive party. The food hall High Street Place in Downtown Boston will be holding a Fall Fest, lasting from 1-11 p.m. this Saturday. Delicious things to eat will be offered, such as the beer-braised bratwurst from Pennypacker's and a crab rangoon with apple cider dip from Dive Bar. Nibble on pretzels with beer cheese from Wheelhouse Diner and pumpkin ice cream and apple cider churros from Sugar Skulls. To drink, you'll find German and domestic beers from Alewives Tap Room and a spiked hot apple cider from Daiquiris & Daisies. Music from Julie Rhodes and DJ Bobby Bangers will be featured, and kids will be able to participate in activities like face painting and pumpkin decorating. (Saturday, Sept. 23 from 1-11 p.m.; High Street Place, Boston; free) —Shira Laucharoen
Closing out the summer and ushering us into autumn, Jamaica Plain Open Studios will host a neighborhood-wide Open Studios event on this Saturday from 11 a.m. to 6 p.m. and Sunday from 11 a.m. to 4 p.m. Last year's event featured more than 100 artists at 50 different studios, with the biggest concentration of creatives at the First Unitarian Universalist Church on Elliot Street. Visit the group's website for more info and to see last year's map and artist directory. (Saturday, Sept. 23 from 11-6 p.m. and Sunday, Sept. 24 from 11-4 p.m.; various locations; free) — Kevin Slane
Jamaica Plain isn't the only Boston neighborhood hosting an open studios event this weekend. United South End Artists, a collective representing more than 100 artists at numerous galleries in the neighborhood, will showcase their works at six different artist spaces, the largest of which is at the SoWa Art + Design District at 450 Harrison Ave. The doors will be open to all on both Saturday and Sunday from 11-6. p.m. (Saturday and Sunday, Sept. 23-24 from 11 a.m.-6 p.m.; various locations; free) — Kevin Slane
Ever since Somerville kicked off the first Boston-area Porchfest in 2011, more and more towns and neighborhoods have begun hosting their own versions, bringing amateur musicians together for an afternoon of free, live music on porches and front yards. This Saturday, you'll have your pick of four different Porchfests, whether you're on the South Shore (Hull Porchfest, 1-6 p.m.), in Boston proper (Roslindale Porchfest,1-6 p.m.), or hanging out in the Metro West (Melrose Porchfest, 2-6 p.m. and West Concorrd Porchfest, 1-5 p.m.). (Saturday, Sept. 23; various locations; free) — Kevin Slane
This Saturday, thousands of people will descend upon Union Square in Somerville to celebrate a distinctly New England confection: Marshmallow Fluff. The gooey, spreadable treat was first sold in Somerville in 1917 by Archibald Query, who whipped up batches of the stuff in his kitchen and sold it door to door. In Query's honor, the 18th annual What The Fluff? Festival will take over Union Square from 3-7 p.m., where more than a dozen local businesses will whip up their favorite Fluff-filled recipes for visitor enjoyment. Eating Fluff is just one way to celebrate at WTFF. There's also Fluff jousting, Fluff hairstyling, Fluff limbo, and a marshmallow toss, among other activities. (Saturday, Sept. 23 from 3-7 p.m.; Union Square, Somerville; free) — Kevin Slane
Jazz vocalist Kurt Elling doesn't play a physical instrument. But he's always referred to his voice as "my instrument." Jazz/hip-hop/fusion musician Charlie Hunter does play a physical instrument: the guitar — a specially designed 8-string model. These two seemingly very different artists first came into each other's orbits in 1995, and have collaborated now and again many times since then. But they got into a serious musical relationship with their Grammy-nominated 2021 album "SuperBlue," a jazz album that regularly ventured into soul territory. Their upcoming sequel — "SuperBlue: The Iridescent Spree" — continues in the same spirit, with an added sheen of pop and funk, some terrific originals, and a groove-infused cover of Joni Mitchell's "Black Crow." The duo will undoubtedly play sweet melodies when they visit City Winery this Thursday. (Thursday, Sept. 21 at 8 p.m.; City Winery, Boston. $32-48) — Ed Symkus
Roxbury-born sculptor John Wilson described his most famous work, Eternal Presence, as "a symbolic black presence infused with a sense of universal humanity." This Saturday, the 11th annual Big Head Community Festival celebrates Wilson and the Black culture of the Roxbury neighborhood with art, performance, and education. The theme for this year's event is "The City That Sways Together, Stays Together," so you can probably count on some dancing as well. (Saturday, Sept. 23 from 1-7 p.m.; National Center of Afro-American Artists; free) — Kevin Slane
On the last Sunday of each September, classic cars both foreign and domestic roll onto Boston Common for a day during the annual Boston Cup, which celebrates its 12th edition this Sunday. The show draws around 30,000 visitors annually, and awards first, second, and third place Best in Show awards to car submissions. To give you an idea of what kind of cars to expect, last year's winner was a 1950 Ferrari. General admission tickets are currently on sale for this year's show on the Boston Cup website. — Natalie Gale
Need weekend plans?
The best events in the city, delivered to your inbox