Events
This event has passed. Check out other things to do instead.
10 things to do in Boston this weekend
BosTen is your weekly guide to the best events and coolest things to do in Boston.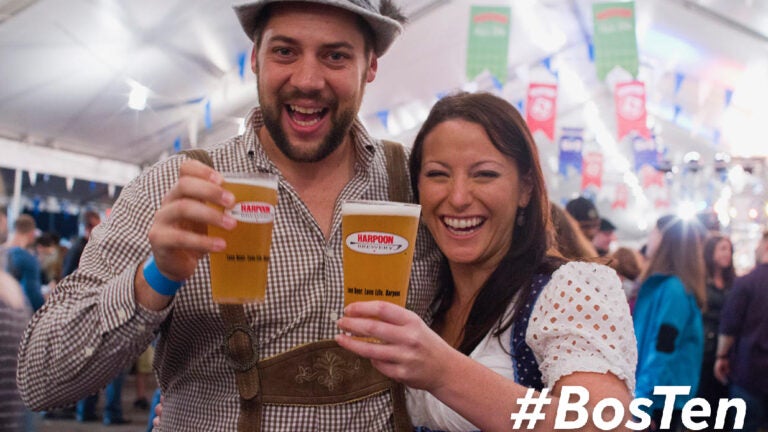 Welcome to BosTen, your weekly guide to the coolest events and best things to do in Boston this weekend. Sign up for our weekly email newsletter here. Have an idea about what we should cover? Leave us a comment on this article or in the BosTen Facebook group, or email us at [email protected].
Now through October 5, CineFest Latino Boston is bringing more than a dozen feature-length and short films to Boston area theaters, highlighting stories focused on and created by Latinos. Highlights include "You Were My First Boyfriend," an award-winning documentary from Cecilia Aldarondo showing at 7 p.m. on Thursday at Emerson's Paramount Theatre. The filmmaker travels back in time to her "tortured" teenage years, tracking down old friends and foes alike to re-stage formative moments in her life as adults. For more info on any of the films, many of which are free, visit CineFest Latino Boston's website. (Wednesday, Sept. 27 through Thursday Oct. 5 at various times and locations) — Kevin Slane
Notch Brewing will be teaming up with chef Bill Duvall for a Beer Dinner and Oktoberfest Celebration at Woods Hill Table at 6 p.m. Thursday. You'll learn about beers from the Czech Republic, Germany, England, and Belgium, guided by Woods Hill Table bartender Mitch Marsman, while dining on delicious food. On the menu, there will be housemade pretzels with warm beer cheese and bratwurst, potato latkes, schnitzel and Spaetzle Grun with sauerkraut, and a black forest cake. (Thursday, Sept. 28 at 6 p.m.; Woods Hill Table, Concord; $120; 21+) — Shira Laucharoen
Global music star Karol G has expanded her Mañana Será Bonito tour to include six additional stadiums in the U.S., including a date at Gillette Stadium this Thursday at 7 p.m. The Colombian singer's career has come a long way in a short time: After popping on the Colombian version of "The X Factor" in 2014, her 2017 debut with Bad Bunny, "Ahora Me Llama" put her on the road to international success. Tickets to the show remain available for as low as $39 via Ticketmaster. (Thursday, Sept. 28 at 7 p.m.; Gillette Stadium, Foxborough; $39 and up) — Kevin Slane
Visit the Rowes Wharf Sea Grille this Thursday, and kick off the weekend with a fabulous dinner. The restaurant will host a Knob Creek Bourbon Whiskey Dinner at 6:30 p.m., where you'll enjoy a three-course meal plus dessert. Each menu item will be paired with a drink from Knob Creek's bourbon collection. You'll be dining on dishes like the roasted stuffed Medjool dates, Mattapoisett Oysters Rockefeller, Kurobuta spareribs, and a smoked walnut tart. (Thursday, Sept. 28 at 6:30 p.m.; Rowe's Wharf Sea Grille, Boston; $165; 21+) — Shira Laucharoen
The Boston Athenaeum, a library, museum, and cultural center founded in 1807, is one of the most architecturally stunning buildings in the city. Traditionally open to members only, the Athenaeum is open to all this Saturday from 10 a.m. to 4 p.m. View special exhibitions, take selfies, hear live music and curator talks, meet artist Ekua Holmes, participate in family-friendly activities, and more. Those interested must register in advance for a timed entry. (Saturday, Sept. 30 from 10 a.m. to 4 p.m.; 10 1/2 Beacon St.; free) — Kristi Palma
Harpoon Brewery hosts its 33rd annual Octoberfest this Friday and Saturday The largest celebration of the year at Harpoon's Seaport taproom, the event goes beyond stein-hoisting competitions, holding pretzel eating contests and chicken dancing. The event takes place under open-air tents, with limited seating available. Then on Sunday, Dogtoberfest returns to Harpoon, welcoming dogs to the taproom and raising funds for the Kenary Brain Tumor Research Fund at Dana-Farber Cancer Institute and MSPCA–Angell. (Friday, Sept. 29 through Sunday, Oct. 1 at various times; Harpoon Brewery, Boston; $25) — Natalie Gale
The sixth annual Oktoberfest returns to Wachusett Mountain this Saturday and Sunday. The all-ages event features live music, food trucks, giant lawn games, a keg toss, the opportunity to take a chairlift ride, live music by the Hofbrau Spieler Band, and plenty of authentic German beer. Admission tickets are required, starting at $9 for adults. Children five and under are free. (Saturday, Sept. 30 and Sunday, Oct. 1 from 11 a.m. to 5 p.m.; Wachusett Mountain, Wachusett; $9; all ages) — Natalie Gale
Mass Audubon's Boston Nature Center and Wildlife Conservancy in Mattapan is one of the city's hidden gems, providing tons of free, educational programming for all ages. This Saturday, the center will get you up close and personal with fierce birds of prey, hard-working honeybees, and a nature-themed puppet show at this family-friendly festival, which runs from noon to 3 p.m. The day will include entertainment, a free cookout supplemented by popcorn and cake, raffles, face painting, arts, crafts, and more. (Saturday, Sept. 30 from noon-3 p.m.; Boston Nature Center and Wildlife Conservancy; free) — Kevin Slane
Did rainy weather force you to miss out on a trip to the carnival this summer? Starting this Friday, the Topsfield Fairgrounds will once again come alive with agricultural exhibits, concessions and vendors, carnival rides, art shows, and live entertainment for the Topsfield Fair, the oldest agricultural fair in Massachusetts. There's no shortage of ways to have fun at the fair, like riding the Ferris wheel and playing carnival games on the Midway, ordering deep-fried Oreos, and seeing the largest pumpkin grown north of Boston. Visitors will also want to check out the winners of the fair's many competitions, earning best in class awards for livestock, fruits and vegetables, fine art, baked goods, wine, honey, and more. And, of course, you can't miss the food vendors: Topsfield fair specialties include the "Gobbler" (a Thanksgiving sandwich), whoopie pies, baked potatoes, apple crisp, German fries, caramel apples, and even chocolate-covered bacon. (Friday, Sept. 29 through Monday, Oct. 9 from 10 a.m. to 10 p.m.; Topsfield Fairgrounds, Topsfield; $15; all ages) — Natalie Gale
Venturing to Salem in the month of October may not be the brightest idea. Luckily, the Peabody Essex Museum will get their annual Mid-Autumn Moon Festival in just under the wire this Saturday. The festival, which marks the end of the Chinese harvest season, will be held at the museum's Yin Yu Tang structure, a home imported from China that dates back to the Qing Dynasty. Enjoy traditional mooncakes, live performances, and more, as well as an opportunity to explore the structure. (Saturday, Sept. 30 from 10 a.m. to 4 p.m.; Peabody Essex Museum, Salem; $20) — Kevin Slane
Need weekend plans?
The best events in the city, delivered to your inbox