Events
This event has passed. Check out other things to do instead.
10 things to do in Boston this weekend
BosTen is your weekly guide to the best events and coolest things to do in Boston.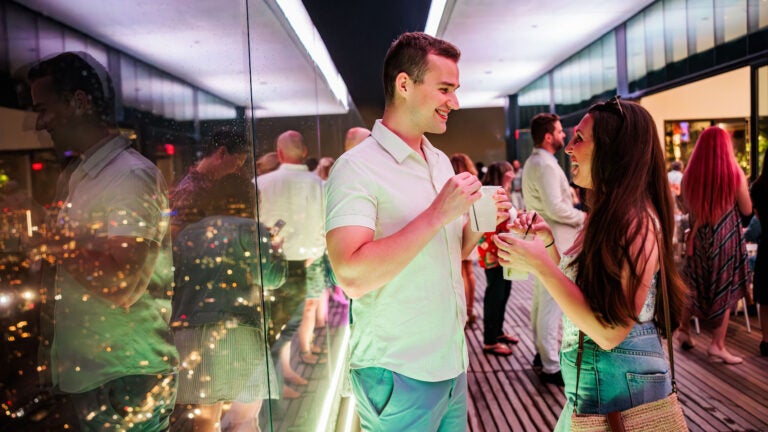 Welcome to BosTen, your weekly guide to the coolest events and best things to do in Boston this weekend. Sign up for our weekly email newsletter here. Have an idea about what we should cover? Leave us a comment on this article or in the BosTen Facebook group, or email us at [email protected].
As students return to campus for the new semester, the Isabella Stewart Gardner Museum will welcome visitors back with free admission Thursday afternoon and evening. Be sure to catch musician Soobin Ha as he performs on Antoine's Garden, a work of art in the Hostetter Gallery which features a piano embedded in a sculpture hidden in a jungle of plants. (Thursday, Sept. 7 from 3-9 p.m.; Isabella Stewart Gardner Museum; free) — Kevin Slane
Before the weather turns cool, celebrate the final days of a summer with a lobster bake at The Liberty Hotel's Clink. At the Beacon Hill spot, they'll be serving a beautiful buffet from chef Daniel Kenney, complete with Maine lobsters, oysters, clam chowder, herb-roasted Gloucester swordfish, mussels, corn on the cob, and more. For dessert, you'll be able to make your own strawberry shortcake or enjoy a ricotta cheesecake in a jar. Beer and wine will be served, and you can participate in some yard games, too. (Friday, Sept. 8 from 6-8 p.m.; Liberty Hotel, Boston; $40-110) — Shira Laucharoen
Watch Kevin discuss BosTen on "Boston Globe Today"
Since opening at the start of the summer, View Boston has quickly become the must-visit tourist attraction for the city. For locals who want to check out the incredible 360-degree views but skip the informational portions, the Prudential Center attraction is offering evening admission to Stratus, View Boston's indoor/outdoor cocktail lounge on the 51st floor featuring seasonal drink menus and shareable small plates. Depending on the weather, the windows at Stratus can be opened, and the lounge also offers outdoor seating with unparalleled views. View Boston After Dark, as the program is known, will be open Thursday through Saturday from 6-10 p.m., and college students who show a valid student ID will receive 10 percent off the $19.95 admission. (Friday and Saturday, Sept. 8-9 from 6-10 p.m.; Prudential Center, Boston; $19.95) — Kevin Slane
Jamaica Plain has a well-earned reputation as an artistic and cultural hub in Boston, with the neighborhood traditionally housing hundreds of artists who make their presence known at events like Open Studios and Porchfest. Another of JP's cultural highlights returns this Saturday: The 11th edition of the JP Music Fest brings 20 artists to multiple stages at Pine Bank Field, along with food trucks and family-friendly activities. Be sure to check out Aaron and the Lord, the latest project from Aaron Perino (The Shiela Divine, No Hope/No Harm) and Steven Lord (The Dirty Bangs). (Saturday, Sept. 9 from noon-7 p.m.; Pine Bank Field; free) — Kevin Slane
Summer movie season is almost over, but the USS Constitution is keeping it alive in a very thematically appropriate way. Climb aboard Old Ironsides this Friday to watch a screening of "Pirates of the Caribbean: Dead Man's Chest," the swashbuckling blockbuster directed by Gore Verbinski. The ship has already hosted screenings of "Moana" and "Master and Commander" this summer, with "Pirates" representing the final chapter of this summer's nautical-themed cinema. Gates open at 6:40 p.m., and before the movie starts, you'll be able to learn a bit more about the history of the ancient ship. (Friday, Sept. 8 at 7 p.m.; USS Constitution Museum, Boston; free) — Kevin Slane
Keeping things in the waterfront area, head to Boston Fish Pier in the Seaport on Sunday for the annual Boston Seafood Festival. Dozens of your favorite seafood restaurants will be serving up briny goodness, accompanied by live music, chef demos, shucking demonstrations, a lobster bake, and more. There are even "roaming pirates" listed among the family-friendly activities, in case you didn't get enough from the "Pirates of the Caribbean" screening mentioned above. Participating restaurants include Loco Taqueria & Oyster Bar, Love Art Sushi, and Summer Shack, whose owner Jasper White was one of the chefs who helped to popularize the lobster roll decades ago. (Sunday, Sept. 10 from 11 a.m.-6 p.m.; Fish Pier, Boston; $20-65) — Kevin Slane
Celebrate Latin American music and dance at the East Boston Latin Music and Dance Festival, which is returning to East Boston Memorial Park after a successful 2022 debut. See performances from Samba Viva, VROCC Youth Dancers, and La Chusma while enjoying food, local arts and crafts vendors, and family-friendly activities. After the official event is over, stick around for an after-party at The Tall Ship. (Saturday, Sept. 9 from 1-7 p.m.; East Boston Memorial Park; free) — Kristi Palma
Not long after the passing of jazz composer Makanda Ken McIntyre, the 13-piece jazz ensemble The Makanda Project began performing unrecorded works of the Boston-born musician, whose influence spanned continents in the jazz community. With over 400 unreleased compositions to his name, the ensemble has plenty of material to draw from during its free concert at First Church in Roxbury on Saturday afternoon. (Saturday, Sept. 9 from 1-4 p.m.; First Church in Roxbury; free) — Kevin Slane
Head to Christopher Columbus Park this Saturday and Sunday for the Boston Arts Festival — lovingly pronounced as "ähts," in honor of the event's founder, the late Boston Mayor Tom Menino. The free festival is celebrating its 20th anniversary each day from 11-6 p.m. with dozens of visual and performing artists from all of Boston's neighborhoods. (Saturday and Sunday Sept. 9-10 from 11 a.m.-6 p.m.; Christopher Columbus Park, Boston; free) — Kevin Slane
Save the date: Yellow Door Taqueria and Bar Mezzana are hosting an Ink Block Block Party this Sunday. While you're at the courtyard patio between the two restaurants, you'll be able to dine on freshly shucked Island Creek oysters, grilled pizzas, tacos, burgers, crudo, street corn, and more. Drinks include Campari floats, frozen margaritas, beers, natural wines, and Italian aperitivos. You'll hear tunes from DJ BREK.ONE, and you can make some memories at a photo booth, before playing lawn games. Tickets are $95. (Sunday, Sept. 10 from 2-6 p.m.; Bar Mezzana, Boston; $95) — Shira Laucharoen
Need weekend plans?
The best events in the city, delivered to your inbox