Events
This event has passed. Check out other things to do instead.
10 things to do in Boston this weekend
BosTen is your weekly guide to the best events and coolest happenings in and around Boston.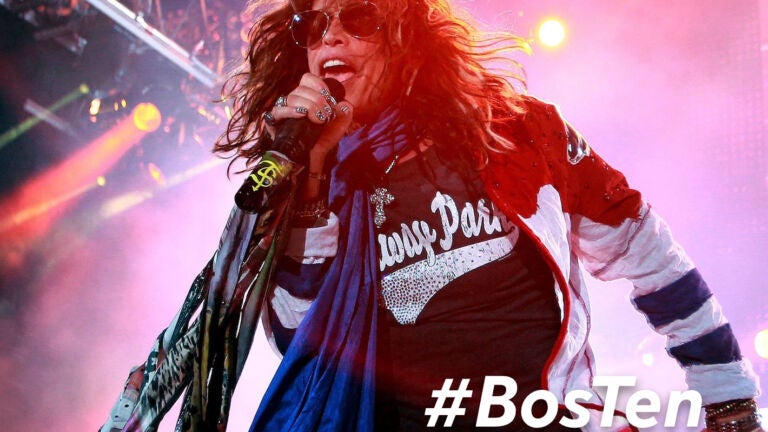 Welcome to BosTen, your weekly guide to the coolest events and best things to do in Boston this weekend. Sign up for our weekly email newsletter here. Have an idea about what we should cover? Leave us a comment on this article or in the BosTen Facebook group, or email us at [email protected]
Aerosmith has been patiently waiting to celebrate its 50th anniversary as a band with a hometown show at Fenway Park. The anniversary show — now technically a 52nd anniversary for the Boston-formed band — will be held this Thursday at 6:30 p.m., following COVID-related postponements of shows originally scheduled for Sept. 18, 2020, and Sept. 14, 2021. Fans should expect to see all of the longest-tenured members of the group — Steven Tyler, Joe Perry, Joey Kramer, Tom Hamilton, and Brad Whitford — on stage at Fenway, though at one point that prospect appeared to be in doubt. Kramer was blocked from rejoining the band for a Grammys performance after recuperating a shoulder injury in January 2020, and attempted to take the remaining members to court over his exclusion. Then in May 2021, Tyler announced he had entered rehab after a relapse following foot surgery that necessitated pain management. Fortunately for all of us, the band is back together and ready to rock. — Kevin Slane
For three days each September, Cambridge hosts an Italian festival similar to celebrations in the North End in August. Warren and Porter Streets in East Cambridge, just east of Inman Square, are closed to foot traffic, decorated with lights and banners, and lined with street vendors for the weekend festivities. The Feast of Saints Cosmas and Damian pays homage to saints Cosmas and Damian, "The Healing Saints," with processions of the saints' statues throughout the weekend. The festival features a carnival at one end and a bandstand for live music and a temporary chapel at the other end, which is where the saint statues are housed for the weekend. The feast begins on Friday evening with a candlelight procession, along with fireworks, carnival rides and games, music, and food. Saturday brings an all-day celebration of vendors, live music, carnival games, and another candlelight procession at night. On Sunday, activities start early with coffee and Italian pastries at the Porter Street chapel, before the procession to Saint Francis Church for mass. A traditional Italian dinner follows mass, which is free and open to all. Find a full schedule of events on the festival website. — Natalie Gale
We're not sure if Lexington native Matt Nathanson still has his Boston accent, but he definitely has his "Boston Accent" — the name of his just-released new album and the tour he's bringing to town to support it. Now based in California, Nathanson will be at The Wilbur this Friday and Saturday at 7 p.m. His new album brings his usual witty yet introspective lyrics, plus local references to boot — Fenway's Citgo sign makes a conspicuous appearance in the title track. Nathanson has been a regular on the Billboard 200, and his singles, "Come on Get Higher" (2007), "Faster" (2011), and "Run" featuring Sugarland (2011) made the Hot 100 singles. His track "Loud" was featured on an episode of "Dawson's Creek," and he's drawn attention from a number of television producers. Nathanson's adult alternative music and live stage banter are guaranteed to please, and his connection to Massachusetts makes this stop on his tour all the more special. — Ria Goveas
Culture Club's star burned fulgently but fleetingly in the early 1980s. Between the springs of 1983 and 1984, the Boy George-fronted British quartet scored six top 10 hits in the U.S., including "Karma Chameleon" and "Do You Really Want to Hurt Me?" The band's seemingly effortless ability to cook up a top 40 hit had pretty much completely evaporated by the end of 1986, and the group had broken up by 1987. However, 35 years later, Boy George, guitarist/keyboardist Roy Hay, and bassist/keyboardist Mikey Craig are back together for their third coast-to-coast tour of the U.S. since 2016. Their Boston-area show, this Friday at 8 p.m. at Chevalier Theatre in Medford, is sure to be nostalgic and life-affirming for those who grew up during the group's apex, almost 40 years ago. — Blake Maddux
This Saturday, the Discovery Museum is turning 40, and everyone is invited to its birthday party. The Acton museum is offering free admission from 9 a.m. to 4:30 p.m. as part of its Community Day celebration, which will include a cake-cutting ceremony, a noisemaker workshop, and a double-headed drumming and dance performance. Guests can also enjoy some of the museum's regular hands-on activities, including Balls & Ramps, Cup Towers, and a "Discovery Quest" scavenger hunt. Advanced reservations for Community Day are required, and can be made on the museum's website. — Kevin Slane
While busy city life appears to take main stage in America, the vast majority of the country's landscape actually remains rural (only 3.5 percent is considered urban). Starting this September, you can discover more about small town life thanks to "Crossroads: Changes in Rural America," a traveling exhibit produced by the Smithsonian Institution's Museum on Main Street program. The Smithsonian, along with Mass Humanities, have selected six communities in Massachusetts for this exhibit that explores how rural American communities have changed in the 20th century. The exhibition will prompt discussions about what happened when America's rural population became a minority of the country's population and the ripple effects that occurred. The Bay State tour begins this Friday at the Essex Historical Society and Shipbuilding Museum, where the exhibit will remain until October 22. For more info, visit the museum's website. — Cheryl Fenton
"Saturday Night Live" producers brought James Austin Johnson into the fold last year as a featured player because of his extraordinary and fresh approach to impersonating Donald Trump. But Trump (and current president Joe Biden) aren't the only personalities in Johnson's impressions arsenal. There's also Werner Herzog, Bob Dylan, Jeff Goldblum, his own mom, and Batman reading a "Where's Waldo" book. Johnson has a lot more going for him than just impersonations, too. He's first and foremost a standup comic, but he started acting when he was 10, trained under the Sanford Meisner technique in college, had a small part as a studio assistant in the Coen Brothers' film "Hail, Caesar!" and was a murder victim in an episode of "Better Call Saul." There's no telling what he'll be doing when his "Close to You" tour makes a stop at the Crystal Ballroom in Somerville this Saturday at 7:30 p.m., but recent video clips he's posted show him talking about himself in a normal, close-to-baritone speaking voice, then launching into goofy mode with, for instance, his experience of watching the film "Inception" with his mom. — Ed Symkus
The Red Hot Chili Peppers will play a concert in Boston after all. The alternative rock titans, originally scheduled to play Boston Calling Music Festival in 2020, will instead headline a show at Fenway Park this Saturday at 6 p.m. RHCP will be joined in Boston by singer-songwriter St. Vincent and funk musician Thundercat. The Chili Peppers will close out the 2022 Fenway Park Concert Series as part of the band's first tour since reuniting with guitarist John Frusciante. A handful of tickets are still available on the band's website. — Kevin Slane
Encore Boston Harbor will host an epic burger face off between 20 restaurants this summer, and you can be part of the voting process to name the best burger in the city. This all-you-can-eat event will also coincide with the Pats' opening game against the Dolphins (who can keep up with the behind-the-scenes drama there?), so there's arguably no better way to wind down the summer. The annual Boston magazine event promises a hefty lineup of food, drinks, and entertainment. Three drinks are included with every ticket purchase, and if you really like burgers and want to beat the crowds, early entry tickets are also available for sale. — Joel Ang
What began as a small street fair at University Park in 1992 is now Cambridge's largest festival and one of the largest outdoor multicultural festivals in New England. Traditionally held the Sunday after Labor Day, the colorful and festive Cambridge Carnival, now in its 28th year, is a celebration rooted in African traditions that brings a blend of cultures together with costumes, masks, music, street parades, dancing, food, and craft exhibits. Following the traditional models of the Caribbean and Brazil parades, the party rolls from Kendall Square through Central Square with masquerades, steel drums, dancing, and floats. An interactive and hands-on KidsFest includes face painting, arts and crafts, stilt walking, and train rides, while people of all ages enjoy food, local bands, and guest DJs. — Cheryl Fenton
Need weekend plans?
The best events in the city, delivered to your inbox