Events
This event has passed. Check out other things to do instead.
10 ways to celebrate Pride Month in Boston
Celebrate the return of Boston's Pride parade, plus more events to check out this June.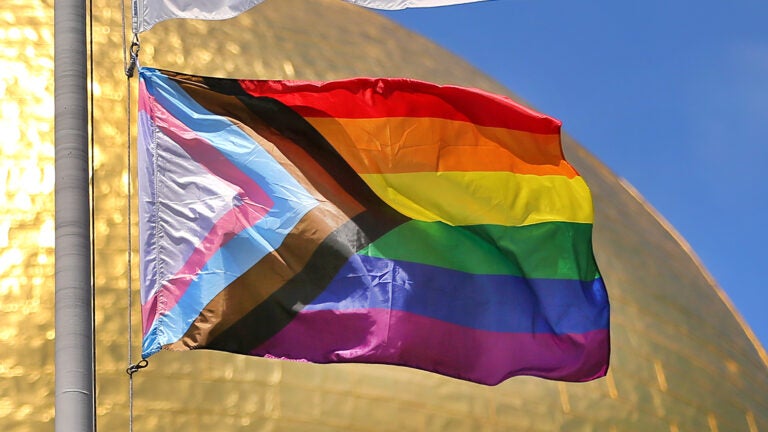 The city's Pride parade and festival is finally returning this year to Boston Common and City Hall Plaza on June 10, with additional activities on June 11.
Last held in 2019 by the now-dissolved Boston Pride group, this year's parade and Pride Month celebrations will be led by Boston Pride For The People (BP4TP). After cancellations in 2020 and 2021 due to COVID-19 concerns, no parade was held in 2022 following disagreements about race, transgender inclusion and fundraising efforts within the Boston Pride organization.
Jo Trigilio, vice president of BP4TP and a former member of the Boston Pride communications team, said that Pride is about community and that the Pride celebrations this month often allow people to rekindle old connections to their community and make new ones.
"Community connection is what brings it all together for me. The celebrations, the commemoration of Pride, the empowerment aspect of it; it all boils back down to community and connection," they said.
This year BP4TP is working to have options for everyone coming to the festival, according to Trigilio. The festival will have areas for drinking and dancing, quiet picnicking areas, food trucks, vendors, an area for family and youth, and performances occurring all day long. The parade this year will also be shorter, making it more accessible for visitors.
"We are planning this annual event focused on what our name is, serving the people and being as inclusive as possible," Trigilio said.
If you are looking for more ways to celebrate Pride, here are 10 additional events to check out in Boston this month.
Head over to the Calderwood Pavilion at the BCA, Roberts Studio Theatre to see SpeakEasy Stage Company perform "The Prom." The story starts with high schooler Emma simply wanting to bring her girlfriend to prom, which leads to her becoming a news headline and the face of a movement. Performances run through June 10. Tickets are $25-$75.
Calderwood Pavilion at the BCA, Roberts Studio Theatre, 527 Tremont St., Boston
Celebrate Pride Month by learning about the history of Boston's 19th and 20th century LGBTQ community with Boston by Foot. The one-mile tour invites you to explore Boston's LGBTQ culture while taking you on the walking path of Henry David Thoreau through the Common, the AIDS memorial quilt project, and more. Tours run throughout the month of June. Tickets are from $9-$16.
Starts at the Massachusetts State House steps on Beacon Street, Boston
Hosted by the Samuel Adams Taproom in Downtown Boston guests can choose to attend one or all three events on June 3. They'll start the day off with a drag brunch at 11 a.m., followed by tea at 2 p.m., and finish up the day with a rooftop party at 7 p.m. The event is only for ages 21 and over. Tickets are $15 for each event.
Sam Adams Downtown Boston Taproom, 60 State St., Boston
Visit Seaport restaurant Gather on June 10 from 10:30 a.m. to 3 p.m. for their Lady Gaga x Pride Brunch. The event will play Lady Gaga's music and feature a Gaga-themed brunch menu with new summer cocktails. Tito's Handmade Vodka and the Provincetown Brewing Company will also be at the event starting at 11 a.m. with "samples and swag." Make your reservation ahead of time to secure your spot.
Gather, 75 Northern Ave., Boston
The Boston Theater Company will host their third annual Road of Rainbows. The 5K race will take place on June 10 at 10 a.m. and will take place at the Boston Common. The race is open to all and celebrates love and the freedom to be yourself. Register online here.
Boston Common Bandstand, Boston
Join SoulCycle to celebrate Pride Month at their Back Bay location for a Soul Showdown with Jeff and Brando on June 9 at 5 p.m. Work up a sweat, pedal to the music, and workout with the SoulCycle team as they celebrate Pride. Register for the event here.
SoulCycle Back Bay, 500 Boylston St., Boston
Looking for some laughs? Celebrate Pride Month with Night Shift Brewing at their Everett taproom with Boston Proud's comedy night presented by Moccia Comedy Productions. On June 14, stop by for the comedic talents of Amy Tee, Brieana Woodward, Cam Ohh, and Tyler Durniak. A portion of the proceeds will go to Boston Proud which works to continue LGBTQ+ Pride in Boston. Doors open at 6:15 p.m. and the show starts at 7 p.m. Tickets are $25.
Night Shift Brewing Everett Taproom, 87 Santilli Hwy, Everett
LGBTQ Nightlife Events is hosting its second annual Pride Bar Fest on June 10. The event will span across 10 venues, featuring over 20 performers, and a queer market with local vendors. There will be contests, live music, dancers, a DJ, a block party, and drag shows. Check it out on June 10 from 1 p.m. to 6 p.m. on Landsdowne Street. Certain activities are ages 21 and over. Tickets are $15-$25.
Lansdowne Street, Boston
On June 24, head over to Spectacle Island to "celebrate Pride on the harbor with an evening of music, arts, and relaxation." Boston Harbor is partnering with Boston Harbor Island National and State Park to host their Pride in the Park. The event will feature drag performances, arts and wellness activities, lawn games, s'mores, and a beer garden. The event starts at 4:30 p.m. and ends at 8:30 p.m. Tickets are $0-$38.
Spectacle Island, Boston
Head to Waterfront Square at Revere Beach for its second annual PRIDE event on June 25. Enjoy a family friendly drag show, photo booth, DJ, and a fireworks show. Food and beverages will also be provided by Mission Beach House, Fine Line, and z. The event will run from 2 p.m. to 6 p.m., and is free and open to the public.
Revere Beach, Revere
Need weekend plans?
The best events in the city, delivered to your inbox