Events
This event has passed. Check out other things to do instead.
Amplify anti-racism at King Boston's inaugural Embrace Ideas Festival
The week-long festival, running June 13-17, features notable speakers and performances from musicians.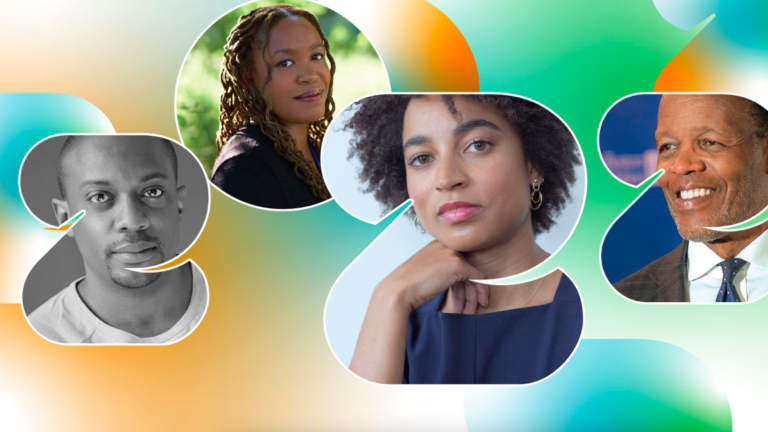 In a week-long festival next month, King Boston will highlight and uplift arts, culture, and public scholarship amplifying anti-racism and a vision for a transformed Boston by 2030.
Every day from June 13 through 17, keynote speakers, panels, and live music will "shine a light on how we can interrupt our zero sum game thinking when it comes to racial justice and realizing a democracy worthy of us all," according to King Boston.
This summer marks the inaugural year of the Embrace Ideas Festival, hosted by the organization behind "The Embrace" memorial on the Boston Common that is set to open in January.
The theme this year is "Building A New Boston Together," and King Boston will be introducing a community well-being dashboard to "describe measurable transformation in Boston by 2030 toward radical inclusion and equity."
During the "5 days of feeling the love," as the festival is described by King Boston, attendees can hear from notable local leaders, listen to musicians perform, and take in off-site events.
The festival will take place at a variety of locations across the city, and day- or week-long tickets are available online.
Each day features an "un-conference" time slot, in which attendees are encouraged to connect on their own, followed by panels and keynotes, and wrapped up with "social time" and a performance from a musician. The week concludes with the inaugural Embrace awards and a Free Juneteenth Block Party at Nubian Square.
Festival events, speakers, and notable attendees include:
Monday, June 13: "It's Not a Zero Sum Game"
Hosted by: The Boston Foundation
Keynote: Author Heather McGhee; Boston Foundation President Lee Pelton
Featuring: Dr. April Inniss, King Boston's Director of Community Engaged Research
Social time artist: Greg Groover Jr. Jazz Quartet
Tuesday, June 14: "Healing from Racialized Trauma"
Hosted by: Harvard Medical School
Keynote: Michael Curry, president, CEO of Mass League of Community Health Centers; Jeneé Osterheldt, Boston Globe culture columnist
Featuring: Dr. Thea James, Boston Medical Center; Dr. Myechia Minter-Jordan, Carequest; Dr. Cheryl Clark, associate chief at Brigham and Women's Hospital in general medicine and primary care; and Dr. Joan Reede, Harvard Medical School.
Social time artist: Kaovanny
Wednesday, June 15: "The Saving Power of Culture"
Hosted by: The Institute of Contemporary Art
Keynote: Imari Paris Jeffries, King Boston's executive director; Hank Willis Thomas, conceptual artist; Rujeko Hockley, assistant curator at the Whitney Museum of American Art
Featuring: Andrés Holder, Boston Children's Chorus; Rob "ProBlak" Gibbs; Michael Bobbitt, Mass Cultural Council; Sheena Collier, Boston While Black; and Gregory Ball, director of digital strategy and production of King Boston; Jill Medvedow, Ellen Matilda Poss Director of the Institute of Contemporary Art.
Jazz reception at Klaviyo
Thursday, June 16: "Truth, Reconciliation, and Reparations"
Hosted by: WGBH
Keynote: Tammy Tai, King Boston's deputy director; Kamm Howard, National Coalition of Blacks for Reparations in America (N'COBRA)
"Are We Ready for City Level Reparations" panel featuring: Jemadari Kamara, University of Massachusetts Boston; Sheryl Evans Davis, San Francisco Human Rights Commission; Amilcar Shabazz, Amherst African Heritage Reparation Assembly; and Robin Rue Simmons, FirstRepair.
Social time artist: Amandi Music
Friday, June 17: "Equity, Freedom and the Future"
Hosted by: Massachusetts College of Art and Design
Keynote: Kellie Carter Jackson, author and professor, Wellesley College; Latoyia Edwards, NBC10 Boston; L'Merchie Frazier, Museum of African American History; and Barbara Krauthamer, dean of the College of Humanities and Fine Arts at the University of Massachusetts-Amherst.
Embrace honors: Robert Lewis Jr, president of the Boys and Girls Clubs of Boston and former Mayor Kim Janey.
Need weekend plans?
The best events in the city, delivered to your inbox