Events
This event has passed. Check out other things to do instead.
Celebrate Juneteenth with a poetry slam at Nubian Gallery 
Join DiDi Delgado for an "Evening of Rhythm, Rhymes, and Reparations!" June 18.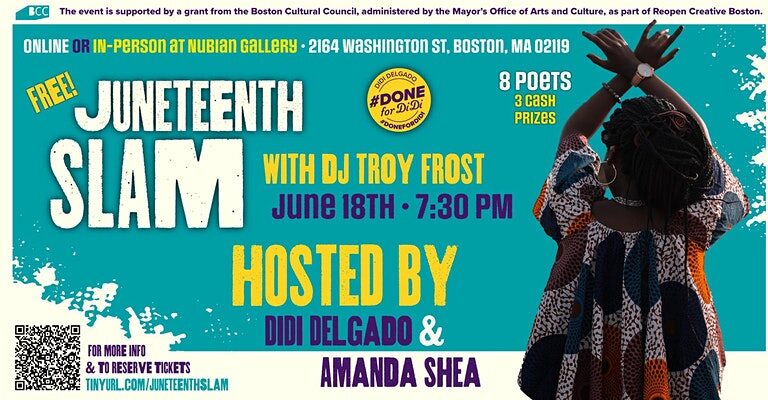 Juneteenth, a day commemorating the emancipation of enslaved African-Americans in the United States, is approaching, and DiDi Delgado is hosting a poetry slam to celebrate it.
The poets and judges represent Black poetry and slam culture in Boston and around the world, according to a release from DiDi Delgado.
Hosted June 18 at the Nubian Gallery, the poetry slam, called an "Evening of Rhythm, Rhymes, and Reparations!," will celebrate Black futures and raise awareness for Delgado's vision of "40 Acres and a School," a Black liberation epicenter in New England.
"Juneteenth is a celebration of Black liberation, of Black futures, of Black self-determination and sustainability, but you wouldn't know that because reparations are long past due, and can't be fixed simply by observance of a national holiday. 40 Acres and a School is about food justice, healing justice, land justice, transformative justice — this is medicine," Delgado said. "We have to speak it into existence through our poetry, and that's what we'll be doing at the Juneteenth Slam event."
The slam will be hosted in a hybrid format, with food and drinks available to those in person.
It is a free event, supported by a grant from the Boston Cultural Council, and tickets are available online.
The slam is still looking for competitors, and the sign-up is available online. Those interested in competing must have three original poems, and the time limit is 3 minutes and 10 seconds.
In the first round, eight poets will compete and two will be cut. In the next round, the remaining six poets will compete in order from highest to lowest score and three will be eliminated. In the last round the three poets will compete and scores will be calculated to determine the winners. First prize will receive $1,500, second place will win $1,000, third place gets $500 and fourth receives $250. The other contestants will receive $50.
After the slam, there will be a dance party with music from DJ Troy Frost.
Need weekend plans?
The best events in the city, delivered to your inbox