Events
This event has passed. Check out other things to do instead.
Celebrate Pride downtown with 'A Very Proud City'
Every Wednesday for the rest of June will bring Pride events to Boston, with a wide range of activities for families and adults.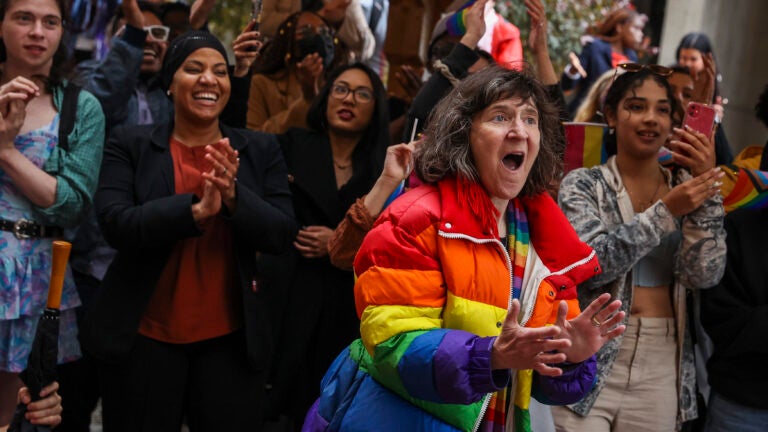 On every remaining Wednesday in June, the city is hosting a series of free and open-to-the-public events in downtown, intended to highlight "connection, resilience, art, and joy for all Bostonians."
The series, called "A Very Proud City," kicks off June 8 at 5 p.m. with BOP-ley Square, the ultimate tea dance block party in front of the Trinity Church in Copley Square Park.
"I'm so excited to be in community and celebrate Pride this month," Mayor Michelle Wu said in a statement. "I'm grateful to all of our partners for working to ensure that we are celebrating our queer communities and I encourage everyone to stop by these events."
The next event in the series takes place the next Wednesday, June 15. Visit Sam Adams Park at Faneuil Hall for District Q, an "eclectic Queer Marketplace" from 4 to 7 p.m.
During and after the marketplace, head up to the roof of the Sam Adams Taproom from 6:30 to 8:3 p.m. for NetWerq, a gathering for folks to meet and chat with "other queer entrepreneurs, organizers, creators, and community members," according to the city.
The next week brings a dance variety show featuring local queer groups and drag performers. DanceTown Crossing, hosted at Downtown Crossing at the intersection of Summer Street and Washington Street, will run 5 to 8 p.m. on June 22.
"As we emerge out of the pandemic, this is a tremendous opportunity to join our queer residents in spreading joy, love, and acceptance to all within our city," said Segun Idowu, Boston's chief of economic opportunity and inclusion.
The last Wednesday in June brings A Very Proud City to a celebratory end, with Pride Calling, a benefit concert to establish a mutual aid fund to help queer people in need. This event will be hosted at the Boston Common on the Parade Grounds from 5 to 8 p.m. on June 29.
Need weekend plans?
The best events in the city, delivered to your inbox